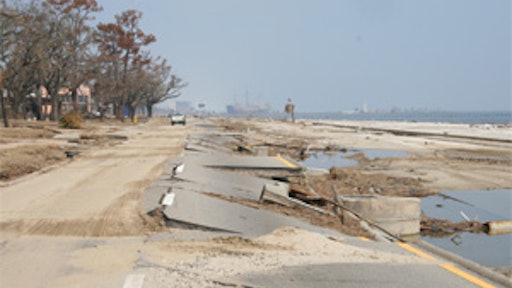 When Hurricane Katrina ravaged the 75-mile-long Mississippi Gulf Coast in August 2005 with 140-plus mph winds and up to a 30-foot storm surge, there was no place to hide. It destroyed or damaged a significant stretch of U.S. 90 through Biloxi, Gulfport and Pass Christian. This created an immediate need for local road builders, hot mix asphalt producers and asphalt paving contractors.
The storm's sheer physical size caused devastation far from the eye of the storm, making it possibly the largest, most widespread, hurricane of its strength ever recorded. Actual infrastructure damages in Mississippi have been reliably estimated to be in excess of $80-plus billion, making it the most costly tropical cyclone of all time.
It was here that the state's road builders and hot mix asphalt contractors unhesitatingly stepped up to the plate and did themselves and the construction industry proud. Make no mistake; the contractors did get compensated for what they did.
But many, like Warren Paving, Inc., a multifaceted material producer-contractor from Gulfport, without delay, put major ongoing projects on hold with no guarantees that the state would delete that time from their current contracts. In Warren Paving's case that was, among others, a new nine-mile-long section of Rte. 605 from Gulfport north to Hattiesburg.
Up and running
The priority was to get their 400-tph Astec Double Barrel asphalt facility back up and producing much needed material to help restore the devastated infrastructure. Warren's plant, which suffered only superficial storm damage, was ready but, since there was no electricity in the area, they had to secure a portable generator as an alternative power source. For two days, until local electricity was brought back on line, this worked well.
The first chore was to clear the entire highway of storm related debris. This was accomplished by both private contractors and military forces (U.S. Navy Seabees from the nearby Construction Battalion Base). A decision was then made to shut down the two eastbound lanes of Rte 90 for repair and turn the westbound lanes into handling two-way traffic with multiple check points; no permit, no pass through.
Repairs to municipal drainage systems and outfalls that clogged up and then overflowed had to be made before reconstructing the road. This then undercut and washed away the existing drainage. All this had to be open cut, rebedded with drainage stone and then RCP replaced. Large concrete box culverts were also replaced for storm outfalls at different locations. This took longer to rebuild. Roadway resurfacing was next and only then was two-way divided traffic restored. Once repairs were done, the traffic was switched. At times it was changed depending on the road damage.
The next problem lie in finding readily available backfill material that could easily be transported through the debris clogged roads and streets of the city. The solutions to these situations came when the Army Corps of Engineers (COE) permitted the contractors, on an emergency basis only, to use nearby beach sand as backfill.
U.S. 90 challenge
The old road excavation, repairs and patching of the 26-mile-long Harrison County's section of U.S. 90 restoration was split equally between three contractors who worked from sunup to sundown seven days a week and then sometimes well into dark. These were Warren Paving Co. Inc. (Gulfport, MS), Mallette Brothers Construction Inc. (Gautier, MS) and Huey-Stockstill Inc. (Pickeyune, MS). These three contractors worked first as force account work and later under state MDOT contracts.
Katrina inflicted damage that put at least one supplier's plant down until replacement parts could be obtained and repairs could be made. The sole supplier immediately available was Warren Paving Co. They brought in a powerful portable generator to power their 400-tph Astec Double Barrel plant for several days until landline electricity was restored. Massive amounts of asphalt was trucked in by Warren Paving, using many of their fleet of live bottom dumps carrying 23 yards of mix apiece.
"Our first work consisted on clearing, repairing and resurfacing the two eastbound lanes of the four lane divided highway. Just about the time we finished that and before we could begin the two opposite lanes, the rules were changed and all three contractors had to submit a bid for that work. Nothing changed; all three contractors got the same work, except the cost for performing the work. Since it was now bid work instead of Force account, we were able to treat it as a normal contract," comments Bob Patterson, co-manager of Warren Paving.
"If you count the total number of patches we have made to all four lanes of Rte. 90 on this 9-mile section it probably would be at least 100 in each direction. The largest patches were probably 300-feet long and the full width of the roadway; the smallest was no longer than 10 feet square," Blake Mallette says. Bob Patterson says that his contract was similar in road rehabilitation.
Warren Paving's management estimated that they produced, transported and used approximately 8,000 tons of hot mix asphalt (HMA) on the restoration of the eastbound lanes and, to this point, another 6,500 to 7,000 tons on the westbound lanes with another 500 to 700 tons yet to go.
There is little doubt, according to Mississippi Department of Transportation officials, that this was simply a stopgap measure. In the near future there will probably be a total asphalt overlay. The long term prognostications are probably anyone's guess; but it is safe to say that, if the highly popular gambling casinos rebuild bigger and better than ever, bringing in more traffic, the area will demand new, bigger and better roads.
Companies in this article