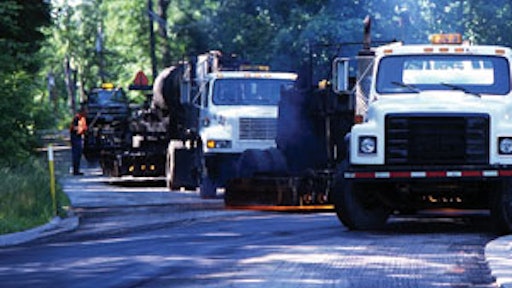 Gallagher Asphalt has always taken a leadership role over its 75-year history of serving the Greater Chicago Southland marketplace. Diversifying its product and service offering should come as no surprise to those who know this Thorton, IL-based road builder. For the past three years, Gallagher has taken another pioneering step as it promotes the efficient, cost-effective and environmental benefits of Hot-in-Place recycling.
The asphalt producer and paving contractor has demonstrated to many surrounding road agencies how its Hot-in-Place method can extend their resurfacing budgets by as much as 30 percent. With limited tax dollars, many communities are working with tight budgets to maintain roads.
In many cases, total reconstruction of a roadway is unnecessary. If the road is structurally sound, with a stable base, Hot-in-Place recycling provides a preventive maintenance approach that extends the life of the road and dramatically reduces its long-term costs. The benefits of this recycling method go beyond the initial lower construction costs, and include:
Preserving elevations and minimizing overhead clearance concerns
Remixing and recoating uncoated aggregate
Filling ruts and holes
Leveling shoves and bumps
Re-establishing surface crown and drainage
Restoring surface flexibility by chemically rejuvenating aged asphalt
Enhancing safety by improving ride and skid resistance
Reducing engineering costs
Reducing traffic control costs
Putting roads back in service in a matter of hours after resurfacing
Hot-in-Place recycling involves a heater scarification rehabilitation process that restores cracked, brittle and irregular pavement in preparation for a final thin wearing course. Gallagher uses two "heater" machines operating in tandem to insure deep heating and softening of the aged pavement. After the pavement has been heated to approximately 325 degrees F, a rejuvenating asphalt emulsion is applied (approximately one-tenth of a gallon per square yard of material) to the surface just before multiple rows of spring-loaded scarifiers penetrate the softened asphalt to the desired depth. Augers at the back of the machine remix the material, which is then leveled and compacted with a standard paving screed. A roller is used to complete the compaction process of what will become an intermediate course ready for an overlay of fresh hot mix asphalt, or in some cases a seal coat is applied.
A tradition of innovation
Gallagher's current Hot-in-Place recycling efforts mark yet another innovative chapter in the company's long history. James F. Gallagher Sr. founded the company without any asphalt experience, any business experience for that matter, and securing a second mortgage on his home to obtain the necessary funding to start a business. He was instrumental in founding many of the present associations serving the industry, including the Illinois Asphalt Pavement Association, the Associated General Contractors of Illinois and the National Asphalt Pavement Association. His innovative spirit also produced several asphalt-related U.S. patents that bear his name.
Gallagher's sons, Jack, Jim and Don, continued to build the business through the '50s, '60s and '70s as the south suburbs of Chicago experienced a tremendous growth spurt. The second generation of Gallaghers played a pivotal role in establishing the company as a well-respected paving contractor.
Now under the management control of the third generation of Gallaghers, Jack's sons Charlie and David, and Don's sons Dan and Patrick, the company operates plants in Thorton, Joliet and Kankakee. Over the years, the Gallaghers have paved literally hundreds of thousand of miles of asphalt throughout the Greater Chicago Southland, including The Dan Ryan Expressway, Lake Shore Drive, The Borman Expressway, Lincoln Mall, River Oaks Mall, Orland Square Mall, The Chicagoland Speedway and Route 66 Dragstrip in Joliet.
Although the road building industry in the Chicago market is fiercely competitive, the Gallaghers are committed to growing their business by entering into new markets, increasing their niche product applications — such as the Hot-in-Place asphalt pavement recycling process or StreetPrint stamped asphalt — as well as expanding their portfolio of construction services to include concrete paving, excavation and stone base preparation.
The Gallaghers also own Shepley Motor Express, a trucking company that transports liquid asphalt from suppliers to the various Gallagher Asphalt plants, delivers hot mix asphalt to Gallagher projects, and hauls dirt and stone for Gallagher projects, as well as for outside contractors.
Gallagher also operates Chicago Testing Laboratory Inc., a full-service engineering and construction management firm which provides materials testing and inspection of asphalt and asphalt materials, liquids, aggregates, concrete and soils. The company offers consulting and conducts Quality Control/Quality Assurance training to the industry and various state Departments of Transportation.
The right mix, the right solution
With 60 percent of its asphalt business tied to public projects and 40 percent private, Gallagher views Hot-in-Place recycling as a natural addition to the mix of road building services it has to offer. Fifty million of the company's annual $75+ million revenues are generated by asphalt production and construction, and it's the fastest growing portion of Gallagher's business. Hot-in-Place provides just the right venue to support the company's growth objectives, while addressing the budget constraints agencies face in maintaining quality roads.
Gallagher operates five paving crews, three grading crews, two grinding crews and two Hot-in-Place crews. And while Hot-in-Place has been a part of the company's service offering for a long time, it's only been in the past three to four years that potential customers have begun to realize the cost and other benefits it provides, and Gallagher has initiated a more aggressive approach to promote those benefits.
"It was hard to get people to understand Hot-in-Place as a viable solution to their road maintenance needs," says Dan Darden, vice president of operations, "but now they're beginning to see how they can maintain more roads with the same budget they had for full-depth reconstruction."
"We're initiating the discussions about Hot-in-Place with our customers and we're getting them to think outside of the box as far as maintaining quality roads," adds Patrick Faster, who heads up Gallagher's Hot-in-Place marketing efforts.
"We're targeting roads that are two to 10 years old and trying to inform prospective customers that it makes more sense to perform preventive maintenance on those roads rather than wait for them to deteriorate to the point where full-depth reconstruction is required," Faster says. "Progressive thinkers realize spending a little money at regular intervals extends the life of the road, and they see the advantages of Hot-in-Place."
Since Hot-in-Place is ideally suited for municipalities that want to maintain residential streets without a significant disturbance or cost, Gallagher works with outside engineers who have been hired by the municipal road agencies to submit a viable proposal. By creating an interest with the consulting engineers, who can then go back to the municipalities with a viable solution that stretches their budget dollars, Gallagher has generated a considerable amount of repeat business.
When comparing Hot-in-Place with a standard mill and fill paving approach, the reduced construction time required for Hot-in-Place generally illustrates why the recycling process makes sense. In a standard mill and fill process, two to three inches of the road's surface is milled down and then hauled away. Then an inch and a half leveling course is put down before another inch and a half surface course.
The Hot-in-Place process allows road owners to reuse the oxidized surface as a leveling course after it has been rejuvenated with an asphalt modifier. The process eliminates milling, trucking away milled material, application of a tack course, and application of a new leveling course. It generally generates a 25 to 30 percent savings over a traditional mill and fill approach.
"Aggregate is the primary product used in asphalt construction. There's no reason to haul away good aggregate when all it needs is to be reconditioned (recoated) with a fresh asphalt additive," Faster says. "When municipalities find out they can achieve 30 percent more road surface coverage with the Hot-in-Place process and have a road surface that will last as long as a mill and fill road, it generally becomes a pretty easy decision."
"We're also finding that agencies really like the fact that the process is less disturbing to the community and produces minimal traffic problems because it's a moving process that our crews complete within a day or two," adds Patrick Gallagher, vice president of marketing.
That's not to say that Hot-in-Place recycling sells itself. For agencies who have tried it, the benefits have been realized and they'll continue to make use of the preventive maintenance approach where it's appropriate. But Gallagher Asphalt realizes it still has its work cut out in converting the skeptical into believers. Even though there are only about two dozen asphalt contractors across the country that offer Hot-in-Place recycling, Gallagher has to continue to sell the benefits over traditional reconstruction methods. Undoubtedly, agencies will continue to evaluate ways to maximize their budgets and still deliver a quality road to the taxpayers.