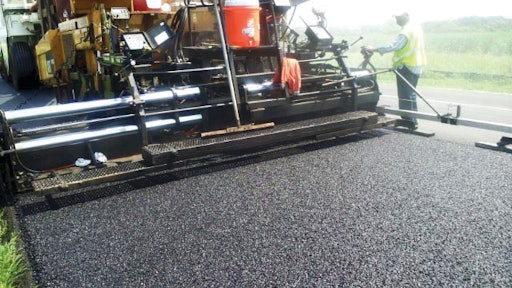 Few drivers southbound on U.S. 49 near Saucier, Miss., know they're traveling over recycled tire rubber. Fewer still appreciate that the Mississippi DOT is testing a new rubberized asphalt process intended to dramatically increase the recycling of tire rubber into roads.
A new Granulated Tire Rubber (GTR) modified asphalt mixture developed by Blacklidge Emulsions is being tested on a one-mile stretch of U.S. 49.
"GTR asphalt as a product is not new," explains Jonathan Easterlin, quality control engineer for Huey Stockstill Construction, the prime contractor for the job. "What makes PG76-22GTR different is the final size it must be ground to."
PG76-22GTR modified asphalt doesn't have to be ground down to the fine granules currently required by most DOTs, including the Mississippi's. "The finer the tires are ground, the more expensive the process becomes," Easterlin stresses. "Because this GTR isn't ground as fine, it's an economical alternative to purchasing polymer."
The project used 1,000 tires from Harrison County landfills to produce nearly 1,050 tons of mixture for the demonstration mile. The remainder of this U.S. 49 project was paved with traditional polymer asphalt. One lift of a 1.5-inch milling maintenance overlay was applied on the test section of U.S. 49 for this project. 
"It was really exciting to showcase this environmentally friendly process on a highway that many South Mississippians travel over every day," says Brittany Blacklidge, president of Blacklidge Emulsions. "Once MDOT approves the technology, we believe it will significantly benefit Mississippi roads, save MDOT and taxpayers money and help decrease the stockpiles of discarded tires that are accumulating in our landfills."
The process combines molten liquid asphalt cement blended with the ground tire rubber. The binder is then mixed at a hot mix plant with aggregate and laid with a typical asphalt paver.
PG76-22GTR has to meet the same grading requirements as standard GTR asphalt, .
"You can't see much difference in the end result, and the quality of the end result remains the same as traditional mixes," Easterlin says. "After several years, this GTR-modified asphalt mixture is performing equally as well as the typical polymer-modified binder we used on the remaining portion of the job."
No major challenges were encountered while using the PG76-22GTR, Easterlin recalls.
"The only consideration we had to make was to ensure adequate agitation for the liquid tank," he says. "Since we used a smaller amount for this job, Blacklidge Emulsions provided a portable tank unit to keep the rubber homogenously blended with the asphalt binder. We simply connected that to our plant; basically it was just another storage tank."
The PG76-22GTR modified asphalt is now also being applied on I-12 in Baton Rouge and on U.S. 231 in Dothan, Ala.
Blacklidge Emulsions started in the GTR-modified-asphalt business more than 20 years ago. The founder, Ronnie Blacklidge Sr., was attending a Florida Asphalt Contractor meeting in Orlando to sell his asphalt emulsion. At that meeting the Florida DOT announced the need for a company to add shredded scrap tire rubber to asphalt in order to make Florida's interstates safer, quieter and more durable, and to reduce the tire stockpiles from Florida's overflowing landfills.
Immediately, Blacklidge raised his hand and committed his company to provide the service. Unbeknownst to anyone, he really didn't yet know how to produce the product, but he would return home the next day and investigate formulations and design a plant on scratch paper.
It took several months to build a small plant in Tampa, Fla., that produced limited amounts of GTR-modified asphalt. Since that day Blacklidge Emulsions has expanded to blending in ten plants in the Southeastern U.S. and has recycled more than 100 million pounds of scrap tires from landfills into asphalt highways.
"It makes a great deal of sense because tires are designed to be flexible in cold weather, almost indestructible in heat and are built with anti-aging qualities," Blacklidge says. "We use the qualities of the rubber from the discarded tires as a prodigious and cost-effective way to make our asphalt pavements more flexible and crack resistant, and to prevent rutting."
To read the full story, click here to download the Summer 2013 issue of Sustainable Construction.