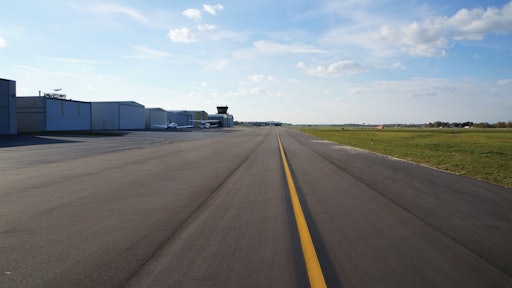 Waukesha County Airport, also known as Crites Field, is a public-use airport located two miles north of the central business district of Waukesha, WI, about 20 minutes west of Milwaukee. It's owned and operated by Waukesha County.
Taxiways D & F at the airport had some minor alligator and thermal cracking. It was decided that the pavement would be pulverized, graded, and two 2-inch lifts of 12.5-mm Superpave mix would be placed.
While the nature of the asphalt paving on this job wasn't anything remarkable itself, Stark Asphalt, Milwaukee, WI, saw an opportunity to implement some important concepts related to sustainable paving materials.
Nearly half of the airport's 200 small aircraft owners use their airplanes for both business and recreational purposes. And more than 50 local businesses use the airport to transport staff to meet with customers and branch offices.
Due to the relatively small aircraft that use the airport, the Wisconsin DOT Bureau of Aeronautics allowed the use of standard highway-spec mixes designed with the Superpave methodology. The slow speed of the traffic on these taxiways required the use of a modified asphalt binder to resist rutting, which is commonly used across the state.
There are a number of polymers and other additives that are used to modify asphalt. It had been many years, however, since the DOT had experimented with recycled tire rubber (RTR) in its asphalt pavements, says Carl Johnson, Ph.D., P.E., technical services manager with Stark Asphalt.
"Previous experiences did not show significant improvement in pavement performance for the cost of the added work in producing the material," he says. "But recent technological advances in the understanding of how to best utilize RTR in asphalt gave Stark a reason to re-evaluate it."
Re-evaluating Rubber
Stark Asphalt is an asphalt and concrete paving contractor that operates primarily in southeastern Wisconsin. While not unique in Wisconsin, Stark is one of the few contractors that are able to produce numerous grades of modified asphalt binder in-house.
"The previous experience in Wisconsin with RTR was with the 'dry' process, where the RTR was added to the plant mixture where aggregates and binder are combined," says Johnson. "Presently, it's more common to find the 'wet' process being used, where a finer size of RTR is blended with the asphalt binder prior to being pumped into the mixing plant."
Stark's existing blending facility in Milwaukee was well-suited to the "wet" process, and so the possibility of using RTR-modified asphalt was examined further for the 2013 construction season.
One specific challenge of using a RTR-modified asphalt was that Wisconsin didn't have a RTR-modified binder specification. Working jointly with WisDOT's Bureau of Aeronautics and Bureau of Technical Services, a resolution was promptly agreed upon. "The gap in specification was overcome by stating that the material would meet the performance grade requirements of a standard PG64-28 asphalt," says Johnson. "The only exception was that the solubility requirement would be waived, with the understanding that any insoluble material would consist of RTR-related products."
Johnson lauded both WisDOT Bureaus for their willingness to explore new methods to improve their pavements in a sustainable fashion.
RTR for rutting resistance
For the Waukesha County Airport project last June, the surface course required PG 64-28 binder. "For reference, many interstate highway and similarly heavily-trafficked pavements in our area utilize PG 70-28 binder, which is heavily modified with virgin polymers and other additives," says Johnson.
"RTR-modified asphalts have seen increased use in these types of high-traffic pavements due to their ability to add stiffness and elasticity to the pavement, with the RTR typically being added at rates of 10% to 15% of the liquid asphalt binder," he adds.
The airport job didn't require as high of a level of traffic resistance, but still needed some safeguards to protect against rutting. Therefore, RTR was investigated as a modifier, but in lower percentages than were being used.
After lab blending trials, it was found that adding 5% of a 30-mesh RTR to a PG 58-28 binder yielded a one-grade "bump" to a PG 64-28. Additionally, it was found that the incorporation of RTR into the binder provided improved low-temperature properties that guard against brittle behavior, such as cracking.
The mix design that was used on this project had been previously used on a 5-mile mill and overlay earlier in 2013.
Testing was performed in the lab prior to production for the airport job to evaluate the effect of the RTR-modified asphalt on the standard mix design, but it was found that due to the relatively low levels of RTR, there was no need to change the design asphalt content.
After the addition of the RTR to the neat asphalt binder the previous afternoon and overnight mixing, the one-grade bump to PG 64 was verified the following morning on the day of paving. The RTR-modified asphalt moved through the plant without a problem, and QC testing indicated air voids from 4.2% to 4.8%.
"Paving crews reported excellent workability and density in the field," says Johnson.
And, over six months into its service life, the new pavement is performing remarkably well, says Johnson.
In addition to the RTR-modified asphalt, the mix design also included almost 3% recycled asphalt shingles (RAS) and 12% reclaimed asphalt pavement (RAP).
Adds Johnson, "Increases in the amount of recycled asphalt materials in paving mixtures has been met with resistance at times, but the beneficial reuse of another recycled product, tire rubber, may be able to improve the performance characteristics of the virgin asphalt binder to a level that can alleviate those concerns."