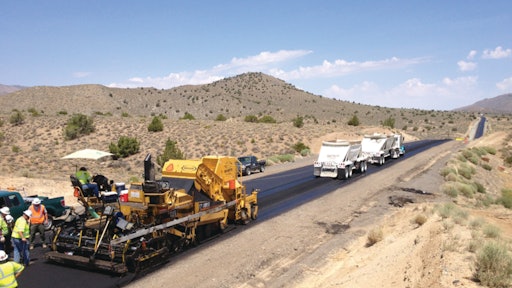 "Recycled asphalt and cold-in-place recycling (CIR) on the Red Rock Road Preservation Project in Reno, Nevada, is an excellent, low-cost option for taxpayers," says Jason Fritz, Project Engineer with Granite Construction. "This is just one of many projects we have successfully completed utilizing sustainable paving processes."
Granite Construction Company, the general contractor for the Red Rock Road Preservation Project, is no stranger to using products, processes and methodologies to help its customers save energy, conserve natural resources and accomplish more with fewer environmental impacts.
"A cornerstone of our efforts is the use of recycled materials in the construction materials that we produce," explains Fritz. "We also produce construction materials that yield other environmental benefits, including reduced energy usage, improved highway safety, better groundwater management and safe storage of hazardous materials."
"CIR involves milling, screening and crushing existing asphalt pavement at the work site," explains Fritz. "Crushed asphalt is restored by blending it together with a rejuvenator (usually an emulsion) and laying the material to form new pavement. Since the process occurs as one continuous operation, CIR is an efficient and cost-effective method of revitalizing a road, like Red Rock Road, while recycling 100% of the existing road material."
The road to be rehabilitated had to be in "decent shape," says Fritz, to choose CIR over traditional reconstruction. Red Rock Road was the perfect candidate.
Using 100% recycled asphalt
The Red Rock Road Pavement Preservation Project contract was awarded to Granite Construction last year. Completed for the Regional Transportation Commission (RTC) of Washoe County, the project consisted of a 5.6-mile, 2 in. CIR job with a 2 in. hot mix asphalt overlay. Miscellaneous roadside drainage ditch improvements and new shouldering, striping and signage were also included.
CIR subcontractor Pavement Recycling Systems Inc. (PRS) handled the actual CIR work with a mobile recycling train. Granite Construction performed all base, shoulder and miscellaneous paving including the final 2 in. Plantmix Bituminous overlay, which contained 15% RAP.
Mike Soukup, Granite Construction Regional Equipment Manager, explains that the project required 9,400 tons of asphalt paving – all of which was recycled material. Crews were able to recycle 2,800 tons of shouldering material from the jobsite itself. The remaining material was recycled from a nearby Granite Construction project at no cost to the owner.
"We saved both time and money not having to off haul material and then haul additional material back into the jobsite," says Soukup. "We take a lot of pride in the material we put out and this recycled asphalt is as durable as virgin material."
Additional innovative paving processes were used on the job as well. An asphalt safety edge was required and rather than purchasing an apparatus to attach to the paver, the project owner and Granite worked together to drag a chain along the edge, which saved funds.
Work performed by Granite Construction on the Red Rock Road project was completed with Cat equipment. Additional support equipment, including water trucks, etc., was also present. Cat equipment included 14H motor graders, CS583 Compaction Rollers, a AP1055D Paver, CB64 and CB54 Vibratory Asphalt Compactors and a 328 Excavator.
"I've always been happy with Cat equipment," says Soukup. "When I joined the company in 1999 as the Northern Nevada Equipment Manager, the company owned a lot of different types of equipment. Over the years we weeded out the cross section of equipment and relied on Cat equipment because it has a long life expectancy, is durable and has unmatched parts availability and product support through our local dealer, Cashman Equipment Company.
Thinking outside the box
The Red Rock project also included paving seven rural residential road intersections and numerous driveways, with virtually no opportunity for traffic detour routes. The areas where the long CIR train could be turned around were also very limited.
"Traffic control and accommodations to residential access were key issues for this project," says Soukup.
Although the project specifications allowed up to 20 minute delays of traffic, Granite developed pilot car loops with the goal of not exceeding 15 minute delays. Except during extreme peak periods, the normal cycles were 10 minutes or less, greatly reducing the frustrations to the traveling public.
Closure of road intersections and driveways during key operations such as the CIR process and paving were also a major concern. Granite developed a numbering system for each access point, physically marking the access number in the field, and then advised the residents of the target times that their access location would be closed, allowing the residents to plan and schedule around anticipated closures. No significant complaints were received due to either delays or closures.
Coordination fosters savings
Time was of the essence on this rehabilitation job. One of the area's largest outdoor events, the Reno Air Races, was scheduled to take place just after construction. Red Rock Road serves as the only direct access to the event space and it was crucial to the RTC that construction be completed prior to the event. 
The original contract cost was $1,744,744 and the project came in under budget at $1,677,708. It was originally bid to take 65 calendar days but achieved substantial completion at 28 days. There were zero injuries and 100% matrix achievement.
Brenda Lee, Project Manager for the RTC wrote a letter to the Associated General Contractors recommending the project for an AGC Pinnacle Award. The project was awarded a NAPA 2013 Quality in Construction Award.
"It is estimated that this project saved the Northern Nevada taxpayers some 30% of the total project cost using the CIR process versus a standard rehabilitation method, reduced the asphalt paving natural resource requirements by 50%, and yet provided a 20-year design life," says Lee.
"A key to the successful completion of any construction project is the competence of the construction team," stresses Lee. "Granite Construction and Pavement Recycling Systems completed this project with a very high degree of quality through each step of the construction process."
One example she notes: Granite obtained 86% of their joint compaction bonus of the asphalt paving; an unprecedented high percentage. This was achieved due to the extra care and effort put in the rolling pattern despite the close confined work zone due to the traffic needs.
"This project is the first in the industry to specify the requirements for air voids and strength retention in freeze-thaw conditions because we feel these are important characteristics to assure a good performance in our climate," she concludes. "These requirements add significant difficulties to the mix design. PRS exhibited state of the art knowledge from the initial stages of CIR mix design through the recycling execution, including their high degree of continuous quality control methods throughout the recycling process."