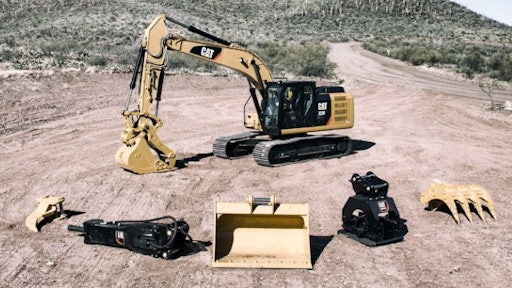 Lonnie Fritz, Construction Industry Market Professional, Caterpillar Inc.
Multi-tasking is the name of the game on most construction sites. Contractors everywhere are using attachments and couplers to expand the versatility of their equipment. But choosing the right tools can be challenging. If you're shopping for attachments, here are a few things you should be ready to talk about with your dealer.
Basic specs. Know the key specifications for all machines that may work with the attachment. This includes model number, configuration, tipping load, lift and weight capacities, counterweight size and any other core information.
Materials. Identify the types of material you expect the attachment to be working in most of the time. Consider the materials' hardness, abrasiveness and other characteristics as these will determine the best suited ground engaging tools (GET) — teeth, cutting edges, etc. — to armor the attachment with. Provide material samples if you can.
Applications. List the jobs you plan to do with each machine and the environments you expect to work in. The attachments you'll need for light-duty tasks will be quite different than those required for severe conditions.
Special features. Be aware of optional, retrofit or other non-standard features each machine has. For example, if you equipped your excavator with an optional boom and stick combination or made changes to the hydraulic system or engine, your dealer needs to know.
Hydraulic flow and pressure. Know each machine's flow (gpm) and pressure (psi) output capabilities. Generally speaking, a machine with a standard-flow system operates at a flow rate of 22 gallons per minute at 3,300 psi. A high-flow system runs at higher flow and pressure levels to deliver the requirements extra-high-pressure attachments demand.
Tool-machine match-ups. Look carefully at the configurations available for a given attachment and choose one that matches the machine and application. For example, if you were evaluating augers, a direct-drive model would probably be sufficient for a standard-flow machine in a medium-duty application. But if you were operating a high-flow machine in an extreme-duty application, a high-flow planetary drive auger would make more sense.
Coupler. If you already have a quick coupler, know the brand and model and bring the serial number and a photo for reference. If you don't have one, consider investing in a productivity booster like the Cat Pin Grabber Coupler.
There are many factors to consider when shopping for attachments; these are just some of the big ones. As you evaluate your options, it's best to work with a dealer who understands your business, knows your equipment and can help you make your machine a multi-tasker. Choosing the proper attachment for the job will decrease cycle times, cost, accelerated machine wear and fuel consumption — resulting in increased profitability and efficiency.
Curious about all the jobs you can do with Next Generation Cat Excavators? Download a free brochure that recaps the available attachments.