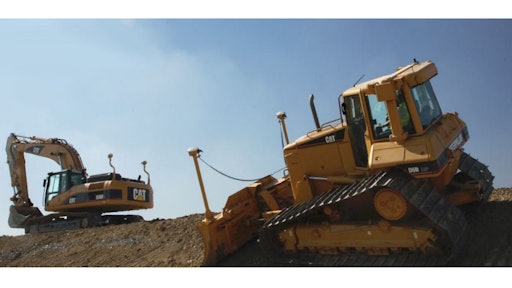 By Scott Hagemann, Technology Specialist, Global Construction & Infrastructure, Caterpillar Inc.
Although more equipment owners are getting comfortable with grade technologies, there's still some confusion out there. Don't stress – we've answered some of your basic questions here.
What does grade technology do?
Its primary functions are GUIDING and CONTROLLING blade and bucket movement. Some systems GUIDE operators to target grade through a visual display in the cab. Others (like Cat Grade with Assist) go a step farther and CONTROL the blade or bucket automatically, eliminating or greatly reducing manual effort. 
Which machines use this technology?
Cat Grade is available for dozers, graders, excavators, scrapers, compact track loaders, multi terrain loaders, skid steer loaders and several types of paving products. It is integrated into many new products and can be added to most machines, regardless of brand or age.
What are the biggest benefits?
Operators who use Cat Grade can achieve target grade faster in fewer passes, resulting in efficiency gains of up to 45%. They improve accuracy, reduce rework and use material more efficiently, while burning less fuel, racking up fewer machine hours and preserving component life. In many cases, training and surveying costs can be greatly reduced, and site safety can be enhanced by reducing or eliminating staking and grade checking.
What's the difference between 2D and 3D systems?
2D works on flat planes and slopes; 3D handles contours and complex curves
2D uses an external point of reference like a curb or laser; 3D references an external infrastructure for reference and an internal machine digital site plan
2D needs less infrastructure than 3D (experts, base stations, total stations, data radios, designs)
2D is less expensive – and fits fewer applications
2D works well when job conditions are fairly stable; 3D is preferred when the work is always changing
How do you know if you need 2D or 3D?
Your local Cat dealer can help you evaluate all the factors that affect the decision—from job requirements and site conditions to application issues, budget priorities, fleet size and more.
What's the payback period?
Every situation is unique, but studies show Cat Grade technologies can improve productivity by up to 45%—and pay for themselves in about 6 months.
How does grade technology affect safety?
Getting people (stakers and grade checkers) off the ground and out of trenches can have a huge positive impact on safety. In addition, Cat grade features like E-fence automatically stop excavator motion based on boundaries you set in the monitor for the entire working envelope—above, below, sides and front. E-fence protects people and equipment and reduces the risk of fines related to zoning or underground utility damage.
For more straight talk about grade technology, contact your Cat dealer. Or read up on the topic here.