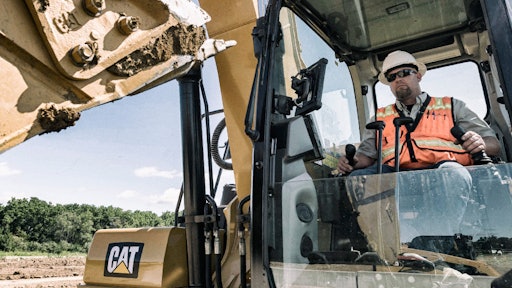 By Scott Hagemann, Market Professional GRADE technology, GCI, Caterpillar Inc.
As contractors compete for skilled operators, some try to set their companies apart by investing in higher tech equipment. But how important is technology to prospective operators anyway? We asked Doyle Carter, a skilled operator from Tennessee, to run an all-new excavator from Caterpillar and tell us what he thought. Here's his take.
"Everybody wants to get on it."
Carter says there was a lot of excitement when a new 320 arrived on the job site. "Having something new like this on the site is just fantastic. Everybody wants to try it out and see what it does."
"I like the grade control."
When asked about his favorite feature, Carter chose Cat Grade with Assist, a standard feature on the new 320. He says it's fast and easy to set the grade and go. "You just buzz on through it. You don't have to have somebody checking grade all the time, so I'm sure that's faster."
"There's nothing like the cab."
Carter says the cab is one-of-a-kind. "The visibility. The comfort in the seat. The touchscreen. I've not seen anything like it yet. And you're not all tired and worn out when you get out of it."
"The backup camera is real handy."
Having just spent a day working in cramped quarters, he was especially positive about the rear camera. "It's so tight on this slope, you can't spin around; you have to back out. So it was real helpful to have that camera."
"The e-wall is a big help."
Carter also expressed appreciation for the integrated e-fence feature that lets him set electronic boundaries above, below and around the excavator. "You can't encroach the line.  It'll beep, beep, beep and stop. It's a safety thing."
"It lit the world up."
The LED lights also caught Carter's attention. He recalls arriving on site before sunrise and noticing the new machine already at work. "It lit the world up. You could see everything."
How does your fleet compare?
Obviously, there's more to attracting skilled labor than a modern fleet. But technology can be appealing to operators, so it's a factor worth considering. Learn more about the technology on the Cat Next Generation Excavators here.