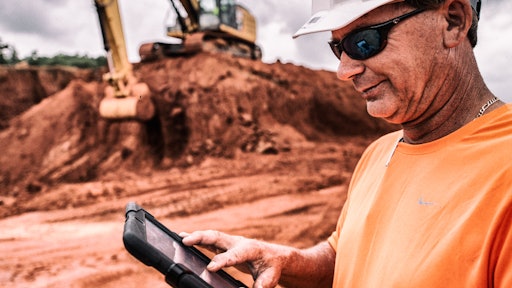 By Lonnie Fritz, Market Professional, Construction Industries, Caterpillar Inc.
Does bidding for construction jobs sometimes feel like throwing darts in the dark?
If you're not sure where to look for new work or can't find the details you need to put together a winning bid, you're not alone. Everyone responsible for bidding – whether they've been doing it for a few weeks or a dozen years – faces these struggles. The good news is there are dozens of tools available online to help you search for projects and target the ones that are a good fit for your business. Here are five I'd suggest looking into:
BidClerk.com gives you access to an online database of planned commercial construction activity, public and private, in the U.S. and Canada. You do have to purchase a subscription, but the site is robust – adding about 400,000 projects a year – and its search functions make finding relevant jobs easier. You can apply filters, save searches and set up alerts for information about new projects.
ConstructionBidSource.com lets you search up-to-date information about projects nationwide for free. (You do have to pay to access contact information and documents, however.) This site is also a good source for placing Disadvantaged Business Enterprise solicitations or getting help with good faith efforts required by local, city, state and federally funded projects.
ConstructionWire.com houses data on 420,000+ projects, mostly commercial, each with a total value of $500,000 or more. You'll find information here on private initiatives that can sometimes be tricky to access. This is a pay-for-use site, but there are different options in different price ranges – like a regional portal that lets you access projects in three states all the way up to a national portal.
FedBizOpps.gov is a free site listing more than 28,000 projects, posted by 134 federal agencies. Not every job is construction-related, though, so it's best to conduct an advanced search to filter by type of contract. Interested in learning more about how to do business with the federal government? You'll find some good resources here – check out the calendar of outreach and training events.
GovernmentBids.com tracks bids, RFPs, RFQs and other opportunities from thousands of federal, state, local and other purchasing entities daily. It's free to browse bids by region, category or products/services regularly purchased by government agencies, but you'll need to buy a yearly subscription to see the posting agency, project description and bid documents.
If you're looking for help with the bidding process (and who isn't?), it's worth an hour or two of your time to explore these sites. Look for projects in your area, play around with the search filters and compare what's available for free versus what you get with a paid subscription. Then, once you've identified some projects you want to go after, check out these tips for creating an accurate, competitive, profitable bid.