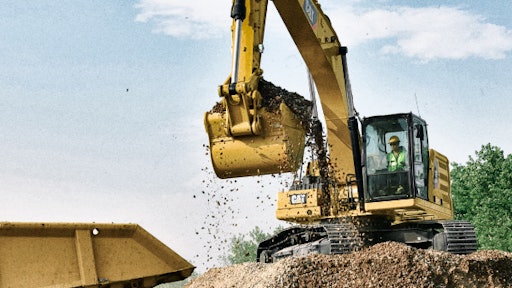 By Jason Hurdis, Global Market Professional, Construction Materials Industry, Caterpillar Inc. 
With the cost of operating seeming to move in just one direction – up – there's little room for waste or inefficiency. Unfortunately, misloaded trucks are eating away at many contractors' profits. According to trade estimates, an average of 15% to 20% of trucks are loaded at incorrect weights, and most on-highway loads run between 5% and 8% under maximum legal gross vehicle weight (GVW).
That's the bad news. Here's the good news: Onboard measurement technology, like Cat Payload, makes it easy to eliminate under- and over-loading. This quick-to-learn system ensures the right amount of material gets moved to the right place – the first time and every time.
How it works
Cat Payload lets your operators monitor production right from the cab. The easy-to-read display shows:
Target weight and the weight of each load, eliminating guesswork
Real-time estimates without having to swing, allowing quick, on-the-go adjustments
Overload alerts when final bucket loads exceed payload limits
Constant display of bucket payload and truck cumulative payload weight
These features don't just make your operators more precise – they also help increase operators' confidence, so they load faster.
How it pays
Faster, more precise loading is just one benefit of Cat Payload. Onboard weighing can help you rid your balance sheet of overload fines and eliminate trips to the scale. Using Cat Link data, it also generates reports – from load and cycle counts to daily material totals – you can use to monitor and improve the efficiency of your entire operation.
With experienced operators more difficult to find than ever, technology like Cat Payload can help you avoid the mistakes that drive added costs. Use this productivity calculator to estimate the benefits of more efficient loading on your bottom line.