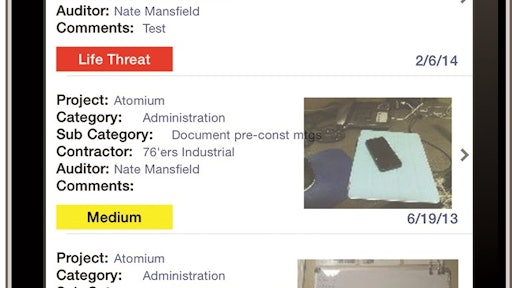 Mobile app: SafetyNet
Developer: Predictive Solutions
Cost: Free with subscription
Available on: Apple and Android devices
The SafetyNet app is designed to help predict and ultimately prevent workplace injuries. Users can use the app to conduct inspections and collect workplace safety observations on the jobsite. The app then syncs those observations with the SafetyNet web application where advanced and predictive analytics are performed on the data. Observations can be uploaded to SafetyNet with the tap of a button making the data available in real time.
Using the predictive analytics, contractors can identify where they are most likely to have a safety incident or injury and communicate that information to their teams and management. The app helps construction contractors identify which projects, contractors, crews or even work tasks are most at risk of increased injuries.
Configurable to a company's safety observation program including checklists, worksite locations, team members, and other relevant information
App features:
Configurable to a company's safety observation program including checklists, worksite locations, team members and other relevant information
Add detailed information during inspections such as comments and severity levels
Mark items for follow up and assign actions, responsibility and due dates
Provide feedback to observers and inspectors in real time
Automated communication findings distribute inspection summaries, open issue reports, inspector participation reports, contractor summary reports, project summary reports and more from the jobsite
Supports multiple inspection checklists