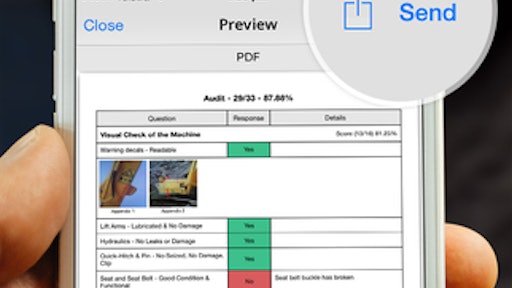 Mobile app: iAuditor
Developer: SafetyCulture Pty Ltd
Cost: Free
Available on: Apple and Android devices
iAuditor is a free inspection checklist mobile app that allows users to create and export inspection reports.
More than just a checklist, the app includes smart fields that allow users to create actions for responses and build intelligence into the template. Contractors can build their own inspection forms in just seconds using the drag and drop editing interface. iAuditor also allows for branching and nesting of subcategories.
[VIDEO] Introduction to iAuditor Mobile App
Contractors not interested in building their own forms can browse and choose from iAudior's shared Public Library of over 54,000 inspection forms (10,000 specific to the construction industry) created by other users. Sharing of templates is optional.
With iAuditor, users can include images with their inspection forms. The app lets users annotate images with arrows, diagrams and drawings to indicate issues found during inspections.
Once completed, inspections can be exported or emailed with just one tap. Reports can be exported in multiple formats including PDF, CSV, Word and JSON. Users can also export in more than one format at once. Advanced exporting features can be done with a one-time in-app purchase.
App features:
Multiple sections within an audit
Tick boxes
Administrator controls to lock down cloud uploading
Custom heading fields and email subject lines
Default email address can be setup for all audits
Mandatory questions
Time and date stamps for sections
Media gallery
Asset fields for regularly inspected items or equipment
Signature fields
Scoring and weighting
Follow-up actions and scheduling
Labels mark audits as completed or incomplete
Dashboard page provides instant access to template information
API access
Custom branding, ability to add logos and colors to the interface
Work in organizations and groups