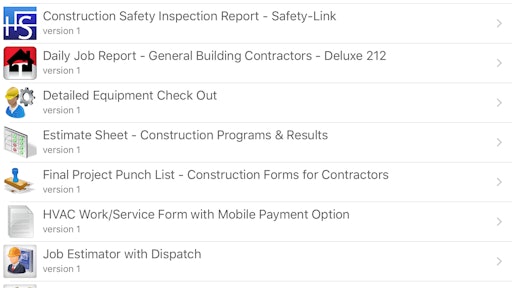 Mobile app: Canvas 8
Developer: Canvas Solutions, Inc.
Cost: $30 monthly subscription
Available on: Apple and Android devices
Canvas 8 is a mobile platform and app that allows construction contractors to customize forms for data collection, automate how data collection is done and reduce paperwork. It provides contractors with a way to collect, share and learn from the field data they use everyday, providing real-time insights into a field tech's revenue generation, first time fix (FTF) rates, safety inspection results and much more.
According to the Canvas Solutions, Inc., developers of the app, contractors are able to automate key workflows, such as work/service order revisions, inspections, equipment procurement tracking and time keeping. This allows contractors to unlock frontline data that until recently were not readily available to them.
Users can choose from more than 21,000+ pre-built, customizable forms including forms for work/service orders, inspections, checklists, invoices, audits, estimates, logs and more.
Canvas Solutions recently surveyed its construction clients on why they chose Canvas and the top reasons included speed, productivity and saving money. In fact, over 70% of respondents said their motivation was to increase data collection speed and efficiency. Just over 40% of respondents said reducing operational costs, increasing visibility of data and reducing jobsite errors were the leading motivators to using Canvas 8.
App features:
Works online or offline
Drag-and-drop form builder
Automated PDF generation and customization
Integration with Zapier apps
Canvas Business Insights takes data collected in the field and automatically creates real-time charts, graphs and more
Deploy and update forms to field techs in real-time
Interested parties automatically notified when documents are updated or approved
Share data securely in the cloud with customer, subs and colleagues
Capture: signature, images, GPS locations, date/time
Autofill and required fields
Automated alerts based on timecard data sent to supervisor or project manager
Equipment check-in and check-out can be automatically routed to a supervisor for approval
Mobile payment capable