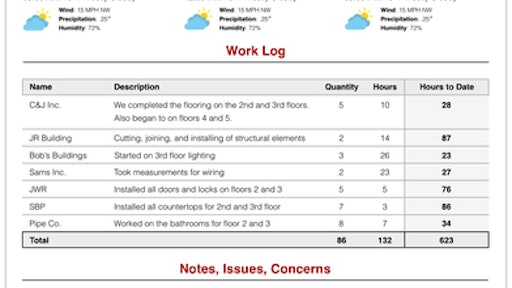 Mobile app: Raken Daily Reporting
Developer: Raken, Inc.
Cost: Free 15 day trial
Available on: Apple and Android devices
Raken is a number one rated field reporting and collaboration software for construction contractors. The mobile app is a daily reporting app that allows construction contractors to keep track of information and create professional reports from the jobsite.
[VIDEO] Overview of Raken Daily Reporting Mobile App
Contractors can type or dictate information directly into the Raken app from a smartphone or tablet. Users can also add pictures, videos and other attachments such as PDFs, Excel files, Word documents and more to a report which can then be emailed directly from your phone or tablet.
With Raken, contractors can record work logs, subcontractor information, safety observations, equipment, visitors, materials, notes, pictures and attachments and add them to daily reports.
Raken is available for a free 15 day trail before purchase is required. Every Raken paid plan includes unlimited projects and voice-to-text recognition. Plans are available starting at $12 per user per month for the Basic plan, $30 per user per month for the Professional plan and $37 per user per month for the Performance plan. The Professional plan includes fully customizable surveys while the Performance plan includes fully customizable surveys and reports.
App features:
Create a daily report PDF which can be reviewed and shared
Added information automatically syncs with Raken website
Automatically capture weather information
Assign tasks to other team members using Raken
Invite subcontractors to use Raken for better collaboration
Customize construction daily log to fit company's needs
Set reminders to complete daily report
Automatically email construction daily log
Send/receive real-time notifications for accidents and delays
All information is time, date, location and user stamped
Generate reports for payroll and scheduling
Generate manpower reports for easy payroll and scheduling
See total hours each employee or subcontractor has spent on the jobsite
Send weekly and monthly summary reports
Automatically upload daily construction reports to cloud storage