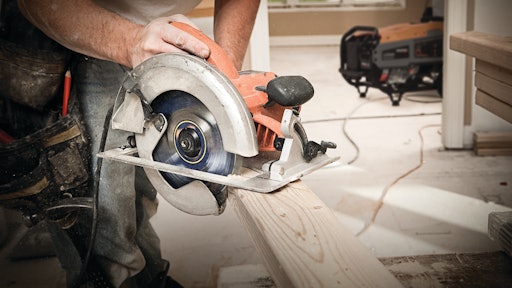 As economic indicators point to a strong rebound in new construction for 2013, sustainable building has remained a popular trend for businesses. Contractors are capitalizing on this demand by incorporating efficient, environmentally friendly appliances such as propane-fueled space heating and cogeneration systems into commercial builds.
The eco-friendly construction trend is also migrating to the jobsite. According to the Environmental Protection Agency (EPA), total waste generated from the construction, renovation and demolition of buildings, roads, bridges and dams is estimated at 325 million tons. Noise pollution and harmful emissions from equipment can also affect the health and well-being of construction crews.
As contractors look for strategies to reduce their overall carbon footprint on the job, alternative fuels such as propane offer an easy and effective way to minimize impact and maximize efficiencies.
The Positives of Propane
Propane-fueled equipment complements contractors' larger sustainable efforts and offers many advantages for jobsites. Propane emits fewer carbon dioxide emissions and other pollutants than gasoline or diesel, improving air quality for the crew. As a closed fuel system, spilling propane is not an issue. In the event of a fuel leak, propane does not contaminate soil or groundwater like conventional fuels and is approved for use in environmentally sensitive areas.
In addition to helping contractors meet environmental goals, propane can also provide a boost to the bottom line. Propane costs up to half the price of gasoline or diesel, improving profit margins. A clean-burning, high-octane fuel, propane produces fewer engine deposits and particulate matter than conventional fuels. As a result, many builders have realized further savings from longer lasting propane-fueled engines. In the off-season, there is no risk of wasted fuel, because propane can be stored in bulk under relatively low pressure without degrading.
Propane Equipment Gets the Job Done
In light of these benefits, more manufacturers are offering propane-fueled equipment for the construction professional.
Portable Generators
Many propane-fueled portable generators available on the market today have a propane tank that is manually carried and placed next to the generator while it's in use. Technology advancements, such as the Generac LP5500 portable generator, are designed for maximum portability, with an integrated tank built into the frame and mounted wheels. With the 5.5 kW portable generator, manual tank handling is eliminated, allowing contractors to take advantage of the unit's affordability and power for a variety of builds. 
Onsite Heating
Heat is generally required for materials to dry or cure on the jobsite, presenting a problem for builders during cold or damp winter months. Once a building is enclosed, a combination of heat and ventilation is critical for material finishes, including the floor, drywall, plaster and paint.
Temporary construction heaters fueled by propane are an ideal solution for contractors, and many use efficient technology such as electronic modulating burner controls and remote space thermostats to automatically adjust gas flow. These powerful units can also draw clean, outside air for heat. Temp-Air offers a wide range of portable heating equipment in many sizes.
Smaller heaters are also available and can provide high heat with little noise pollution. The Hero, from Mr. Heater, is a cordless forced-air propane heater that features a built-in battery and charging system. This system enables contractors to bring it to wherever heat is needed on the jobsite, and its Quiet Burner Technology reduces noise to half the level of comparable units.
Work Trucks
For contractors working at multiple sites and with lots of back-and-forth travel, propane-autogas-fueled work trucks can help multiply environmental and economic benefits. Contractors can choose from a variety of OEM-supported EPA- and CARB-certified vehicles, as well as numerous conversion kits. For instance, Roush CleanTech as a Ford Qualified Vehicle Modifier (QVM) offers liquid injection propane-fueled pickups in popular models such as the Ford F-250 and F-350. The trucks feature maximum-capacity in-bed tank fuel systems that provide extended range between fill-ups and identical performance to gasoline. (See story "Propane Autogas Truck Saves Roofing and Construction Business Thousands in Fuel Costs" in this issue.)
Refueling with propane autogas is similar to gasoline and diesel in terms of time, ease, and noise, and it is the only alternative fuel with public refueling stations in every state. Public refueling stations, such as the 37 locations opened by Midwest home improvement store Menards in December 2012, serve as a one-stop-shop for contractors looking to fill up their propane autogas trucks and purchase other propane-fueled equipment and tools.
Rebates and Incentives
Adopting alternative fuels, like propane on the jobsite, is an easy and affordable first step toward a cleaner, healthier working environment. In many instances, rebates and tax incentives may be available to companies to lower the up-front costs of switching to alternative fuels. Contractors may qualify for federal tax credits on propane autogas for work trucks, including a $0.50 per gallon credit for on-road use through the American Taxpayer Relief Act of 2012.
To learn more about applicable rebates and tax incentives available on propane-fueled equipment, consult the Alternative Fuels Data Center www.afdc.energy.gov/laws or the Internal Revenue Service. For more information on propane and its applications for contractors, visit buildwithpropane.com.
Propane POP QUIZ
What is propane?
An affordable, clean, high-energy alternative fuel, propane is a gas normally compressed and stored as a liquid. It is most commonly used as a fuel for engines, space and water heating, and cooking; however, its applications are rapidly growing due to new technology developments.
Propane is nontoxic, colorless, and virtually odorless; an identifying odor is added so it can be detected.
Propane is also sometimes known as liquefied petroleum gas, or LPG. When used as vehicle fuel propane is known as propane autogas.
Where does propane come from?
Propane is primarily a byproduct of domestic natural gas processing, though some propane is produced from crude oil refinement. U.S. propane supplies are becoming increasingly abundant due in large part to increased supplies of natural gas.
As shale gas extraction has increased, the production of propane from crude oil refinement has dropped dramatically. In 2011, 69 percent of the total U.S. supply of propane came from natural gas liquids produced in the U.S. and Canada.
Much growth in propane supply is expected to come from the Marcellus shale play in the northeastern U.S. Industry observers estimate the Marcellus shale alone can supply more than 2 billion gallons of propane per year.
Because of the drastic increase in U.S. sources of propane, the U.S. produces more than enough propane to meet current demand and became a net exporter of propane in 2011.
Who uses propane?
Propane is used in 48 million households as well as many businesses for water and space heating, cooking, clothes drying and backup power. Additionally, many industries increasingly choose propane to cost effectively fuel vehicles and equipment while lowering emissions.
On-Road Vehicles. Propane autogas is an approved clean alternative fuel under the Clean Air Act of 1990 and the third most popular vehicle fuel worldwide behind gasoline and diesel. Propane is commonly used to fuel buses, light- and medium-duty trucks, vans, shuttles, taxicabs, and police and government vehicles.
Professional Landscape Equipment. More than 15 models of propane-fueled commercial lawn mowers are available today from industry-leading brands.
Agricultural Equipment. More than 1.2 billion gallons of propane were sold for agricultural use in 2009. This includes propane that is used to run pumps and engines, heat buildings, and dry and process crops.
How is propane distributed?
With up to 56,000 miles of pipeline and nearly 6,000 retail dealer locations nationwide, propane is widely available and easily portable.
For on-road use, there are more fueling stations in the U.S. for propane autogas vehicles than there are for vehicles of any other alternative fuel except electricity. Propane is the only alternative fuel with fueling stations in every state.
How does the propane industry contribute to the economy?
The propane industry generated nearly $15 billion in direct domestic value in 2009. Nearly 50,000 workers across the U.S. are employed in propane production, transportation and distribution.
To read the full story, click here to download the Summer 2013 issue of Sustainable Construction.