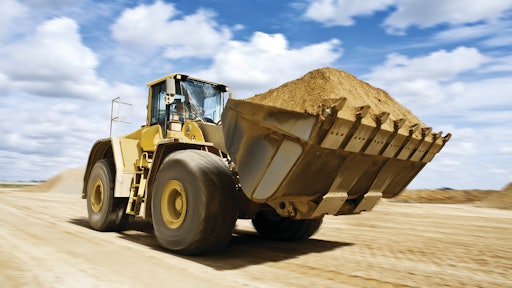 Here you will find a variety of sustainability messages, from manufacturers and contractors of all different sizes. We invite you to share with us YOUR company's sustainability message.
In line with the Volvo Group's vision to become a world leader in sustainable transport solutions, Volvo Construction Equipment (Volvo CE) is committed to contributing to sustainable development. Volvo CE was the first construction equipment company in the industry to join the World Wide Fund for Nature's (WWF) Climate Savers program — an initiative that requires participating corporations to commit to cutting CO2 emissions in their operations. As well as looking at the environmental dimension of sustainability in terms of reducing emission levels from products and factories and improving the fuel efficiency of construction equipment, Volvo CE is also addressing the social and economic factors of sustainability. This includes further improving the safety and efficiency of machines.
Volvo has set itself the target of reducing accidents relating to its equipment to zero — and future technology will play a major part in achieving this ambition. That's why, each year, Volvo CE invests a substantial amount of money in advanced engineering — driving the development of new innovations and improving conventional technology. One example of a pioneering breakthrough made by Volvo CE engineers which makes equipment more fuel efficient while reducing emissions and environmental impact is OptiShift technology — a technical advancement that delivers up to 15% improved fuel efficiency and increased performance in wheel loaders.
OptiShift consists of two new features: a torque converter with lock-up and free wheel stator, and Volvo's patented Reverse By Braking (RBB) function. OptiShift was first launched as an option on Volvo wheel loaders in 2009 and since 2011 it has been a standard feature on the larger machines: the L150G, L180G, L220G and L250G.
Click here for more information on Volvo Group and sustainability.
Kubota Corporation, based in Osaka, Japan, is the parent company for Kubota Tractor Corporation, Torrance, Calif.
Kubota Corporation's mission statement is "Food, water and the environment are indispensable for human beings. The Kubota Group continues to support the future of the earth and humanity by contributing products that help the affluent and stable production of food, help supply and restore reliable water, and help create a comfortable living environment through its superior products, technologies and services."
As Kubota's business and overall footprint grows throughout the United States, the company has maintained its global commitment to minimizing its impact on the environment. For example, in April 2013, Kubota announced the grand opening of a new $73 million manufacturing facility at Kubota Industrial Equipment (KIE) in Jefferson, Georgia. The 522,000-square-foot plant on the 88-acre site recently began production of Kubota's 30- to 50-hp compact tractor models. As part of its corporate social responsibility initiatives, KIE has adopted several environmentally conscious processes and product installations on-site, resulting in the facility receiving ISO 14001 certification. Among its most advanced environmentally conscious technology is the Kubota Membrane installation that will allow KIE to recycle and reuse 70% of its overall water consumption, which is particularly beneficial for the work done on-site within the facility's paint shop operation.
Click here for more information on Kubota and sustainability.
Hyundai Construction Equipment Americas and its parent company, Hyundai Heavy Industries, are dedicated to minimizing environmental pollution, maximizing resource efficiency and conserving energy. These efforts will help lead to a higher quality of life and maintain a sustainable society. To accomplish these goals, Hyundai has focused on developing state-of-the-art environmental technology that includes air pollution control, waste treatment systems, water treatment systems and alternative energy.
Hyundai has risen to the challenge of improving product offerings to meet current EPA emissions regulations, while providing its customers with heavy construction equipment that has the power to get the job done and the ergonomic design to maximize operator comfort. We are proud to be part of the process of lowering greenhouse gas emissions and improving the sustainability of the world in which we live.
In 2013, Hyundai Construction Equipment Americas launched its -9A Series of excavators and wheel loaders. These new machines come with low emission and electronically controlled Cummins Tier 4 Interim & EU Stage IIIB engines that deliver improved fuel economy over previous models. These engines take our industry on a major step toward lessening environmental impact with the introduction of a High Pressure Common Rail (HPCR) fuel system.
This heavy-duty system delivers a constant stream of pressurized fuel across all engine rpm speeds, providing cleaner combustion and improved engine response with multiple injections every combustion cycle. The fuel system is complemented by Cummins VGT Turbocharger, which continuously varies the airflow to precisely match engine rpm and load demands for optimal performance.
Cummins
Cummins takes a broad view of sustainability, beyond just what the company does to reduce its environmental footprint and build stronger communities through Cummins' corporate responsibility initiatives.
The company believes safety, diversity, workforce development and Cummins' financial performance are critical to sustainability as well. Companies without a firm financial foundation, for example, can't be sustainable for very long.
Cummins wants be as transparent as possible about sustainability. This means reporting the company's performance on key environmental, corporate responsibility and safety metrics.
The company's just-released 2012-2013 Sustainability Report also includes a special section on innovation. While innovation is critical to everything the company does, the special section focuses on what Cummins is doing to maintain its technical leadership in the diesel engine and power generation industry.
For the past 20 years, technical innovation at Cummins has been driven largely by increasingly stringent air emissions regulations around the world. As emissions approach near zero levels in most mature markets, the company's technical leaders are thinking about what will drive innovation over the next 10 or 20 years. They are urging employees to "See the Future First and Beat the Competition to It!"
The company's Sustainability Report continues to be prepared in the spirit of the Global Reporting Initiative, which was created to develop a consistent way for companies around the world to voluntarily report on the economic, environmental and social components of their businesses.
Click here for more information on Cummins and sustainability.
To read the full story, click here to download the Summer 2013 issue of Sustainable Construction.