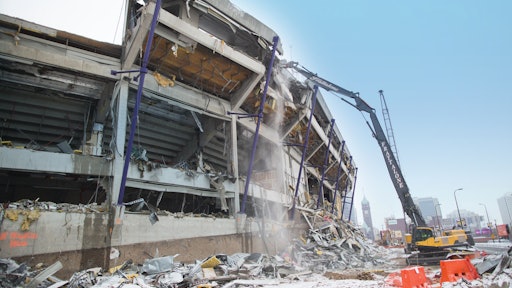 A quieter part of the sustainability story is the evolution in construction techniques and materials acquisition that can reduce waste, energy and various inefficiencies at building sites.
However, green construction techniques play only a small role in achieving Leadership in Energy and Environmental Design (LEED) certification from the Washington, D.C.-based U.S. Green Building Council (USGBC). This is why many contractors don't focus on them.
The USGBC works on a point system, and most of those awarded come from a building's design, location and orientation, and its materials to a smaller degree. All of these contribute to LEED certifications. Lean manufacturing, in contrast, wins no points for contractors but contributes to less energy expended at a site.
For contractors, a strategy for saving time and materials can lead to higher profitability and the good feeling of not creating unnecessary waste. Here's a look at five techniques that are having the greatest impact on sustainable building construction.
1. Prefabricating Materials in Controlled Environments
Constructing as much of a structure in a controlled environment as possible has improved the quality of buildings and resulted in less trash, says Spencer Finseth, principal of Minneapolis-based Greiner Construction.
Being able to cut materials precisely decreases waste and creates buildings that are strong enough to allow contractors to use wood framing as high as five stories, he says.
Mechanical contractors use Building Information Management (BIM) systems to cut sheet metal for duct work in a controlled environment instead of outside to avoid the shape-changing problems caused by cold or hot weather, according to Mike Smoczyk, director of professional development for Minneapolis-based Kraus-Anderson. That same duct work is delivered to a project "wrapped and sealed tightly and kept out of the elements" to avoid damage, he says. He estimates that prefabrication probably accounts for 15% of any project and likely more for hotels.
Roseville-based McGough Construction is prefabricating forms for use in creating the concrete superstructure of the $39 million, 57,000-sq.-ft. addition for the Ordway Center for Performing Arts addition in downtown St. Paul, according to Dan Brenteson, McGough's lean enterprise system director. McGough first creates 3D models then pre-builds forms at its White Bear Lake warehouse, a much better environment than being outside at a work site exposed to the elements and "in a constrained environment," he says.
The resulting forms are then transported — in this case to the Ordway site — where concrete is poured into them and the pieces are assembled in an Erector Set-style fashion. It's a common practice for McGough that saves time and improves quality because the planning and assembly of formwork were done in a warehouse with access to equipment not readily available on tight jobsites, such as the Ordway, Brenteson states.
Reducing waste is becoming more achievable for contractors as haulers have grown more sophisticated in recent years. Where jobsites once had trash bins for different types of waste, they now need just one, in many cases, because haulers use pickers to separate materials.
"Through haulers, we can achieve 75% landfill avoidance through their process and we don't need to separate materials to do it," says Dale Forsberg, president of St. Louis Park-based Watson-Forsberg. "On a couple of sites, we've hit 95%."
For inner city projects with small footprints, having haulers handle materials in a single container makes all the difference because space is at a premium, Forsberg says. Some materials are recyclable on site — in particular, concrete that can be crushed and used for foundations or as aggregate beneath parking lots.
The three largest construction projects underway in the Twin Cities all have a recycling rate of more than 90%, according to Zachary Hansen, environmental health director, St. Paul-Ramsey County Public Health department, speaking at a recent conference sponsored by the Minneapolis-based Environmental Initiative. The projects include the Vikings Stadium in Minneapolis, the St. Paul Saints Ballpark and the Ford plant in St. Paul.
3. Managing the Site for Improved Environment
Stormwater pollution prevention has become a "big deal" to municipalities and the state and federal government, says Smoczyk at Kraus-Anderson. "Municipalities do not want a [construction] development that dumps a bunch of bad water into the storm sewer system and overflows it," he says.
Runoff is now contained by silt fencing surrounding an area. A number of "best practice" approaches can be used to treat water on site and avoid having it flow into the local sewer system, Smoczyk says. Kraus-Anderson is now making plans to avoid runoff during construction of its new office building in downtown Minneapolis.
Forsberg says worker safety has led to restrictions and the institution of simple ways to reduce pollution. There's no smoking on the site, for example. When workers enter a building, they travel over "walk-off mats" that remove dirt, lead and other potentially dangerous chemicals from their shoes. Contractors also bring recycling containers for food to decrease organic waste.
4. Lean Manufacturing to Reduce Energy
McGough's Brenteson says his company encourages rethinking construction approaches through lean thinking. "It's finding the wasteful activities we're doing and eliminating them," he explains.
One success involved a McGough employee who modified a brush that works in conjunction with snow blowers to reduce the amount of time required to clean metal floor decks in winter. The process begins with a brush-mounted snow blower — again, modified a bit by McGough — that takes off the majority of the snow. Then, workers used brushes mounted on broom handles to remove snow caught in the grooves of the metal decks.
Although a snow-shoveling brush might not seem like a big deal, it has made life easier for McGough's staff. "It saved a substantial amount of time and manpower and that's important when talking about waste and sustainability," says Brenteson.
McGough also uses tool sheds — all designed by tradespeople — that are organized the same way regardless of the work site. The system eliminates wasted time searching for the right drill bit or wrench. Fewer tools are lost and have to be replaced using the system, and contractors work more efficiently since they can find what they need, says Brenteson. The company was so proud of both approaches it made YouTube videos — one on the snow brush and the other on tool sheds — to showcase them.
LEED doesn't give contractors points for lean construction techniques, but many contractors use them anyway. Ted Beckman of RJM Construction in Minneapolis, says his company sits down with foremen from various subcontractors to share schedules so "everyone knows what they're responsible for."
The materials are delivered "just in time" to avoid having rebar and other materials sitting outside well before installation. The just-in-time system brings supplies on or around the day they are needed, Beckman says.
"It saves time, eliminates theft on the jobsite, eliminates damage, eliminates wasted time moving things," he adds. "Those are lean practices but they are sustainable things, too, in a sense."
5. Material Selection
Architects and clients seeking LEED can achieve many points by selecting materials manufactured from recycled products and from local sources. The materials can be anything, from renewable products such as bamboo for floors, to wood from vendors approved by the Minneapolis-based Forest Stewardship Council.
LEED points are also available for installing water-saving dual-flush toilets and low-flow faucets and other features, says Smoczyk. Water reduction has become a major issue, even in the Land of 10,000 Lakes, he notes.
As buildings become greener, so do construction sites. Off-site fabrication, improved on-site maintenance, lean practices, landfill avoidance and green materials acquisition have begun to fundamentally, albeit slowly, transform the way buildings are constructed today.
*This article was originally published in 2015.