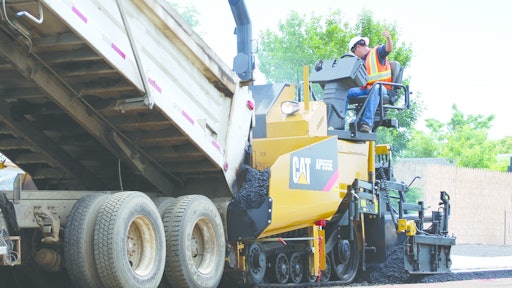 It took difficult personnel and vendor changes and high-velocity process improvements to convert Schlouch Inc.'s reactive, fix-on-failure shop into a proactive, extended oil drain equipment maintenance operation. Trusting Caterpillar dealer Giles & Ransome (G&R) with company information to incorporate the vendor into a problem-solving partnership was a risk that paid off by significantly cutting asphalt paving costs and slashing pipelaying crews' fuel consumption nearly in half, and continues to improve the Central Pennsylvania site work contractor's competitiveness.
The turning point for the company occurred in 2005. "We became extremely concerned and focused on the condition of our fleet," says Don Swasing, Schlouch's chief operating officer.
The wake-up call came in the form of a hydraulic pump failure on a Caterpillar 345 excavator. It had failed at half its design life. Schlouch's shop did the repair, but the replacement pump failed in a handful of hours.
"We had catastrophic component failure as a daily part of life," Swasing recalls. "Rentals were off the charts. At any given time, we had multiple machines in some form of rental. Operator dissatisfaction was at an all-time high."
Cleaning House
"Costs were through the roof, but the anomaly economy still allowed us to be profitable," Swasing states. "The values of the fleet operation were inconsistent with (Schlouch) corporate values."
President and company founder Barry Schlouch agreed. He strives for his company to be best in class. Searching for what that should look like in an equipment operation, he soon discovered the Association of Equipment Management Professionals' (AEMP) Certified Equipment Manager (CEM) program.
The CEM program is a recognized standard for judging the qualifications of heavy off-road equipment managers. Applicants are tested for competency in 21 skill areas focused around the finance, information, policy, controls and customer service aspects of managing mixed heavy equipment fleets.
Schlouch became one of only two company owners to achieve the certification. Swasing and the company's equipment manager also became CEMs. "That opened up the vision for us to see the kinds of things that we're able to do today," Schlouch says, "After going through that program, we really understood what the 'Equipment Triangle' was and started putting the pieces together."
AEMP coined the phrase "Equipment Triangle" to advance the idea that each side of the triangle — equipment users, dealers and equipment makers — is entitled to respect, and to point out that each has a vested interest in making sure every transaction has business-sustaining benefits for the other two.
But Schlouch's first priority was to establish authentic preventive maintenance. "We had information that told us we'd done the right thing — done the regular services on machines — but we didn't think it was accurate, and ultimately the facts told us that it wasn't," Swasing says.
Schlouch replaced a discount oil supplier with premium Castrol lubes and fluids, moving its oil analysis program to Castrol's laboratory. The contractor bolstered its record-keeping processes, building in mechanisms to ensure accountability for completing services.
"It took us a good five years to get traction," Schlouch says. "I went through three fleet managers."
Finding an equipment professional to deliver on the company's reliability expectations was a challenge that took more than credentials to solve.
"Just because they're a CEM doesn't mean they get it," Schlouch says. "I thought I could convert the first one; he had been with me 15 years. He passed the CEM test, but his attitude just wasn't there."
Schlouch's second fleet manager also became a CEM, but the gap between his approach and Schlouch's best-in-class expectations persisted. Schlouch then shifted responsibility for equipment operations. The equipment manager had reported to him, but was moved under Swasing's direction.
"Don oversees field operations plus the fleet," Schlouch says. "The move really brought together fleet management with operations in a one-team concept. Foremen can see that equipment management is part of their responsibility — that machines have to be maintained and operated properly."
Swasing promoted Kevin Reimert to equipment manager. Reimert was one of three mechanics remaining of 14 that had been on staff before Schlouch started building the team around values focused on equipment reliability. Reimert became certified as a CEM and started executing meticulous preventive maintenance.
The preventive maintenance program has become consistent, and oil analysis effective. "We've gotten our return on investment over and over and over again," Reimert says. "I couldn't imagine our PM program without it."
He extended basic service intervals to more than 300 hours. Operating costs continued to improve.
Challenged to Change
"When I first took my position in 2007, Don made it clear that one of my responsibilities was to develop and nurture relationships with the dealerships and the OEMs," says Reimert.
"Our corporate culture is focused on building relationships, and a relationship is... about care, trust and help. I call it the CTH Model," Schlouch says. "We do care about Ransome and about Caterpillar, because we need them to succeed. We need parts and we need service if we want to be in the business we're in."
Schlouch says the trick is managing the change "so that we come out the other end with people that are engaged in helping us and bring good ideas to the table; people that can earn a profit doing business with us; and people who can meet our needs." He acknowledges that his company needs more than machines, parts and service from equipment dealers. He's looking for people who can help the contractor break old habits and work more profitably.
With more than 60% of Schlouch primary production equipment carrying the Cat brand, vendor team building started with G&R and Caterpillar. At the beginning, Schlouch needed people at G&R who cared enough to go over the head of a fix-on-failure equipment manager to point out where Schlouch was making mistakes. Opportunities surfaced early.
In meetings concerning the second hydraulic pump failure on the Cat 345, one of the dealer's parts and service sales reps, Thatcher Oswald, pointed out an uncomfortable truth. "He said, 'I told you guys not to flush it that way. That takes a 40-hour hydraulic system flush and you did it in three. It had to fail,'" Swasing recalls.
Bad habits had crept into the 30-year relationship between Schlouch and the Cat dealer. Defusing the situation required changes and risk on both sides. "We had to change our mantra, which was, 'It's Schlouch; give 'em whatever they ask for,'" Oswald says.
Contractor and dealer people alike were challenged to notice and investigate unusual or inefficient practices. Swasing presses the difference between fault finding and fact finding, insisting that as long as investigations are focused on solving problems, nobody's job is at stake.
"We started working on building an equipment team that includes Schlouch people and Ransome people," Swasing says. "We started talking about how we lock in the synergy of the Equipment Triangle."
To thrive through the Great Recession, Schlouch needed G&R's expertise working to help them innovate. Swasing invited Oswald, new salesman Brian Seaman and the rest of the G&R team to a meeting. The agenda: "Bring me a $100,000 idea" as a way to add $100,000 to Schlouch's bottom line.
A vision of where the equipment operation should be in the future became the objective of what turned into a regular quarterly meeting. Underscoring the preeminence of good ideas, Swasing assured all those involved that this meeting was not the venue for negotiating price. Schlouch needed to get better, not cheaper.
"When you start with the price, it locks out a lot of ideas. They try to figure out how to get you to buy based on a number," Schlouch says, talking about enlisting vendor creativity in problem solving. "It has the potential to block discussion of solutions that are a completely different model than what they're already pricing. At some point, we have to get to the price, but we don't start there."
"All the people at this table — Schlouch, G&R and Caterpillar — are trusted, they're forward thinkers and they're change makers," Swasing says. "I don't have time for anybody that isn't."
Collaboration Cuts Paving Costs
An example of both organizations' commitment to partnership arose with the contractor's challenge with asphalt paving costs. Schlouch lays a lot of commercial mats, and has used a 10-ft. and an 8-ft. paver for years on streets in developments and parking lot jobs of up to 18,000 tons. Competing with asphalt producers put them at a bidding disadvantage, and long paver life expectancies had become expensive.
Early in 2013, Swasing and the company's paving manager, Glen Powell, needed fresh ideas. Instead of asking G&R for prices on new pavers, they shared their paver operating costs with the dealer's paving equipment manager, Dick Costello, and pointed out a cost target they would have to hit in order to compete in the Lehigh Valley. What would he recommend?
The 10-ft. paver, a 2007 Cat AP1055D, had been necessary to quickly set up and pave 18 to 20 ft. wide on some road jobs. Pennsylvania DOT regulations had pushed the time they could deliver a 10-ft. paver to a site later into the day, cutting into production. If they could do the infrequent wide work with an 8-ft. paver, they would avoid some DOT restrictions and improve production. But they would need to be able to set up the busy pavers quickly. Powell wanted to limit width changes to 90 minutes of downtime or less.
After nine months of discussion, trying out pavers, reviewing repair options and trusting transparency, Schlouch chose to replace a paver with an 8-ft. Cat 555E on rubber tracks based on Costello's recommendation. The machine was outfitted so the screed could quickly be stretched to 20 ft. and pave with the quality Schlouch's customers expect.
The cost of reliability was also a major factor. "We trended our paver costs and at the four- to five-year mark, we started spending a significant amount of money through a 12-month period," Reimert says. "The majority was spent through the winter months because that was when we traditionally did our paver maintenance."
That didn't line up with Schlouch's condition-based maintenance policy. "We were paying for anticipated season-long reliability, running off Caterpillar's traditional, historical paver rebuild practices," Swasing says. "Every winter, we're replacing parts that still have remaining life on them. It's in conflict with our program. We want maximum component life."
Based on their anticipated annual hours of usage, a total repair and maintenance program was too expensive for Schlouch's cost target. So the final deal was for an AP555E with extended warranty. Giles & Ransome and Schlouch came up with innovative ways to structure a win-win transaction.
A component failure on Schlouch's second paver, a 2005 Cat AP650B, put its costs under scrutiny. Schlouch decided to replace it, as well, with a new AP555E under the same terms as the first. The two unscheduled paver replacements cut the company's paving costs significantly in 2014.
"The new pavers met all of our requirements. We were able to get the width that we needed. They are outperforming the smaller of the two pavers we used to own," Powell says. "And on the type of work we do, they are matching the AP1055D's quality of work. Our two paver operators and the paving foreman are extremely happy with the machines."
"I'm more competitive as a paver," Swasing adds. "As a fleet manager, I've managed my repair costs, increased my reliability and managed my shop's winter workload."
"It's a perfect example of the Equipment Triangle — what was crucial to this scenario was transparency from both companies," Reimert says. "We had to share our true costs, which with the AP1055D didn't paint a pretty profit-and-loss picture. But we were talking about total maintenance and repair options, so they needed that information. There's a high level of trust."
"The pavers proved out what I thought was possible — that if you got all of the right people to the table, and you challenged them to look at things a different way, they could consistently provide high-value solutions to help us solve business problems," Swasing says. "We just have to decide which business problem we are going to solve next."
Since then, the Schlouch/Ransome/Caterpillar team has also cut Schlouch's pipelaying fuel consumption by nearly half, lowering owning and operating costs by 5% with Caterpillar's 336E Hybrid excavator and sharing the performance risk with the dealer.
Swasing's wish list targets improving utilization, fuel burn and idle time. "What I didn't anticipate when we started down this road was the pure abundance of ideas that would surface when you tap into this synergy," he says. "What you can get out of these people — the word I have to use now is 'infinite'."
Schlouch Turns Vendors into Partners with Care, Trust, Help
Schlouch: Why Price is the Worst Place to Start a Negotiation