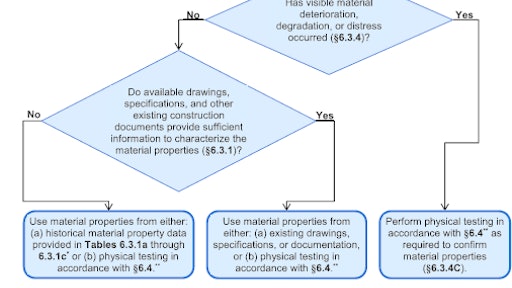 A new concrete repair code is changing the way concrete contractors and specifiers approach their work. The American Concrete Institute's (ACI) Code Requirements for Evaluation, Repair, and Rehabilitation of Concrete Buildings (ACI 562-13)—the first code specifically for repairing reinforced concrete—provides clearly defined, uniform requirements aimed at extending the service life of existing structures.
Because repairing existing structures involves many variables and unique considerations, the code is designed to give concrete professionals significant latitude in determining the best approach to any given project, considering factors such as a structure's age, environmental conditions, and original materials used. In fact, ACI 562 is the first code by ACI to incorporate both performance and prescriptive requirements, allowing licensed design professionals to use their judgement while following a minimum baseline of requirements.
Now, the American Concrete Institute and the International Concrete Repair Institute (ICRI) have published the Guide to the Code for Evaluation, Repair, and Rehabilitation of Concrete Buildings, a resource that makes the code easier to understand and implement. The companion guide helps designers and contractors interpret the requirements of ACI 562 and apply them to specific situations.
Navigating a new kind of code
Carl J. "Chuck" Larosche, principal at Wiss, Janney, Elstner Associates (WJE) in Austin, Texas, says his architecture and engineering firm is often asked to evaluate the capacity of existing structures, so they can be used in new ways. Larosche follows ACI 562 requirements to determine equivalent strengths for concrete and reinforcement, as he did recently for the Port of Houston Authority.
The port authority wanted to know if several of the older concrete wharves could be strengthened to handle increased capacity. "The original material properties were not cited in the record set of construction documents," says Larosche, "so we used ACI 562 to conduct a material evaluation and determine equivalent strengths." As a result, WJE was able to confirm the existing structural capacities and recommend appropriate design modifications accordingly.
Larosche advises concrete professionals to refer to the code's chapter on "Evaluation and Analysis" for guidance with structural evaluations—a starting point for assessing existing structures. The Guide to the Code for Evaluation, Repair, and Rehabilitation of Concrete Buildings walks users through each chapter of ACI 562 with insights into how each section of the code applies to different aspects of concrete repair.
Flowcharts illustrate critical points in the process, such as determining material properties. The guide also uses sidebars to highlight related topics and references that are not explicitly covered by the code, such as, "Is a Structural Evaluation Always Required?" This straightforward approach clarifies the benefits of ACI 562 for all project stakeholders: designers, contractors, building owners, and building officials.
Contractors may find the guide's explanation of specific roles and responsibilities most beneficial. Chapter 9 (Construction), summarizes the code's requirements for three considerations often encountered in repair projects: stability and temporary shoring, temporary conditions, and environmental issues.
ACI 562 requires licensed design professionals to (LDPs) include temporary shoring and bracing requirements in the repair documents. Typically contractors will hire a third party LDP to design the shoring and bracing, who must then the provisions within ACI 562. Contractors are responsible for determining the methods and means of executing the actual repair process, per the repair contract.

The guide clarifies the importance of collaboration and communication between designers and contractors. Once repairs are underway, the contractor should notify the designer if any deterioration, faulty construction, or damage observed during construction is more severe than anticipated. The designer can then determine what measures are necessary to maintain structural integrity while repairs are implemented.
A sidebar in this chapter provides an example of a high-rise repair project in which several columns collapsed as unsound concrete was being removed. The example points to ACI 562 provisions that would guide the process of securing and evaluating the structure, and each party's responsibilities.
From design standard to jobsite
The Guide to the Code for Evaluation, Repair, and Rehabilitation of Concrete Buildings further illustrates how ACI 562 requirements apply to common repair scenarios through detailed project examples, including:
Typical parking garage repairs
Typical façade repairs
Repair of historic structure for adaptive reuse
Strengthening of two-way flat slab
Strengthening of double-tee stems for shear
Alongside each project description are references to ACI 562 requirements for each phase, such as identifying the design basis code, evaluating concrete and reinforcement strength, and determining load factors and load combinations.
One example describes a situation in which cracks were discovered in the concrete roof beams at a water treatment plant. The guide includes photos and drawings of cracks at the ends of precast/prestressed double-tee stems, as well as repair or replacement options that were considered in accordance with ACI 562.
In this case, the owner opted to install bonded carbon fiber reinforced polymer (CFRP) strips at the double-tee stem ends, based on cost and limited interruption to operations. The guide references ACI 562 provisions for the repair design, as well as the contractor's responsibility for environmental considerations such as controlling dust control and removing debris — especially in the presence of potable water.
"One of the most significant things about ACI 562 is that we now have standards for routine repair methods that weren't covered before," says Larosche. For example, he says, previous codes did not include a standard definition for bond strength or requirements for quality conformance testing related to installing CFRP.
Using a common 'playbook'
By reviewing the project examples in the Guide to the Code for Evaluation, Repair, and Rehabilitation of Concrete Buildings, designers and contractors will become familiar with the code's new provisions and how they relate to the repair strategies they execute every day. This is a valuable exercise, as ACI 562 is increasingly becoming standard practice.
The code can be adopted directly by local jurisdictions and municipalities, and may also become part of the International Existing Building Code (IEBC) in 2018. "When designers, contractors, building officials and inspectors are working from the same code we all have the same expectations," says Larosche. "It puts everybody on a level playing field."
The Guide to the Code Requirements for Evaluation, Repair, and Rehabilitation of Concrete Buildings is now available in print and digital formats at www.icri.org and www.concrete.org.
Ed. Note: Jay H. Paul, S.E., FACI is a Senior Principal of Klein and Hoffman, Inc. in Chicago, Illinois and a member of the International Concrete Repair Institute and ACI Committee 562 – Evaluation, Repair, and Rehabilitation of Concrete Buildings.
Companies in this article