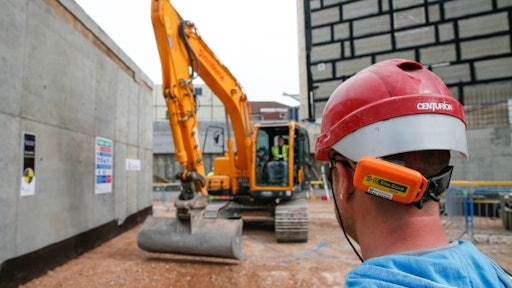 Keeping up to date with the latest trends in wearable technology can be overwhelming. It seems there are new products every week that can help workers stay safe while on the jobsite, and for good reason. Around the world, workplace accidents kill one person and injure another 153 others every 15 seconds.
"It's not acceptable that we can push a button and have anything in the world delivered to our doorstep, but that people can still get hurt and even die needlessly when they go to work," says Peter E. Raymond, CEO of Human Condition Safety (HCS)
In response to that, HCS is creating a suite of tools that helps workers and their managers prevent injuries before they happen. Incorporating wearable devices, artificial intelligence, building information modeling and cloud computing, the product suite is designed for the industries that hold the highest risk for workers, including manufacturing, energy, warehousing and distribution, and foremost, construction.
HCS conducted its first pilot project at New York's Jacob K. Javits Convention Center in 2015 and is currently in its second pilot project at Citi Field ballpark. HCS will continue to conduct pilots in multiple locations and with various industries throughout 2016. These pilots are real-world trials to identify leading indicators of potential injuries, and to demonstrate how HCS's technology creates measureable improvements to reduce the frequency and severity of work-related injuries.
AIG recently announced it has made a strategic investment in HCS, and as one of the world's largest workers' compensation insurers, the partnership just makes sense.
Wearables are typically miniature electronic devices that are worn under or on top of clothing or are somehow attached to the body; they can even be part of clothing. They capture data and provide feedback about the wearer.
HCS creates a comprehensive solution to workplace risk, with a platform that enables workers to reduce injuries and employers to improve operational efficiency. The technology can detect when a worker carries too much weight, makes a "bad bend," or enters an area that puts them at risk for injury because of environmental conditions or getting too close to dangerous equipment.
"AIG's embrace of innovative, disruptive technologies is opening new ways for us to strategically partner with our clients," says AIG Commercial Insurance CEO Rob Schimek. "In this case, the technology from HCS will help enable us to work with clients to make their worksites safer places for their employees and help reduce our clients' overall cost of risk. We will continue to look for more opportunities with firms like HCS that set the pace for mitigating and managing risks in ways unthinkable just a few years ago."
Wearables Already Working
While HCS is working to incorporate technology into every aspect of a construction project from cradle to gate, some companies are already pushing wearable technologies that make on the ground construction workers safer right now.
Many companies looking to bring more wearable tech to the jobsite are focusing on getting their innovations into workers' existing gear to boost adoption. As a result, in the near future, construction workers may find that common assets, such as hardhats, safety vests and even the tools they carry, are being infused with new capabilities.
As a result there are now "smart" hard hats that offer the worker a clear visor that can display 3D visual overlays in the wearer's field of view. It also features a 360° wireless camera, allowing a full view of the worker's surroundings.
Safer safety vests are also becoming more common as many vests will now be equipped with GPS systems to monitor worker location. These safety vests along with new proximity warning systems are real game changers when it comes to jobsite safety.
SiteZone Proximity Warning System (PWS), is an audible and visual warning system designed to reduce the risk of vehicle personnel collisions and can be used anywhere the proximity of people and vehicles working together is of concern. And according to OSHA over 10% of all construction fatalities are related to workers being struck by an object, so this technology just makes sense.
The devices use Radio Frequency Identification (RFID) to transport data. These tiny electronic chips transfer information from a transponder to a receptor. Pedestrians wear a small RFID transponder on their hard hat or sleeve, and a small unit is fitted to the vehicle. SiteZone PWS then produces a detection zone, or bubble, around a vehicle, machine or even a restricted area. This invisible radio frequency field completely surrounds the vehicle and is used to detect the presence of the wearable transponders.
SiteZone uses the analogy of a "safety bubble" to help relay the message of their technology. The bubble is the danger zone that pedestrians should avoid to prevent accidental collision. When the detection zone is breached, the personnel wearing the SiteZone transponder has "burst the bubble."
The machine operator is immediately alerted to their presence and can take the appropriate action. When this occurs, both the driver and the operator receive warnings through vibration, audio or visual alerts. This two-way alarm is important since it is the responsibility of both the driver and the pedestrian to avoid a collision. SiteZone also offers optional external alarms that can be placed on top of equipment to sound in the event of a breach.
The "Don't Burst the Bubble" message also provides an easily memorable visual reminder to workers not to breach the danger zone of any vehicle or heavy plant, useful in staff inductions and training programs.
Importantly, if a pedestrian does breach a safety zone, SiteZone automatically logs the incident. SiteZone's developer, OnGarde, has also now launched its OverSite product which transfers all logged data to a secure website. And since each RFID transponder can be individually identified, managers can identify repeat offenders and target further safety training.
Through use of this technology, workers are becoming inherently more aware of the risks they encounter every day and are adapting their behavior to protect themselves from potentially dangerous situations.
The Sitezone PWS can be deployed onto a wide range of vehicles and machinery across multiple disciplines. It can also be used to tag critical or valuable assets to prevent vehicle collisions or create exclusion zones around no entry areas and hazardous machinery.
The Future of Safety
HCS is not the only tech company developing workplace wearables and AIG is not the only insurer interested. A survey reported by Accenture last May said that that nearly two-thirds of insurers expect wearable technologies to have a significant impact on the industry within two years.
John Hancock Insurance made news last year by offering its life insurance policyholders a free fitness band to track their health and be rewarded with lower premiums. Some insurers have experimented with Google glasses.
Wearables have been gaining traction outside the traditional workplace as well. For several years, athletes have been wearing sensors that measure and help them analyze and improve their performance. Some employers and military leaders use wearables to track employees' and soldiers' whereabouts, movements and fitness with an eye on improving productivity.