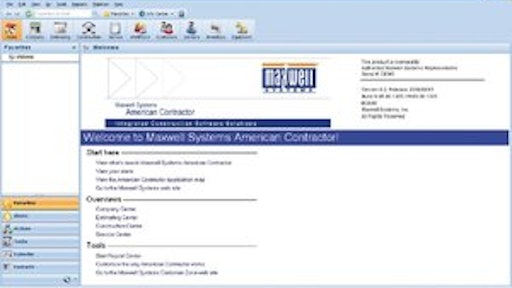 American Contractor 8.0
Mawell Systems American Contractor 8.0 business management software features a new Microsoft Outlook user interface and enhancements for improved productivity. Other new features, such as a new way to sort lists and filter, improve the functionality of the program. American Contractor software is versatile and can be used by any size construction or service business.
Maxwell Systems
Bluebeam PDF Revu
Bluebeams PDF Revu is a PDF editor designed to improve the AEC workflow by letting users create and view large format PDF drawings, redline files with industry-standard tools, calculate takeoffs, automatically compare drawings, track changes and more. Bluebeam has direct integration into AutoCAD, SolidWorks and Mictrosoft Office.
Bluebeam Software, Inc.
COMMAND Center Temperature and Maturity Meters
Measure temperature and maturity with one system
Self-powered, self-contained sensors arrive pre-configured to record data at your specified time interval, from 1 to 255 minutes
Collect data in a Pocket PC for read and plot data in the field
Ideal for all concrete applications, from patching and repairs to paving, foundation and structural pours
Meets ASTM and DOT standards for maturity testing
The Transtec Group, Inc.
HeavyJob Field Management Software
New safety capability enables construction companies to plan safety goals by employee and track them electronically
Also records time of safety meetings and meeting costs
HeavyJob is complete job-tracking software
Can record labor and equipment hours, progress quantities, major-material receipt and usage, and daily notes
Heavy Construction Systems Specialists, Inc. (HCSS)
iPhotoMEASURE Version 3.0
The iPhotoMEASURE Version 3.0 can create measurements from any photo taken with any digital camera. Version 3.0 provides users with multiple depth capability for 3-D dimensioning, the ability to measure multiple planes and fields within a single photo, and automatic field recognition.
iPhotoMEASURE
Pocket Layout Software
Pocket Layout construction site software system from Topcon Positioning Systems is designed to seamlessly guide contractors through staking, topo and grade control operations.
"Even those new to layout will find that Pocket Layout provides them with information, displayed simply and clearly, to guide them through the steps necessary to complete restaking, topo, grade checking and as-built chores quickly, easily and accurately," says Murray Lodge, director of sales - construction.
The easy user interface enables the user to be self-sufficient in layout and basic measurement tasks. Blueprint dimensions can be manually or electronically input in the office for later use in the field. "Re-establishment of lost or moved stakes can be made easily," Lodge adds.
The system is compatible with the Topcon FC-200 series field controllers, and interfaces with any of the companys total stations. Its simple COGO, layout, tape dimension and reference line functions store and use multiple layouts, supporting robots and traditional total stations.
Topcon Positioning Systems
Profoscope Rebar Detector & Covermeter
The Profoscope rebar detector and covermeter features a scope-based detection interface that combines rebar proximity indicators with optical and acoustical locating aids to find rebar and measure cover depth and rebar diameter. Positioning of the electromagnetic coils allows a symmetrical triangulation of the rebar configuration that indicates when the unit is located between two rebars or directly on top of one. The units small, light, cordless, ergonomic design enables one-handed operation. A large graphic LCD display offers a language-independent menu and selectable backlight.
Scope-based detection interface combines rebar proximity indicators with optical and acoustical locating aids
Can locate rebar, measure cover depth and a rebar diameter
Small, light, cordless and ergonomically designed to fit in the palm of the hand
Large graphic LCD display and selectable backlight
Includes start-up test kit
Proceq
Wireless Data Controller
Trimble is now offering wireless capabilities for its LM80 Layout Manager. The solution incorporates a new controller and office software for real-time two-way data transfer between the project design team in the office and contractors at the jobsite.
The LM80 Layout Manager creates a digital replica of the building blueprint in the field, connecting both mechanical and robotic total stations to provide accurate, fast and simple building layout. The new wireless data controller includes wireless communications, Bluetooth connection capabilities, a highly visible screen and a fast processor. It enables design engineers to make changes immediately available to the contractor, and the contractor can transfer as-builts in real time to communicate progress reports and problems.
"As buildings become more architecturally complex, they also become more difficult for engineers to verify designs and contractors to perform layout," notes Pat Bohle, Building Construction Business Area Manager. "The Trimble LM80 Layout Manager, combined with the accuracy of a total station and capabilities of the new wireless data controller, deliver a powerful, easy to use tool to the general and concrete contractor."
Trimble Navigation Limited