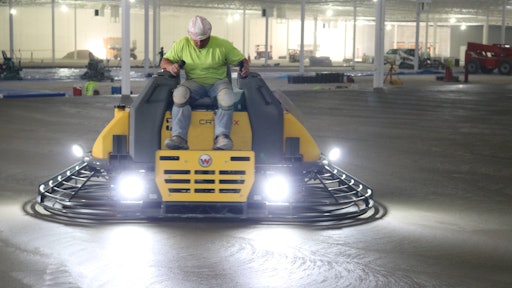 Wacker Neuson's new 10-foot hydraulic ride-on trowel is being introduced to reflect the demanding needs of the professional concrete contractor. The CRT60X (CRT60-74LX) features a heavy-duty hydraulic system that includes a high capacity hydraulic pump and motors, as well as other ancillary components. These updates have been made to address the ever increasing demands of the flatwork industry. In addition, creature comforts have been added to include a new display and lighting.

The new CRT60X features:
A new display that allows the operator to quickly and easily see information such as machine hours, fuel level, engine rpm, fluid temperatures and pressures as well as alerts; all the information the operator needs in an easy-to-read display. This is the same display and diagnostic system that has been incorporated into Wacker Neuson's skid steers and compact track loader lines.

LED lights for improved lighting at night and low light concrete pours. The LED lights are brighter and will last longer than traditional lamps.

Patented built-in hydraulic wheel kit. This is a real time saver by allowing operators to easily raise the machine on the front and back wheels to change blades or install pans without the need of a forklift or cranes.

 

The built-in system also allows for easier movement around the job site or shop.

Operator comfort features include an electronic cruise control, adjustable seat, plenty of legroom, ergonomically positioned arm rests, simple joy stick controls and fully hydraulic blade pitch providing tireless operation.

P

owered by a 74-hp Kohler, non DPF Tier 4 Final engine. The engine provides power needed for a professional finish by providing a stable, consistent engine and pan speed.

The CRT60-74LX can easily maintain rpm under a high load finishing condition.

A gyro assisted steering feature compensates for any unwanted machine rotation and allows the operator to stay on a steady course with less fatigue.

The unit continues to feature a patented power steering system.

Wacker Neuson was able to combine fully hydraulic drive performance with a dual mode power steering system that makes operation more comfortable and the trowel more responsive to the operator's command.

The dual mode system allows the operator to select the response of the joysticks to meet their preference and best suit the concrete condition.

The patented engine power regulation system continues to be an important feature of Wacker Neuson's ten foot professional rider.

 

Similar to an automatic transmission in a car, this innovative system will constantly monitor engine speed and adjusts the hydraulic load, allowing the unit to seamlessly run at optimal engine and blade speed for maximum power input to the concrete.
Wacker Neuson's 60-inch, CRT60X is the largest model of Wacker Neuson's extensive concrete ride-on trowel line. The unit offers a high blade speed, hydraulic blade pitch, 2-speed engine throttle and large 12-gallon fuel tank that offers four hours of uninterrupted run time. With six blades per rotor and a width of 123-inches, Wacker Neuson's CRT 60X is the ideal machine for professional concrete contractors looking for high performance on large jobs.

 

This is the ideal machine for high volume professional concrete contractors looking for an easy to operate, high performance trowel for large jobs.
Request More Information
Fill out the form below to request more information about
Wacker Neuson Introduces New 10-foot Hydraulic Ride-on Trowel