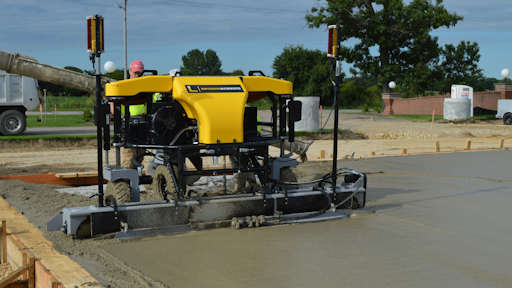 Ligchine

In 2019, Ligchine introduced the SPIDERSCREED™ Series–a compact, lightweight and maneuverable drive-in system designed for upper deck concrete and slab-on-grade screeding applications.
The drive-in SPIDERSCREED machine was designed to be lightweight and powerful, featuring a 100% TIG welded tubular aluminum cage design that keeps overall weight down to about 1,280 lbs. (581 kg).
Its patent-pending 3-wheel Versa-Drive system, independent zero-turn drive, up to 90° horizontal drive, and lateral drive.
It offers the industry's best power to weight ratio (55 lbs. (25 kg) per horsepower), allowing lower slumps and cooler running at all times. It also incorporates Ligchine's patented machine leveling system to ensure flatter floors and greater compaction than simple screed head only leveling systems.
Request More Information
Fill out the form below to request more information about
Ligchine SpiderScreed