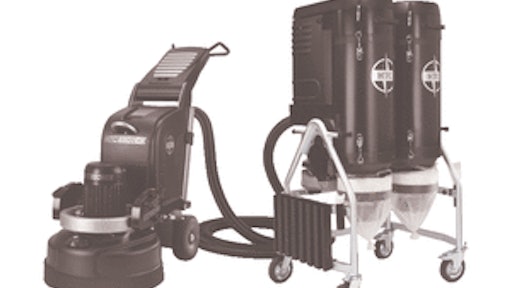 4GC Concrete Grinder
36-in. working width with 4 square feet of surface contact area
For production grinding, cleaning, leveling or smoothing of large surface areas
Available with electric, gasoline and/or propane power options
Standard with a 3-in. vacuum port for dry grinding and a garden hose hook-up for wet grinding
EDCO Equipment Development Co.
7100 Industrial Scrubber
Micro-Rider, battery-powered scrubber
ec-H2O technology converts plain tap water into a powerful cleaning agent without any added chemicals
Tennant Company
BMP-335EHY Scarifier
The new Blastrac BMP-335EHY Scarifier can be used for preparation of asphalt, concrete, and steel surfaces. Weighs 895 lbs., the scarifier features a scarifying motor and a separate hydraulic drive motor. Other features include hydraulic assist steering,a hex drive shaft and non-slip drum, and a connection for Blatrac vacuums for a dust-free work environment.
Blastrac
CS 2000 Water Recycling & Slurry Containment Vacuum
Concrete slurry / debris contained in porous filter bag for safe and easy disposal
Integrated sump pump can recycle or discharge water
Flow rate of 78 gal. per minute at level
13-gal. stainless steel canister with cart
Ideal for wet working power tools and equipment
Portable water supply saves time
CS Unitec, Inc.
HSG-125 High-Speed Angle Grinder
The new HSG-125 from Alpha Professional Tools is a 5-in. grinder with a 7.2 Amp motor. The HSG-125 can accommodate 4-, 4 1/2- and 5-in. diameter blades and can be used wet or dry.
Alpha Professional Tools
iAD Vacuum Series
HTC's new iAD vacuums include the 5 iAD, 10 iAD and 15 iAD vacuum systems. The 5 iAD has a 4-hp motor and weighs 374 lbs. The 10 iAD has an 8-hp motor and weighs 726 lbs. The 15 iAD has a 12-hp motor and weighs 1,034 lbs.
HTC Professional Floor Systems
KR-10 scarifier
Roughens, removes, cleans, mills, grooves, de-scales and de-rusts asphalt, concrete and aggregate stone
Centrally located drum
300-lb. weight
9-hp Honda gasoline engine; electric or propane motor available
10-in. cutting width
Covers 450 to 600 square feet per hour at a depth of 1/8 in.
Kut-Rite Manufacturing
MK-IXL Dust Shroud
Control dust during concrete grinding
Snail shape design utilizes air velocity created by the rotating grinding wheel to channel dust particles away from the work surface into the vacuum port
Developed for heavy-duty use
Fits most 7-in. grinders
Can be used with cup wheels up to 7-in. in diameter
Attaches to any traditional shop vacuum
Made from "abrasive resistant" plastic
MK Diamond Products, Inc.
NCG8450A-3
Delivers water up to 40,000 psi with a rotating action for a widened spray pattern
Rotation speed is variable up to 3,000 rpm
For use with any of NLB's multi-orifice heads
UHP seal lasts an average of 40 hours
Field-repairable
36-in. barrel; 48-in. barrel model also available
NLB Corporation
W8-115 Quick Compact Angle Grinder
8 amps, 800 Watt motor
10,000 rpm
19.5 in./lbs. torque
4-1/2" grinding disc capacity
AC/DC capability for use on alternative power sources
"Cool Flow" technology includes repositioned carbon brushes for unrestricted air flow and a sonically balanced fan that pulls 35% more air through tool than previous models keeping motor cooler in operation
Tool-less wheel change system allows operator to quickly change wheels with out the need for a spanner wrench
"S-Automatic" safety slip clutch helps protect the operator from kickback
Anti-vibration side handle absorbs up to 60% of vibrations
Metabo Corporation
Companies in this article