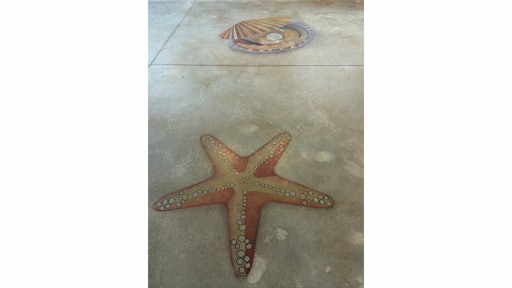 Volunteer members of the Decorative Concrete Council (DCC), St. Louis, MO, traveled to Chicago, Ill. August 11-15 to install decorative concrete and graphic overlays at the Roseland Good News Day Care Center, 218 W. 113th St.
Neil Roach, Creative Construction by Design, Danville, Ill., was the concrete contractor for the new building that will serve as a home providing free day care for teenage mothers. Roach enlisted help from fellow DCC board members, and others to give the children floors that would be safe and soothing yet fun. Volunteers prepped the floors and installed overlay coatings on top of the gray concrete. Metallic epoxy colors were applied on top of overlays and "blown" with a leaf blower to provide a dramatic, layered finish. Sea creature stencils donated by FloorMap Stencils were installed by the owner of the company, Rachel Krigge Bruce, and Rick Lobdell, Concrete Mystique Engraving, Nashville, Tenn.
The project was managed by Todd Scharich, decorative concrete specialist for the American Society of Concrete Contractors (ASCC). The DCC is a specialty council of
the ASCC.
Companies supplying tools and materials were FloorMap Stencils, Increte, H&C Sherwin Williams, Decorative Concrete Resources, Preval and CNA Insurance.
The ASCC is a non-profit organization dedicated to enhancing the capabilities of those who build with concrete, and to providing them a unified voice in the construction industry. Members include concrete contracting firms, manufacturers, suppliers and others interested in the concrete industry, such as architects, specifiers and educators. There are approximately 500 member companies in the United States and eight foreign countries. For more information on the ASCC visit the web site at www.ascconline.org or call (866) 788-2722.