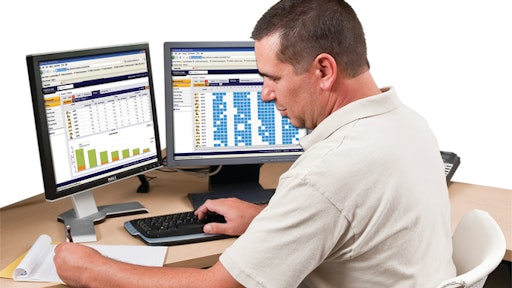 Here you will find a variety of sustainability messages, from manufacturers and contractors of all different sizes. We invite you to share with us YOUR company's sustainability message.
Trimble
Trimble is transforming how the world's work gets done. The company's industry-specific solutions integrate advanced capabilities that enable economic breakthroughs, enhance safety, boost compliance and reduce environmental impact - helping customers tackle some of the greatest challenges their industries face including:
Constructing, maintaining and operating roads, railways and other civil infrastructure more quickly, safely and cost-efficiently.
Building, maintaining and operating residential and commercial buildings in less time, at lower cost, and while achieving higher quality and environmental standards.
By applying innovative Trimble building construction technologies - including robotic total stations, tablets, digital levels, prisms, building information modeling (BIM) software and project- and budget-management tools - to solve business challenges, contractors and building owners gain access to better information to enable better decisions and reduced environmental impact.
For example, the Trimble GCS900 Grade Control System is ideal for bulk earthworks, compaction and finished grading. It allows operators to work faster, more consistently, and get the job done right the first time, which eliminates rework. Less fossil fuel is used, personnel and machine use is reduced, greater regulatory compliance is achieved, and material usage can be carefully controlled. A Trimble GCS900 system results in higher quality work delivered to the client, and increased profits for you. Click here for more information.
Completed in 2013, the 125,000-square-foot Trimble Rockies Campus in Westminster, Colorado, is a beautiful, glassed-in structure, which provides an impressive array of how Trimble's building construction technologies help improve efficiency and reliability, while reducing errors, rework and material waste.
Visit www.trimble.com to learn more about Trimble and sustainability.
MSA
MSA is an organization fully committed to protecting the health and safety of its customers. Founded in 1914, MSA has grown to include more than 5,000 employees across the world, protecting workers in more than 140 countries. And its mission, "That men and women may work in safety and that they, their families, and their communities may live in health throughout the world," remains unwavering.
MSA's mission and core values are the foundation of our company culture and guide our business efforts. Environmental responsibility, with serious consideration placed on compliance and stewardship, is a significant corporate objective. Using an internal "GREEN Team" at our Corporate Headquarters in Cranberry Township, PA, the company continually encourages environmentally conscientious behavior within its facilities, to its employees and to its customers.

MSA conducts source reduction strategies to reduce waste generation at its source and encourages recycling efforts. Through research and development, the company strives to continue to introduce alternative, sustainable safety products that help to reduce carbon emissions and demand for fossil fuels in product manufacturing. MSA is committed to doing its part to help the environment and strive to continually improve its environmental performance.
In addition, MSA has demonstrated its commitment by implementing a number of sustainable initiatives, including:
Sustainable new products, such as the first sustainable hard hat, with the MSA V- Gard GREEN Hard Hat
Improved packaging that reduces the amount of material used
Operational improvements with our Mexican manufacturing facility designed for maximum natural daytime lighting availability and sensors to determine the need for supplemental lighting; LED lighting retrofits in China; low water usage toilets and auto faucets at our corporate headquarters; paper and battery recycling at various locations across the globe; and, of course, recycling of certain production materials from our manufacturing processes
For more information, visit www.msasafety.com.