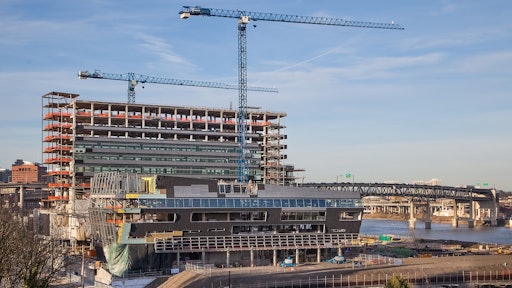 JE Dunn Construction and SERA Architects bucked the trend of cost- and schedule-overrun headlines by applying a combination of custom and off-the-shelf collaboration software to put the design and construction teams and all subcontractors on an all-BIM process to complete a complex building in Portland, OR. Building Information Modeling (BIM) and digital collaboration used on the Collaborative Life Sciences Building (CLSB) saved an astounding $10 million in construction costs on the project's $295 million budget. 
The 650,000-square-foot CLSB is a joint project of the Oregon Health & Science University (OHSU), Oregon State University, and Portland State University. The three institutions banded together to house their life sciences programs under one roof to give students and researchers more opportunities for collaboration.
Located on OHSU's new Schnitzer Campus in Portland's South Waterfront District, the building consists of classrooms, lecture halls, research laboratories, retail and parking. CO Architects served as the project's design architect and SERA was the executive architect. JE Dunn Construction was tasked with delivering on the goals of each party.
BIM on CLSB
Complex designs like the CLSB carry great budget risks if there is not a simple way to communicate what is required to each of the project's subcontractors. BIM helps out tremendously in this respect.
"The CLSB project team was a pioneer in its early adoption of digital document collaboration, web-based BIM collaboration and field technology," John Jacobs, chief information officer at JE Dunn Construction says. 
These BIM programs have been around for decades, but now they're more sophisticated and used more widely. Most large-scale architectural projects involve some combination of BIM modeling and CAD, but getting more than 100 team members working exclusively from the same set of BIM plans is truly rare.
"CLSB was one of the first fully collaborative BIM efforts where all key players were involved in a process that really enhanced the overall value these technologies added to project team," says Trent Nichols, vice president and National BIM Director for JE Dunn Construction.
The primary BIM programs used on the CLSB project were Autodesk Revit (Architecture and Structure), Autodesk Navisworks, and Trimble Sketch-up (formerly known as Google Sketch-up).
A separate team was responsible for designing each mechanical system – plumbing, electrical, and ventilation systems. The clash-detection feature of the 3D BIM model identified design conflicts – things like a pipe designed to intersect with a duct – before construction began, when changes were relatively easy. The plumbing folks were then able to change their design so the pipe avoided the duct. Problem solved.
Modifications would then be reflected in real time to every design team involved. Instead of the plumbing design team posting their changed document, and each of the 27 other teams needing to do the same to their own copies of the plumbing layouts, the collaboration network updated everything automatically and simultaneously. And JE Dunn says that's just one of many design conflicts technology helped resolve before it ever became a problem.
Saving $10 Million
The CLSB project involved 28 different design teams, which is typical for a project of this scale. This included everything from civil engineers, landscape architects, roofing consultants, building code specialists, signage design and more. To make communication more efficient, SERA Architects and JE Dunn Construction used an all-digital documentation process.
The documentation process the design teams used was Bluebeam—a collaborative editing and file-sharing platform—to link all of the construction documents so that one firm's changes would automatically be reflected in everyone else's documents. Smartsheet, a cloud-based spreadsheet solution, also helped the teams keep track of documents, allowed multiple users simultaneous access and editing and prevented version-control problems.
"The BlueBeam software system was used with great success on the project," Nichols says.
Daily document control on a project of this scope could be a huge challenge. To control and coordinate CLSB plan updates, all team members used a synchronized set of project drawings that are electronically updated in Bluebeam and synchronized from the Dunn Dashboard. The Dunn-designed dashboard is a clearinghouse for all project information; a cloud-based project collaboration and digital sharing platform for web-based collaboration on design documents, BIM, electronic bid submittals, and other project documentation.
The Dunn Dashboard gives non-architect users easy access to BIM files. They don't have to pull the model down from the cloud onto their computers or need BIM knowledge to view it.
JE Dunn estimated that it would have taken 127,000 hours to post and draw documents manually on this project. At a billable rate of $79 per hour, it would have added an astounding $10,058,017 in paper-related costs.
Eliminating that cost was a matter of how 3D modeling helped the different entities communicate through the process. For example, when the architecture firm designed a certain feature in 3D, that file was transferred without translation into two dimentional plans to the structural engineer and then to the fabricator.
On top of that savings, one subcontractor used Point Layout software, an Autodesk program, and Robotic Total Station, an automated tool by Trimble, to lay out and install 55,000 hangers for the building's mechanical, engineering and plumbing systems. This saved another $1 million on the project since the company didn't have to drill from a lift, insert the hangers and then have them individually inspected.
The all-digital design and documentation process accelerated both coordination and construction. "It's hard to determine just how much time would have been added to the project if these processes hadn't been as streamlined, but it's safe to say we saved many months," Jacobs says. "It's also difficult to quantify soft cost savings due to inefficiencies that are eliminated or improved through technology. A good bellweather is if technology utilization increases on subsequent projects. 
"CLSB was one of the first projects to utilize the key elements of our technology strategy, including mobile hardware, Dunn Dashboard, and cloud-based BIM coordination. JE Dunn now has nearly 100 active projects using site kiosks to access digital documentation through Dunn Dashboard. We have also held the rank of the most users leveraging cloud BIM through BIM 360 Glue according to Autodesk.
"The efficiencies the CLSB team observed were so valuable that a majority of the processes used or developed for this project have been incorporated into subsequent versions of JE Dunn's collaboration suite, Dunn Dashboard," Jacobs continues. "Additionally use of site mobile hardware to access the centralized data accessible through the Dunn Dashboard has continued to expand. Today, JE Dunn boasts that more 700 projects and 30,000 non-JE Dunn users have relied on the technology pioneered at CLSB. "
Video: What is The Dunn Dashboard?
Time saved, lessons learned for future projects and let's not forget more than $10 million in construction costs saved. Strong reasons to automate paper processes with digital technology on your next project.