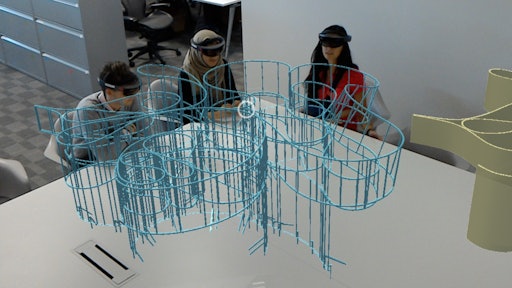 In a world of 3D printing, robots and self-driving cars, many in the construction industry are wondering how new technologies will continue to impact their everyday lives. 
Artificial reality seems to be the next wave of technology hitting the industry, and for good reason. Artificial reality technology virtually creates sensory experiences which can include sight, touch, hearing, etc. 
Trimble and Aecom are working to transfer these ideas to the construction and engineering sectors, creating the world's first use of the Microsoft HoloLens "mixed-reality" technology for the industry. Through a lightweight headset, HoloLens technology adds holograms of 3D objects into a user's view, allowing interaction with these virtual objects as if they were present. 
These headsets will allow designers, contractors, engineers and the like inside a building before it's built, keeping them safe and allowing them to see any potential problems before time and resources are wasted. Trimble's innovative mixed-reality solutions allow AECOM to feed 3D engineering models into the HoloLens world, including models of large or complex projects. 
"Building design, construction and operations processes are all about the interaction between physical and digital environments," says Aviad Almagor director of Trimble's Mixed-Reality Program. "Mixed reality bridges the gap between the virtual and the real world and enriches our ability to understand the relations between the two domains. It is a perfect match." 
Trimble has been involved with a since the 90's when their Geospatial Division conducted research about the use of augmented reality and wearable devices in the field. Almagor says the motivation was and remains the same—to increase efficiency and improve productivity, but just in a better way.
"Our digital world is growing exponentially, but we interact with it in the same way we did 30 and 40 years ago—behind 2D screens," he says. "With mixed reality, the digital content crosses the threshold into the real world. This process dramatically improves our ability to understand the relations between the physical and digital assets, it transforms the way we consume, interact and communicate information." 
 Improving the Building Process 
Aecom is using HoloLens devices and Trimble technologies to aid in the visualization and design review through the design, construction and facility management phases of a project. With Trimble solutions, the designers and engineers can view a structure as if it were a 3D model placed on a table, or zoom in for a 1:1 view that simulates what it would be like to move through its structural framework. 
The work with real 3D content democratizes the design, allowing more people to be involved in the process all at once. It means that all stakeholders all across the glove can explore and experience the design in an intuitive and natural way without the need to operate a CAD system.
 "It is as simple as walking in a physical environment," Almagor says. "Having the digital data embedded in the physical environment also improves the ability to understand spatial relations between virtual and real thus improving our ability to make decisions. Going beyond geometry, mixed reality makes the intangible tangible—simulation data can be visualizing in context and information can be presented in real time."  
Trimble's mixed-reality program is hardware and operating system agnostic, meaning it is compatible with many types of platforms or operating systems. Products can be ported to other devices and technologies such as Google Tango and Meta. 
"We define our roadmap for these systems and prioritize development based on the input we get from our pilot customers," Almagor says. "The support for a different from factor, the ability to handle a variety of data types and to support large datasets are all part of the program."  
This shared experience across different platforms and locations will allow team members to physically point out potential difficulties or unforeseen conflicts in an evolving design. Trimble's solutions allow participants to log observations and create a group action plan during the session.  
"Exploring complex structures in a mixed-reality environment has huge potential to accelerate the engineering design process," AECOM president Stephen M. Kadenacy says. "With this technology we can gain greater clarity earlier in the design review process than with 2D drawings or 3D models on screen, and team members in different locations, each wearing a headset, can simultaneously explore the same holographic projections." 
Mixed reality improves communication and enables efficient design review and quality assurance processes as well. This means less errors, faster cycles and improved quality. Collaboration in mixed reality using shared holograms, and remote presence, is an additional capability with significant saving in travel time and associated costs. In addition, the ability to visualize data in context can dramatically improve the efficiency and quality of facility management engineers and technicians.
"As an early adopter of Microsoft HoloLens, AECOM is already demonstrating the value of mixed reality in the architecture, engineering and construction industry," Bryn Fosburgh, vice president at Trimble says. "Aided by Trimble solutions and the HoloLens in a business setting, the company is learning first-hand how the technology can improve efficiency and enable effective collaboration throughout the design process." 
"We believe that mixed reality will dramatically improve efficiency and quality of processes in the industries we serve," Almagor says. "With this in mind, it is natural move for Trimble to take the lead. It is part of the company DNA and part of our commitment to customers. 
"Trimble's mission is to transform the way the world works," he continues. "This sets the expectations about the technologies we are developing. It means to be domain experts; it means to be in the forefront of the technology, to innovate, to integrate and to deliver meaningful solutions to our customers."