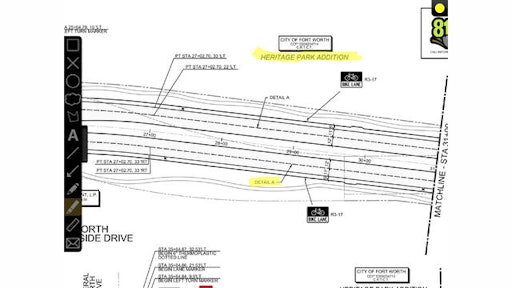 Mobile app: BluVue Plans
Developer: Civil Metrics LLC
Cost: Starting at $200 per year
Available on: Apple iPad
The BluVue Plans mobile app provides a cloud-based platform for storing construction plans and documents in one central location. These digital plans can also be shared with the project team.
The app is a great solution for estimators, project managers, foremen, subcontractors and superintendents. Users can access plans and documents online or offline. BluVue can be used to do field takeoffs with its estimating tool or to add markups to plans and documents.
With the cloud storage, the app maintains a single master set of plans. When updates are made to the master set the updated files can be automatically distributed.
App features:
Draw lines, bubbles, notes, rectangles, cross and arrow annotations to your personal workspace
Administrators can push annotations to the master set
Snapshot and share drawings via email
Switch to any plan version on-the-fly
Estimate areas, distances and perimeters, and capture field takeoffs
Pan and zoom