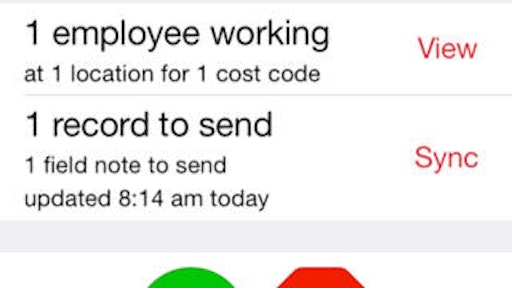 Mobile app: ExakTime Mobile 2.0
Developer: ExakTime
Cost: Free
Available on: Apple devices
ExakTime Mobile 2.0 time tracking app allows users to use their iPhone or iPad to track time. The app also helps manage remote employees and crews with a GPS-enabled oversight option. With the Team View feature, supervisors can view a map showing the clock-in coordinates of all company employees who've punched in using ExakTime Mobile. In addition, GPS geofencing helps confirm workers have clocked in at the correct location or jobsite.
Video: Mobile Time Tracking with ExakTime Mobile App
Another feature of ExakTime Mobile 2.0 is FaceFront Biometrics, which takes a photo of each employee at clock-in and clock-out. This feature is designed to help eliminate buddy punching.
The Field Notes feature allows app users to send photos, texts and voice updates from the jobsite to the office to improve communication and secure record keeping.
ExakTime Mobile also features SiteHub, which allows site managers an instant, bird's-eye view of everything happening at the jobsites. The scrollable live feed displays real-time clock-ins and clock-outs, field notes and equipment or materials updates. In addition, managers can view a list of all workers clocked into a jobsite and view the hourly labor costs for each site. SiteHub also provides the national weather forecast and alerts for the area you are in.
App features:
100% accurate employee and activity tracking
Data syncs with accounting programs for streamlined payroll
Pre-set lists for job locations, cost codes and materials
Track employees expenses – including tools, supplies, travel costs and more
Synchs directly with the cloud