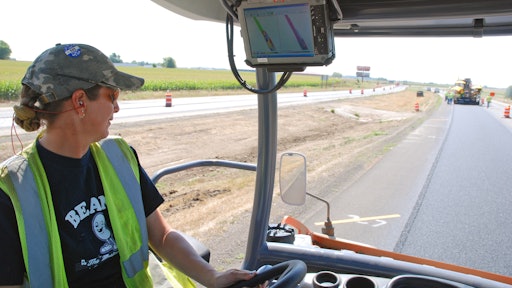 Intelligent Compaction (IC) has been a buzzword in the construction industry since the 1980s. At that time, contractors were mainly using the technology to track and document their compaction efforts on the soil side. It wasn't until the early 2000s that the U.S. started adopting the technology for asphalt compaction due to a push by the Federal Highway Administration (FHWA).
The push for this type of technology came as a result of under-performing pavements and a growing need for documented quality assurance.
"Asphalt pavements are designed to last a specific number of years," says Fares Beainy, research engineer emerging technologies at Volvo Construction Equipment. "However, construction involves several stages that would shorten the designed life span if not performed properly. Compaction is the last and one of the most important phases that needs to be properly executed to ensure quality of the constructed pavement."
This is exactly what IC helps contractors accomplish. The latest trends in IC remove the guesswork from compaction, help contractors save time and money and also ensure pavement performance through quality documentation.
Real-Time Results
One of the main benefits of equipping your rollers with IC technology is that that machine is giving you immediate feedback on your compactive efforts.
"The IC system removes the guesswork in asphalt and soil compaction since it gives you real-time information," says Tim Hoffman, product manager, heavy compaction at Atlas Copco. "It also tests the entire compacted surface, verifying the quality of compaction and maximizing operator productivity to ensure compaction quality."
Real-time data allows for an immediate response to fix any problems before compaction is complete and the mat is compromised.
"IC systems can save contractors a considerable amount of time since they no longer need to do manual readings, and that can equate to a lot of labor costs over time," Hoffman adds. "IC systems alert operators once they achieve optimal compaction, so they can continue moving through the project without slowing or stopping for workers to take and interpret samples. Also, because the system helps ensure operators reach the optimal stiffness on every square inch of the project, there is minimal risk of premature failures, which saves contractors costs associated with repairs." 
"The main reason why IC was developed is because we wanted to find out what the roller was actually measuring on the fly, and the operator could see if there were problems right away vs. waiting until someone came out and took a test to see how well things were getting compacted," says Tim Kowalski, Hamm applications support manager at Wirtgen Americas.
"The biggest benefit to that is being able to see what you are doing in real time and not just hoping you are doing the right thing while compacting," Kowalski continues. "This system will help any operator do a better job."
Better Jobs = Bonuses
It's no secret that contractors are driven by job bonuses. The possible incentive of gaining a monetary bonus with the use of IC is just another reason to equip your roller fleet with the technology.
"By giving the roller operator critical information — to know when spec densities have been achieved and to know when to stop compacting — this can most definitely lead to achieving maximum bonus on projects that pay bonuses for achieving specified densities," says John Hood, director of sales, heavy equipment at BOMAG Americas, Inc.
In addition, many federal and state agencies are now beginning to require that contractors use IC technology on jobs.
"Yes, some jobs require an IC system," Beainy says. "In addition, any contractor who is working on a project with a density specification and pay factor can benefit from the ability to get direct reporting on density calculations. In-process and final density data is an important quality control metric. In addition, specifications that include Percent Within Limits (PWL) incentivizes close control of final density."
Currently, IC technology is mandatory in approximately 20 states. However, in other states that do not require IC, having a reputation of success with the technology might be a unique selling proposition while competing against other contractors.
"IC systems can put contractors ahead of their competition and maximize their crews' productivity," Hoffman says. "More and more agencies consider contractors that are using IC systems because it contributes to a quality product and helps get projects done faster by enhancing operator productivity with its mapping capabilities.
"The sooner a contractor gains experience on the technology," he continues, "the more proficiency he or she will have while bidding on future projects that might require intelligent compaction on rollers, such as airport runways or in states where the technology is mandatory."
"If a contractor develops a reputation for delivering quality compaction results, and IC helps with this, then it is entirely possible for contractors to win more bids," Hood adds.
Comparatively, if the technology can help you avoid penalties, all the more reason to implement IC.
"These job bids are in millions of dollars and penalties can add up," Beainy says. "This is related to reducing penalties caused by missing target densities. The return on investment could be quicker than one might think."
More Productivity with Pass Mapping
We know that under compaction of an asphalt is bad; it leads to poor density numbers and an asphalt that will fail prematurely. Similarly, over compaction of the asphalt can be just as detrimental to the success of the job, plus it is a waste of the operator's time and your money. IC puts a stop to that with pass mapping.
"Having that real-time information is critical to achieving compaction densities in as few passes as possible, saving time, fuel and money," Hood says. "Achieving spec densities is temperature dependent, so rolling the asphalt in the desired temperature range allows the compactor to achieve densities in the prescribed number of passes. Having real-time density data allows the operator to know where more compaction is needed to reach spec densities and, more importantly, when to get off the section to prevent over compaction."
Many IC technologies use pass mapping to show where a roller has been on the mat and which areas still need attention.
"Real-time pass mapping and relative stiffness data optimize operator effectiveness," Hoffman says. "Pass mapping shows operators where they already made enough passes for optimal stiffness until the entire surface has been completed."
This real-time temperature data allows the operator to stay within the compaction time window before the asphalt material is too cold to compact. "Pass mapping gives the operator the ability to track his progress and make sure of full compaction coverage of the pavement," Beainy says.
"Pass mapping helps in the consistency of passes that should help the contractor get a more uniform compaction and density across the mat," Kowalski adds. "More data equals more consistent rolling patterns that can reduce the number of passes and achieve more consistent densities across the mat, giving better rideability that translates into bonuses for the contractor."
Up to 20% Fuel Savings?
So what does it mean when your operators make fewer passes to achieve the desired results? Less fuel consumption, less wear on the machine and more time for them to work on other projects.
"IC has the potential to reduce the fuel consumption as it provides the operator with a quality measurement of the pavement that would allow the operator to know when the target is achieved," Beainy says. "In some cases, they can perform a reduced number of passes and as a result consume less fuel and time."
Many manufacturers are also implementing fuel-saving modes on their machines that can be switched on or off based on the needs of the job.
"IC systems can contribute to a reduction in fuel consumption by helping operators avoid making more passes than needed," Hoffman says. "The optional ECO Mode system on Atlas Copco machines also helps conserve fuel, especially with rollers featuring the rpm-management system, such as our large asphalt and soil rollers.
"ECO Mode reduces fuel consumption by as much as 20% by delivering to the roller only the amount of power that is necessary to operate at any given time," he states. "So combining the two might have a significant impact on reducing fuel costs."
"IC helps to achieve optimum compaction with fewer passes, so it allows contractors to be more cost efficient," Hood adds. "By completing a project more economically, the contractor could bid a project lower to win more projects, which equals more money."
Another means to save both fuel and time is by providing high-quality roadways that would last longer. "A longer life for a roadway means less road maintenance, which means less fuel consumed on the job, and by vehicles in traffic jams," Beainy states.
How IC Works
IC works by outfitting vibratory rollers with instrumentation that's fed to a documentation and feedback control system, which then processes compaction data in real time for the roller operator. The precise location of the roller, its speed and the number of passes over a given location are mapped using the Global Positioning System (GPS) or a similar system.
To determine the effectiveness of the compaction process, compaction meters or accelerometers are mounted in or about the drum to monitor applied compaction effort, frequency and response from the material being compacted. 
Many contractors are overwhelmed by IC since the technology can seem daunting and advanced. However, current procedures using conventional compaction machines may result in inadequate and/or non-uniform material densities, which can be one of the major factors in premature pavement failure. IC helps users overcome this issue by optimizing the compaction process.
Manufacturers of compaction equipment have made it their passion to help create IC technology that's both user friendly and effective in achieving the best compaction results possible. 
Evolution of Intelligent Compaction
"At its genesis, IC included rollers that would change the direction of the vibrating drum from full vertical (maximum compaction energy) to full horizontal (minimum compaction energy) as the stiffness values increased," says Bert Erdmann, product manager, heavy compaction at BOMAG Americas, Inc. "These vectoring drums generated higher amplitudes than standard vibrating drums on traditional rollers, allowing spec densities to be achieved in fewer passes and/or compact thicker lifts. Originally, the IC was designed for single-drum rollers, and capabilities existed for printouts of compaction performance as documentation."
As technology evolved, so too did the capabilities of the systems. Today, IC is available for both asphalt and soil rollers. The reporting capabilities have expanded. For example, for asphalt, the systems can record temperature, roller location and speed and material stiffness, and all this information can be downloaded to a USB drive for documentation of the entire project. Multiple rollers on the same job can be networked together, so the operators can have real-time compaction output for each roller on the job.
"At the other end of the spectrum, systems like the BOMAG Economizer have recently been developed for a broad spectrum of contractors working in both soil and asphalt applications to improve compaction quality," Erdmann says. "It offers intuitive control — employing a stoplight-like dial — so the operator does not need to be trained on the system. Economizer is available for traditional rollers, so there is no vectoring drum. However, with its real-time reporting of material stiffness on the dashboard dial, the operator can see when optimum compaction is achieved, proof roll for soft spots and reduce the chances for over compaction." 
Documented Results
Protecting your business is important to any contractor. Being able to document results on an asphalt paving job is one way IC can help protect your business. It logs all of the density data, which can be downloaded to your computer and saved should the quality of the work completed on a job be called into question.
 "IC systems assist contractors from a quality assurance standpoint," Tim Hoffman, Atlas Copco, says. "The contractor can use the data to prove to regulating agencies, such as a state Department of Transportation, that compaction standards were met. This minimizes the risk of costly litigation or having to restart the project." 
However, you want to be sure that you purchase the system that will give you the results you want.
"The first place to start with IC is to determine what type of system is necessary for the types of jobs the contractor faces today and in the future," says John Hood, BOMAG. "For a vast majority of contractors, the BOMAG Economizer system offers a cost-effective method for achieving real-time, highly accurate compaction results. If the contractor will be doing state work where documentation is required, then a more advanced system such as Terrameter and Variocontrol for single-drum rollers and Asphalt Manager for tandem rollers with BCM05 will fit the need."
IC Lays a Healthy Base 
IC was initially developed to be used on soil compactors and the technology has progressed immensely since then; but a good pavement always starts with a solid base.  
"IC, from a general perspective allows the machine operator to better understand his process," says Dann Rawls with Caterpillar Inc. "In the past without IC, the operator was somewhat flying blind relative to the compaction process. Now with the IC system, he has several options on what information is available, and how that information relative to the process is presented for use." 
Since 2006, Caterpillar has been offering IC technology on their soil compactors. In 2012, Caterpillar introduced the second generation IC system on soil compactors, and in 2014 on the 825K Large Soil Compactor. These systems feature the Caterpillar Proprietary MDP (Machine Drive Power) measurement method, and improved machine integration. 
"On our basic system, we present the operator with a running indication of the IC measurement value, much like the speedometer in your car or truck. This measurement value on pad foot and tamping foot soil compactors is the Caterpillar proprietary MDP method, and on smooth drum vibratory machines, we offer the option of an accelerometer based CMV (Compaction Meter Value) measurement method, or MDP." 
The MDP measurement method addresses some of the short comings of the Accelerometer based measurement systems. With the accelerometer based system, the machine must have a vibratory system, and have that system active in order to generate a measurement value. In earthworks construction, there is a high percentage of cohesive soils that typically do not respond well to a vibratory compaction process. These soils are compacted by a kneading process with a pad foot or tamping foot machine. 
"MDP essentially turns the machine into a real time proof roller," Rawls says. "This gives the operator an indication of the relative stiffness of the soil by measuring the amount of power the machine is using to roll over the surface and converting that to a 0-150 value that is displayed to the operator, and if equipped, mapped and recorded for on board viewing and off board analysis."
Rawls says the next step is a factory fit GPS mapping system featuring autonomous level accuracy allowing the operator to understand his coverage and geo reference the IC values. The final step is a full featured system featuring full RTK (Real Time Kinematic corrections) enabling cm level accuracy and the ability to wirelessly transmit data to the cloud for data analysis.
The Future of IC: Density Direct
Volvo recently introduced a new advancement in its IC technology. The IC system for select Volvo asphalt compactors is now available in two packages: Volvo IC and Volvo IC with Density Direct.
In addition to offering the pass mapping, temperature mapping and data storage features of the basic IC system, Volvo IC with Density Direct includes the industry's first real-time density mapping technology.
"Density mapping has been described as the 'holy grail' of IC," Volvo's Fares Beainy says. "The first to come up with the technology will be the one to radically advance the paving industry, it was said, and that's exactly what Volvo has done.
"For years, contractors have relied on IC systems with stiffness calculations instead of density, which is not the true metric by which contractors are evaluated and paid," he continues. "With Density Direct, operators have real-time access to the metric that ultimately determines the success of their work: density."
The Volvo IC with Density Direct system produces a density calculation that is accurate to within 1.5% of core sampling, providing a real-time reading of density values over 100% of the mat.
With this real-time data, the operator is given the chance to make any necessary adjustments while asphalt is being paved. This not only reduces the occurrence of inadequate densities that drive up project costs, but reduces time spent taking core samples, improves quality, and leads to much greater uniformity than nuclear gauge testing.
Calibrations are also "saved" by the machine, so operators can assign calibrations to certain elements of a job, and quickly switch back and forth between calibrations to meet the demands of specific job elements.
Easy Does It
Even with all of the above benefits, contractors are still on the fence about implementation. Cost is one factor but the complexity of the technology can seem daunting, as well.
However, the IC technology of today has advanced to where it is very user-friendly. Many systems feature an easy-to-use, color touch-screen interface.
"Tablets are relatively easy to use because the operator can use their touch screen to navigate through systems or pull up multi-colored mapping data, including a weak area analysis, evib mapping, pass mapping and progress mapping," Hoffman says. "This helps them focus on compaction and their surroundings instead of hassling with bulky screens and button layouts. Operators can detach the tablet from its cradle from the operator's platform to deter theft and to transfer data onto a PC at the end of the day. Contractors also can quickly set project parameters, including the compaction measurement value, using the touch screen, which alerts operators once they reach optimal compaction."
"The system is not difficult to learn," Kowalski says. "We usually will have a full-day training course for not only the operator but the foreman, QC manager and superintendent. This is usually enough time to get them on their way and they feel much more comfortable about the system by the end of the day. The more they use it, the easier it becomes. This is a system that is staying around and is not going away. The benefits outweigh the initial cost of the equipment."
"Think about it: What is the cost of guessing when optimum compaction is achieved? What is the cost of removal and replacement of material that's been over compacted? We are trying to reach specified compaction densities without over compacting the material," Hood says. "IC shows the operator when optimum compaction is achieved. It can prevent unnecessary extra passes, lower fuel consumption and save time and money for the contractor."
We don't see a downside.