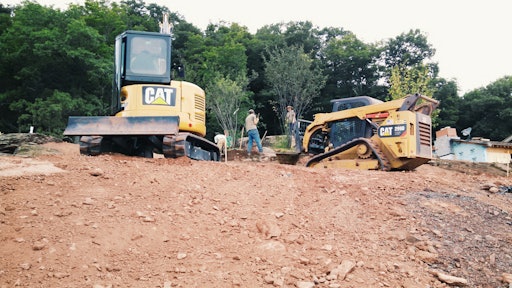 Oftentimes, there is a misconception that the smaller the equipment, the less powerful it is and the less efficient it will be in completing the work. Yet, while today's compact machines may be small, they are also mighty, thanks in part to the implementation of technology to meet stringent Tier 4 requirements. The latest models can actually help you to be more efficient on the jobsite, cutting time of completion and resulting in a more sustainable overall project.
Kyle Byrne, owner of TREC Management Systems Inc. in Tannersville, NY, is one contractor who took the leap in buying smaller equipment, and it's paid off for him big time. His company performs land management planning for high-end clients in upstate New York. It handles everything from forestry to landscape, earthwork and drainage. That vast array of work means Byrne's crew of 30-plus employees needs an equipment arsenal that can keep up.
When Byrne started to look into adding equipment to his fleet, his No. 1 priority was a dealer that would have parts readily available when he needed them. What he saw at the Caterpillar dealership is what eventually led to Cat equipment ending up in his equipment yard.
"The most distinct advantage was the relationship component between dealer and owner," Byrne says. "Having a dealer that really goes to bat for you and helps you out with exactly what you need in terms of parts, and availability of parts, has been absolutely excellent with Cat."
This relationship led TREC Management Systems to acquire a Caterpillar 299D XHP compact track loader, 305E CR hydraulic excavator, D6K track-type tractor, 930K wheel loader and a 525 grapple skidder. Before long, Byrne says his crew started to prefer the Cat equipment over the older equipment in his fleet. "Not only did they like the power advantages and hydraulics of the new machines, but the creature comforts, too," he comments.
Byrne soon realized there are more advantages to this smaller equipment than he could have hoped for. Byrne and Cat product specialists speak to the advantages of today's newer, smaller machine models.
Compact Wheel Loaders Haul in 40% Fuel Savings
Compact wheel loaders offer contractors the opportunity to do certain jobs more efficiently than using a much larger machine or even a skid steer that could do the same job but with higher horsepower.
"Machines like the 903C wheel loaders are utilized with buckets and forks for dedicated material-handling applications. In that sense, you can get away with a little less horsepower, less fuel burn and do a lot of the same type of work you could do with a skid steer," says Jeff Brown, compact loader product specialist at Caterpillar, Inc.
"On these wheel loaders, you have almost half the horsepower of an equivalent operating capacity 242D or 262D skid steer, which translates into burning less fuel," Brown says. "Also, the articulating nature of a wheel loader is much easier on the drivetrain. You're not skidding, causing friction and trying to overcome that hydraulically through the drivetrain."
Skid steers that can handle a 2,500-pound load capacity would be in a 74-horsepower class, whereas Caterpillar's equivalent compact wheel loader operates at 42 horsepower. It can do the job with close to a 40% fuel savings.
On top of leaving a smaller carbon footprint, these machines also offer a lighter physical footprint with their compact size.
"Being that these machines are articulated and lighter, they are used heavily in nurseries, traveling on that sensitive turf," Brown says. "[They're used in] places where you need to maneuver in tight spaces, but you also don't want to develop huge ruts. An articulated loader motor is going to do a better job of floating and not disturbing the ground as its maneuvering."
Brown also says compact wheel loaders can save money on tire costs. "In rough numbers, you see two-to-one or maybe even three-to-one in terms of tire wear," he states.
CTLs Get Multiple Jobs Done with Less
The work tools in Caterpillar's land management category have been of particular interest to Byrne and his crew. These attachments have the potential to help reduce the contractor's carbon footprint.
"In the past, we had run other compact equipment and we're now running the 299D XHP compact track loader from Caterpillar," Byrne says. "The biggest difference that I've noticed with this machine is the fuel efficiency. We're finding we're getting anywhere from ¼ to ½ a day more usage out of the Cat compared to the other machines. It's tremendous."
While a 95-horsepower compact track loader with work tools can't do the same work as a 250- or 300-horsepower site prep tractor or dozer, it can save costs in the right application. According to Dustin Adams with Caterpillar's building construction products work tools group, using compact equipment in combination with a series of attachments can save on fuel costs, cut mobilization costs dramatically and eliminate burn piles.
"The 299D XHP compact track loader with the HM415B mulcher is very impressive from the standpoint of being able to go in and clear out trees up to 8 inches in diameter," he says. "Once you lay those trees down, it's able to process that material and return it to the earth in the form of wood chips and compost.
"In the past, you may have gone in with a larger machine to fell those trees, then a second group would come in to cut them into manageable sizes, and then maybe even a third group to haul away," he points out. "After all that, you'd still have root balls to deal with and the process for disposing of those would have been burn piles.
"The more environmentally focused we become as a society, burning is becoming less and less acceptable," he continues. "What we're able to do with these machines is fell the tree, use an industrial grapple rake to pile the material and then mulch it. The disposition of everything is right there on site."
Adams says the same owner/operator can use the industrial grapple rake as a compliment to the mulcher to help keep fuel consumption down.
"When you're operating the HM415B, you're running in high idle," Adams says. "If the job doesn't call for the tree to be completely mulched, the owner/operator can utilize the industrial grapple rake at a lower fuel consumption to collect and relocate and gather those trees.
"While the larger dedicated land clearing machines are able to process more acreage in less time, they can't be as selective about what they take out due to their size and site accessibility," he comments. "Additionally, dedicated land clearing equipment does not have the versatility of the 299D XHP. With a catalog of over 100 work tools to choose from, the 299D XHP is not limited to the land management segment. It can be as productive in other segments such as road construction, utilities or landscaping, affording the owner/operator additional opportunities for income."
Eco Mode Equals 10% Productivity Boost
Newer machines such as the Cat K2 family of dozers not only give you enhanced fuel efficiency, they can improve how efficiently operators work.
"We're trying to give the customer more value by giving them better fuel efficiency and productivity," says Joel Fritts, D5K2 dozer product specialist, Caterpillar, Inc. "One of the ways we're doing that is with Eco Mode. The beautiful thing about Eco Mode is that it allows the operator to only use the amount of fuel that he needs to get the work done. When the machine is in Eco Mode, it will generate enough horsepower at whatever RPM is required to push the load. If it doesn't need all that horsepower, the machine automatically - without any interaction from the operator - decreases the engine RPM while still maintaining the required ground speed."
As a result of this technology, the machines are seeing a 20% boost in initial fuel economy.
New technology on this smaller equipment is also helping operators to be more productive in their everyday tasks. For example, the K2 dozers feature traction control, which reduces the amount of track slip on the equipment.
"If an operator senses the track starting to spin, the first thing he will do is lift up on the blade," Fritts says. "When you lift up on the blade, you lose part of your load and become less productive. Traction control allows the machine to push through the load with less track slip. The blade doesn't have to be lifted as much, so [the operator will] be pushing more material and become more productive."
Power Pitch is also a game-changing feature on these dozers. "In the past, if you wanted to change the pitch of the blade, the operator would have to get off the machine," Fritts says. "With Power Pitch, the operator can actually change the pitch of the blade hydraulically from the operator's compartment on the go.
"The idea is that when you're getting ready to load the blade, you want to be able to rock that blade all the way forward and be as aggressive as you can with it," he explains. "You want to get the blade into the ground as quickly as possible, load the blade, lay it back and use it like a bucket to carry more material to spread or stockpile. The benefit of doing it hydraulically will give you a 6% to 10% production advantage."
That New Machine Smell
It's no secret that today's newer equipment has more creature comforts than some passenger vehicles. From air conditioning to ergonomic seats, an operator can work all day and never be annoyed with his machine.
"If an operator is able to sit in a cab all day and be comfortable, usually nine times out of 10 he's much more efficient at what he does," Byrne says. 
Along with creature comforts, these new machines include technology that can help provide peace of mind. "All of the new pieces of our equipment have ProductLink," Byrne says. "You can look on a weekly basis and see what fuel consumption has been, fuel rates, theft protection and even service records. Files within ProductLink are kept and anytime a machine has scheduled maintenance, the machine will tell you when it is and also if it's been done. This can reduce downtime due to equipment failure."
When it comes to his new equipment, Byrne says the benefits are tremendous. "Working with high-end clientele, it's very positive to pull up on a jobsite and have clients see that your equipment is new, clean and meeting Tier 4 emissions standards," he says.
"Bottom line, these machines are helping us get jobs done more efficiently and quicker," he concludes. "This means we can get a job completed under budget, which will result in a greater profit for us. From the fuel efficiency to the creature comforts for the operator, we are able to do more in a day compared to competitive brands. That's something that I wouldn't trade."