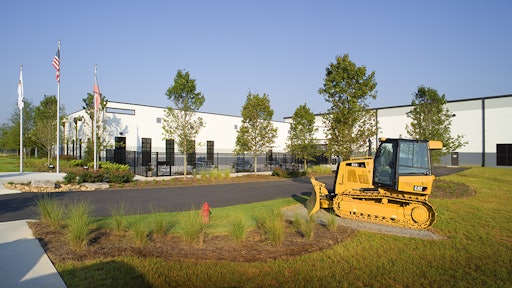 Smoke stacks, visible pollution, dust, grime and dire working conditions — this is what many people think of when you ask them to picture a factory. But today's manufacturing plants look nothing like what you picture when you think of the Industrial Revolution. Today, factories are often automated and encapsulated with state of the art controls to minimize and manage hazards, staffed by an expert workforce and feature LEED-certified products. Yes, green factories do exist and Caterpillar's new facility in Athens, GA is proof.
The company opened its newest manufacturing plant in October 2014. The high-tech, 850,000-sq.-ft. facility produces small track-type tractors and mini hydraulic excavators for the company's line of construction equipment (see sidebar).
One of the keys to Caterpillar's success is its commitment to sustainability, which it knows begins with its own operations. The company has established high performance standards for environment, health and safety at its facilities that extend beyond compliance with laws and regulations. Proactive implementation of these standards at the new Athens facility demonstrates its commitment to sustainability leadership in the industry.
"The sustainability initiatives put in place at the Athens facility were considered since the first discussions in October of 2011 of bringing Caterpillar to Athens, GA," says Todd Henry, operations manager at the Athens facility. "Major sustainability initiatives were instituted into the construction process, the site as a whole, facility fixtures and equipment, and the policies and procedures that ensure that the Athens facility was developed according to the utmost environmental standards."
Build it Green
As companies drive down their environmental impact, they often find large cost savings. When you consider the size and scale of industrial facilities and today's business models, we are talking about millions of dollars in savings and conservation on a truly massive scale.
"The decision to build the Athens facility utilizing sustainable principles was made in order to enhance the local community and preserve the surrounding environment," Henry says. "Several streams and large areas of wetlands are situated on the property, and so the site was designed to avoid these streams, wetlands, as well as their associated buffers, in order to reduce any runoff water from entering these areas. All measures possible were taken to protect and subsequently restore the area's habitats, and minimal disturbance was attempted during construction, allowing several large wooded areas to subsist."
In addition to preserving the surrounding area, Caterpillar used recycled materials in the construction of the facility to keep costs down and reduce the carbon footprint. 
"As many recycled materials as possible were used and incorporated in order to lessen the Athens facility's impact upon the environment by reducing wastes produced," Henry says. "All carpeting used in the building was made from recycled materials. Some scrap metal, such as steel packaging material from equipment, was reused by the fabrications team to create work-in-process (WIP) racks and tables. All cubicles and office furniture (desks, bookshelves, filing cabinets, etc.) were purchased used, and are now reused in the office areas. All of the warehouse racking and machinery was purchased used from other facilities' surplus."
"Reusing materials and using recycled materials saved significantly on planned capital expenditures and contributed to expense avoidance," Henry continues. "Just the reuse of scrap metal alone saved the facility over $35,000."
Sourcing is another element of sustainable cost savings. The closer you can find materials to where you're building, the less fuel you're consuming transporting them, which keeps emissions down, as well. This was an important aspect of construction in Athens. 
"Giving back to the State of Georgia is an important initiative for us," Henry says. "We have worked to utilize many local suppliers for our indirect materials and services. Local companies were utilized to provide all the structural steel in the facility, and regional landscaping materials were used, therefore reducing the distance traveled and CO2 emitted in transport to the site. As much as possible of the total project construction material contained recycled content and/or was sourced locally (within 500 miles of the site)."
The white, reflective roof on the facility reduces heat absorption. When you're in the deep south of Georgia, this can help keep the building significantly cooler than a black tar roof.
Caterpillar also chose to only use low- and no-VOC products in the facility. The powder-coat paint system reduces the hazardous wastes generated by 99%, since it does not require the hazardous chemicals that a liquid paint operation does. As a result, it avoids air particulate or VOCs being released into the atmosphere.
Picture how much flooring or carpeting material goes into an industrial facility, or imagine how many walls are painted for each building. By asking suppliers for low- or no-VOC items, the manufacturing industry can reduce its carbon footprint and force suppliers to do the same.
Reuse Water to Save Big
Energy costs are directly tied to water costs, as well. You spend money to pump water in, then use energy to move it around your facility, for onsite treatment and finally to eliminate it via the sewer — that's four places where you need to pay for energy to move water through the facility. Not only that, but the State of Georgia has strict regulations regarding water use.
"One of the most difficult challenges facing the development of the site was the vast amount of water required by the Athens facility," Henry says. "Caterpillar worked with Oconee and Athens-Clarke Counties, the two counties which the site is split between, to form a solution to the facility's water and wastewater needs."
Nonetheless, it was still imperative that the site cut back its water usage in order to best comply with local infrastructure. To counteract this, the Athens facility features a state of the art wastewater treatment system that starts with its paint line.
"An extensive wastewater treatment system was put in place to treat and recycle water from the paint system's wash line, the assembly wash bays and the product distribution center (PDC) wash bays," Henry says. "The Athens paint system is one of the most advanced painting systems within Caterpillar. The wastewater treatment system in paint was designed and built specifically for the facility to treat, recycle and reuse the process water used to wash parts."
Here's how it works. Following fabrication, parts are washed before they are painted; the wastewater from washing goes through a wastewater treatment system comprised of a filtration process, chemical pH adjustment and reverse osmosis. The water is treated and then recycled back into the washing system. Any RO-reject water from the wastewater treatment system is fed to the facility's evaporative cooling towers, which reduces the amount of water and energy needed to cool the building.
By reclaiming processed water, using a closed-loop system and reducing the use of potable water, Caterpillar can save significant energy costs and cut water demand. Henry says this process saves on average 35,000 gallons of water per day, which equates to roughly 9 million gallons of water per year.
In addition, Henry says that a huge amount of water has been saved by incorporating native and drought-resistant plants into the landscape, thus eliminating the need for an irrigation system. This is estimated to save the facility upwards of 300,000 gallons of water per month.
What could your company do with the money it saves not using over 10 million gallons of water a year? The potential cost savings are huge, especially in drought-prone areas of the country. 
Green Every Day
With 1,400 bodies walking around the facility once it's fully staffed, Caterpillar knew it was important to incorporate sustainable elements into the building that would be used daily by its employees.
To cut down on energy usage, the facility runs on energy efficient HVAC systems. Inside the factory, the powder paint line runs on a single heat cycle; this alone reduced natural gas and electricity usage by 30%. This energy efficient paint line also does not generate any hazardous waste or air pollutants.
Caterpillar chose to use only LEED-certified janitorial chemicals at the Athens facility. It also placed energy efficient hand dryers in all restrooms and installed ultra-low-flow automatic fixtures in the restrooms.
Recycling is also big at the facility. Used office furniture was purchased and reused in all office cubicles, and recycling bins are located in all offices and on the shop floor.
The facility reuses warehouse racking and machinery from the surplus of other facilities instead of purchasing new. It also reuses all steel packaging material to make racks for use in the shop.
Finally, motion sensors were installed on all lights in the building so they turn off when not needed.
Thanks to its efforts, the Athens facility was awarded the 2013 Keep Georgia Beautiful award, along with the 2013 Platinum Award for Environmental Sustainability from Caterpillar.
Caterpillar took many small sustainable steps with its new facility, all of which led to a giant reduction in its total carbon footprint, and cost savings in the long run.