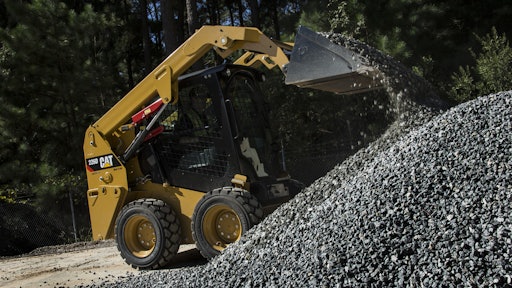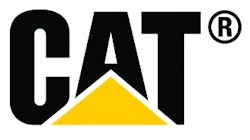 In the transition to Tier 4-Final/Stage IIIB emissions compliance, Caterpillar boosted horsepower and torque on the 226D and 232D skid steers and 239D and 249D compact track loaders 10%, and expects up to a 14% improvement in fuel efficiency compared to predecessor models. The 67 hp C2.2 engine uses an electronically controlled high-pressure/common-rail fuel system, direct fuel injection, and a maintenance-free diesel oxidation catalyst as the only required exhaust after treatment.
Video: Cat Boosts Power and Torque 10% on Small-Chassis Skid Steers
The four new D Series small-chassis loaders incorporate design innovations pioneered on the larger D Series machines, including a sealed/pressurized cab, electro-hydraulic controls, redesigned lift arms, premium seat choices, and optional Advanced Display (available with rear-view camera).
Two-speed drive with 226D and 232D top speed of 11 mph
239D and 249D CTL operating weights less than 8,000 lbs. allow trailering without a CDL
Radial-lift 226D and vertical-lift 232D rated operating capacities (ROC): 1,550 and 1,850 lbs.
Radial-lift 239D and vertical-lift 249D ROCs: 2,050 and 2,300 lbs.
Demand fan is standard for optimum cooling and reduced horsepower draw
Cab One
The D-Series cab (Cab One) is completely modular and self-sealing, leaving no part of the cab attached to the chassis when the cab is tilted.
Redesigned HVAC system supplies 20% more airflow and an approximate 50% increase in heating and cooling rates
Standard monitor's single-code security feature deters theft and unauthorized operation
Advanced Display expands security (operator) codes to 50 and can store custom operating preferences for each code
Operator preferences include response rates for hydrostatic drive and implement hydraulics, settings for ride-control, creep speed, and top speed
A master code allows review of operator-specific machine information, including hours of operation, fuel burn, operating events, and diagnostic codes
Intelligent self-leveling
Small-chassis D Series loaders feature the electronic Intelligent Leveling system that includes:
Dual self-leveling automatically levels loader linkage while raising or lowering the arms
Automatic snubbing cushions lift-arm descent, slowing motion as the arms approach the stops
Return-to-dig allows the operator to set the digging angle of the bucket and automatically return the bucket to that angle by pressing a trigger on the joystick as the arms lower
Work tool positioning allows the tool angle to be pre-set, as when positioning a trencher, and the angle automatically recalled if the machine is repositioned
Lift arms, coupler, track choices
Lift arms for all D Series machines are a tubular steel that provides optimum lift characteristics and strength, with a narrower profile for improved sight lines to the sides of the machine and the work tool.
Available automatic work-tool coupler is electrically actuated, replacing the previous hydraulically actuated coupler
Available high-flow auxiliary-hydraulics provides flows to 26 gpm and pressures to 3,336 psi
Standard and high-flow auxiliary hydraulics use connect-under-pressure quick disconnects
Suspended-undercarriage CTL models offer 15-in.-wide tread in addition to standard, 12.6-in.-wide tracks
Serviceability
The new models feature ground-level access to all routine service points, including filters, battery, and engine-oil fill and check points.
Air-conditioner condenser mounted inside the engine compartment door for easy cleaning or service
Electric fuel-priming pump with automatic air bleed eases replacing the fuel filter/water separator
Dead-engine/boom-down actuator repositioned for easier access
Boom arms incorporate a one-person safety brace, and a battery disconnect is optional
VIDEO: Cat Boosts Power and Torque 10% on Small-Chassis Skid Steers
Request More Information
Fill out the form below to request more information about
Cat Boosts Small-Chassis Skid Steer Power 10%, Fuel Efficiency 14%