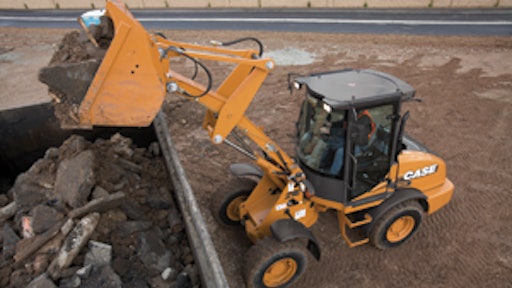 The new Case E Series compact wheel loaders — the 21E, 221E and 321E — features a new Versa-Boom linkage for excellent reach, visibility and precise parallel lift, and increased bucket rollback for greater material retention. While the E Series replaces the Case D Series 2, the new compact wheel loaders retain many of the same innovative features, including a spacious, comfortable cab and easy access to service points.
Versa-Boom linkage
"The Versa-Boom design offers enhanced visibility to the coupler and attachments throughout the lift cycle for precise positioning of the compact wheel loader," says David Wolf, marketing manager for Case Construction Equipment. "For example, when loading and unloading palletized material, visibility to the tips of the forks is critical for rapid cycle times and accurate machine positioning."
The parallel lift on the Case E Series has a variance of less than one degree through the complete cycle for more accurate material handling. "The operator can concentrate on moving materials, rather than making adjustments to level the load," Wolf says.
Reach height on the Case E Series has been increased by 10 percent, which is helpful when loading trucks or filling hoppers. The longer reach of the new machines also allows operators to easily work from one side of a flat bed truck when unloading palletized material.
Increased attachment compatibility
A standard hydraulic skid steer-compatible quick coupler system adapts to a number of Case 400 Series skid steer attachments, providing increased machine utilization. The increased attachment work range of Case E Series compact wheel loaders improves machine versatility and material retention, maximizing productivity.
The Case E Series can be equipped with a variety of attachments, including general purpose buckets, 4-in-1 buckets, pallet forks, snow blades, angle brooms, augers, scrap grapple buckets, jib boom and more.
Bucket rollback versatility
"Bucket rollback on the new compact wheel loaders has been increased, which means better material retention and increased productivity," Wolf says. "The operator can invert the bucket completely over to pull material away from walls or foundations during snow removal or landscaping applications — or it can be used as a leveraging tool to help maneuver the machine out of sticky, wet conditions."
Additional features
Case E Series loaders are equippped with a two-speed, hydrostatic transmission that allows travel speeds up to 12.4 mph. An optional high-speed transmission on the 221E and 321E can deliver top speed of 21.7 mph.
An optional Ride Control feature provides improved material retention while reducing shock loads on the machine and operator.
Companies in this article