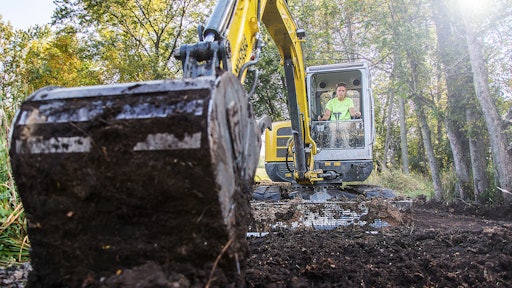 Throughout the course of history, mankind has left its impact on the environment in the name of progress. Urban sprawl can lead to many natural resources being destroyed. One hundred thirty years ago, the railroad company turned a wetland in Grafton, WI, into a railroad bed, and Ulao Creek (pronounced U-Lay-Oh) became a victim of settlement.
It's not very often you see that destruction reversed, which is what makes the Ulao Creek Watershed project so special.
Realizing the importance the creek has on the surrounding habitat, several landowners surrounding Ulao Creek joined forces to create the Ulao Creek Partnership and sought to return the area to its natural habitat.
"The Ulao Creek Habitat Enhancement Project has been in the works for many, many years," says Samantha Gehl with Solutions 101 LLC. "This partnership has a single mission: to improve the creek and the adjacent impacted land."
The partnership earned the support and assistance from Ozaukee County in Wisconsin and made vast improvements to the creek. After building a foundation through volunteer improvements, both the partnership and county saw the need for larger improvements utilizing professional equipment and manpower.
So in June of 2013, the Ulao Creek Habitat Enhancement Project was advertised for public bids and Solutions 101 LLC jumped at the chance to be involved. "Based on the size and scope of the advertised project, Solutions 101 LLC (So101) felt this project would be a perfect fit for our abilities," Gehl says. "Through the public bid process, So101 was awarded the project and offered a contract to perform the work."
So101 was contracted to clear the site of invasive species, create a meandering natural stream, install wood structures for fish habitat and restore the wetland reminiscent to pre-settlement conditions.
Conservation > Construction
Normally during construction, you're not too concerned with what happens to the ground you're working on. In this case, So101 was helping with a restoration so it was imperative the methods it used to complete the contract did as little harm to the wetlands as possible.
"When we started bidding the project, we were looking at heavy equipment because that's what I was familiar with," says Jim Sykes, project manager at So101. "Then I looked at the zero footprint concept and started looking for very small equipment that could work under very adverse conditions"
While traditional construction methods and equipment may have worked within the scope of this project, So101 chose the zero footprint method because it better meets the company's vision of construction and the intent of the Ulao Creek Partnership and Ozaukee County Fish Passage Program.
"Part of our environmental vision is to shrink the operational area of a site by limiting unnecessary movement to minimize impact to the rest of the natural landscape," Gehl says. "This project lent itself well to our vision and our ability to leverage compact equipment to the same effect as a larger piece without the negative side effects."
That meant breaking from tradition and finding a new way to get the job done.
The Right Tools for the Job
Sykes continued looking into the right equipment for this job and So101 chose equipment from Wacker Neuson, Menomonee Falls, WI, to help get the job done.
"So101 initially reached out to Wacker Neuson because its equipment specifications fit our intended zero footprint approach," Gehl says. "Fortunately, the conversation continued because of its innovative thinking, willingness to be involved and commitment to sustainability, specifically in the area of habitat restoration."
The continued conversation lead to the Wacker Neuson development team choosing four pieces of equipment that has compact size, versatility, agility and efficiency. So101 used a 6003 excavator; a 28Z3 excavator; a 550 wheel loader; and a 3001 all-wheel dumper to accomplish all of its project needs.
"Wacker Neuson compact excavators, wheel loaders and dumpers have a minimal footprint that doesn't disturb the natural habit and landscape," Gehl says. "Additionally, working with equipment that offers a smaller turning radius and the option to add attachments means less impact is made to the surrounding landscape. The fact that we were able to utilize various attachments on a single piece of equipment helped to minimize our impact to the surrounding project area."
"We can be in there when it's wet, we can be in there when it's cold. We really have to focus on getting into and out of a lot of really muddy areas," Aaron Sykes of Solutions 101 says. "There are a lot of things that this size of equipment allowed us to do. It's great for the wetlands, minimum disturbance and allows us to keep a lot of the trees. We don't want to come in and bulldoze everything out so we can get in.
"We're also able to sit right on top of the hole and see exactly what we're doing to make sure the creek gets that natural flow."
Small Also Equals Savings
Not only is compact equipment small and versatile, it's quiet for use in a natural habitat and also provides ample fuel savings for the contractor - two things that were of great benefit to So101.
"When discussing with Wacker Neuson and choosing the equipment we would utilize on this project, both noise levels and fuel consumption were a factor," Gehl says. "Noise levels were a factor because of the location we were working in. The project location is a remote and serine area with abundant wildlife. We wanted to reduce the impact the equipment noise would have on the surrounding landscape. 
"Fuel consumption became a factor because of cost; we needed to stay within budget," she continues. "Through the use of smaller, more compact equipment, fuel consumption was lower than originally anticipated when we bid this project." 
"It's very important to not consume a lot of fuel," Jim Sykes says. "You want to have good equipment that's stable and able to get a lot of work done. This compact equipment packs a lot of punch in a very small package. You can get what you need to do done in very tight and difficult situations like these conservation projects."