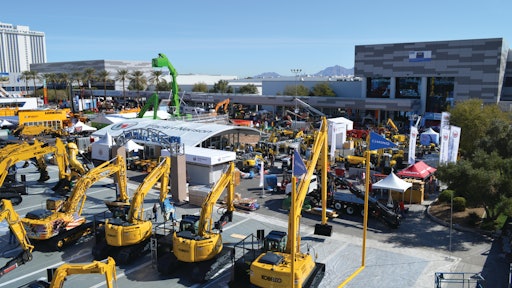 The recent CONEXPO-CON/AGG and IFPE 2014 was the 13th I have attended, and I never tire of the innovation showcased at this premier heavy construction event. Gauging the mood of the show is a valuable input for forecasting the coming year. This year the mood was cautiously optimistic. I would say that based on what I heard from a wide variety of people that 2014 equipment unit sales will be better by 5 percent to 10 percent compared with 2013.
It has been interesting to watch the technological developments over the years. Hydraulics have replaced mechanical linkages that controlled wire-rope and winches. The "old" controls were difficult for operators to guide machines. A good "blade-man" driving a dozer was difficult to find and highly paid. Scraper operators were usually young because after a while they would develop kidney problems related to the bouncing and jarring of the machine. The control systems used today are operator friendly. Someone with a smidgen of coordination can actually do work after just a few hours of training. The ease of operating a machine has reduced the industry's need for skilled operators. One of the highest paid workers on a road project was an experienced motor grader operator who knew how to manipulate 14 control handles, the accelerator and brake as well as steer. Today those handles have been replaced by joysticks that control all those functions. Anyone who plays computer games can become productive in a day or so.
This year engine manufacturers have had to conform to the latest and most stringent EPA emission regulations known as Tier 4 Final. Most equipment manufacturers have spent the majority of their annual research and development budgets conforming to emission regulations. The engineering staff of all equipment manufacturers have struggled and been distracted by redesigning their machines with larger engine compartments to accommodate the necessary greater cooling capacity and devices that are hung on the engines to achieve the lower emissions. In addition, many engines require a filter that collects particulate matter from the exhaust as well. The diesel particulate filter (DPF) is large and usually a round tube that must be designed into the machine. There may be a Tier V in the future but for now conformance to emission standards is a done deal.
Tier 4 equipment machines require special care by the user. Fuel used must be ultra Low Sulfur Diesel Fuel. Fuel must pass through two micron fuel filters. Jobsites are inherently dirty, so these filters require extra attention. The diesel injector pressures are way up there at 28,000 to 30,000 psi, which causes them to wear out faster than before. In order to reduce harmful nitrous oxides from the exhaust all diesel engines use an additive known as DEF, or Diesel Engine Fluid. DEF is a solution of ionized water and urea that is prone to freezing, will separate at high temperatures and therefore requires special handling. Early reports I have seen about user experience with Tier 4 engines is that they consume more fuel and require more maintenance than previous models.
Several manufacturers have gone to great lengths to avoid using DPFs, which appears to be an advantage when machines are put into rental fleets. Rental customers must have special training in order to cope with regenerating the DPFs. JCB has laced together four engine brands for their range of products that don't require DPF. JCB is using its own engine, and Kohler is building a special version of small horsepower engines with a JCB badge on them; MTU engines are being used in the company's wheel loaders, and Isuzu engines are being used in large JCB excavators.
Innovative designs
With Tier 4 finally behind us, the manufacturer R&D staffs can get back to designing machines that move materials more efficiently. That's not to say that all the R&D effort over the past few years was for emissions. There have been some truly innovative and advanced machine designs that were introduced at CONEXPO. For example, Caterpillar introduced a hybrid excavator that captures energy from the swing cycle of the machine in an accumulator and uses it to boost the machine performance. That energy recapture allows them to claim a fuel savings of 20 percent to 30 percent compared with a similar size non-hybrid machine. Komatsu also displayed a hybrid excavator that recaptures swing cycle energy and stores it in a quick charge/discharge capacitor.  Both machines carry pretty high price tags compared with similar non-hybrid machines.
Advanced electronics technology is what makes it possible to make those machines perform. It was explained to me that one could buy the individual components of either hybrid machine mentioned above and put them together with an engine, but you wouldn't be able to replicate the performance. The true product differentiator is the way the pieces and parts are made to electronically communicate with each other via on-board computers. The use of electronics is causing a huge change in the construction machinery market. The old slash-gear transmissions are being replaced with smooth running automatic transmissions. Control systems all operate with electronic micro-switches.
Chinese manufacturers made a big splash at CONEXPO 2014. XCMG, Zoomlion and SANY all had outdoor displays. LiuGong had a very large and elaborate indoor display right next to the big western equipment manufactures. New to North America is Lonking who has partnered with International Construction Products (ICP). ICP has been in business for just a few months, but the principals (mostly ex-Volvo people) have been involved in the North American equipment business for many years. ICP plans to sell several models of Lonking excavators, wheel loaders, compactors and industrial lift trucks over the Internet. There will be a limited number of models available that are fitted out with a fixed set of options at prices that are 30 percent to 40 percent below similar competitive machines. The company claims to have a network of service technicians in place that can service the products and has hired a third-party to warehouse and fulfill spare parts. The ICP strategy could be very disruptive for the North American equipment business, if they succeed. Up to now all manufacturers have spent huge amounts to develop and maintain distributors that serve local markets. If the ICP business model works it could cause a sea change in the marketplace, and other foreign manufacturers are likely to try it as well.
The skid-steer loader market got a little more crowded. Wacker Neusen introduced four skid steer models and two rubber tracked models, all equipped with Perkins engines that do not require DPF. Yanmar displayed three skid steer models. Kubota displayed its track loaders that were introduced about two years ago and have been taking market share from the majors.
Communication – the new technological advancement
Now that the requirement to spend enormous amounts of money to comply with emission regulations is over, I expect to see manufacturers focus on the efficiency of moving a cubic yard of dirt. The cost per cubic yard has varied very little over the decades. The technology to do that may not entail new machine designs but rather machine controls and machine communication. On display were devices that can be mounted on any type or brand of machine. Caterpillar featured its Vision Link machine communications offering. It is agnostic, that is, a user can have a mixed fleet and still use the system.  Komatsu, Deere and Volvo also displayed controls and communication devices. Caterpillar also has a joint venture with Trimble called SITECH. They are able to lay out earthmoving projects for contractors using the Trimble communications equipment. I listened to a contractor talk about cost savings of 25 percent to 30 percent. Technology is truly changing the way equipment owners will operate their equipment.
A truly agnostic communications system should be able to accept information from any brand of equipment. A major hurdle in accomplishing that has been the manufacturer's refusal to allow anyone to hook up to the communications bus on his or her machines. There was a breakthrough announced at the show. The Association of Equipment Management Professionals (AEMP) announced it has obtained agreement from all the larger manufacturers to reveal 19 pieces of information for every machine they build including 42 fault codes. When the data sets are available it will allow a machine owner to receive a continuous flow of information about the equipment in his fleet and display it on whatever system he chooses. This news is a major breakthrough for equipment owners. Not only will owners be able to see where their equipment is located but will also receive information about the vital signs of machines and will be able to anticipate equipment failures before they occur. 
The next phase of using this information will be to integrate it into the equipment owners' business information systems including the estimating department. Project estimators will have at their disposal actual equipment cost information. One contractor, Kiewitt, is developing software to accept machine performance and location information into their estimating and accounting systems. Kiewitt, based in Omaha, Neb., has established Kiewitt Technologies based in the Phoenix area to do the system integration. I understand they eventually plan to sell the software to other contractors.
The old staid earthmoving equipment industry is starting to change at a surprisingly fast rate as information and electric control technology becomes integrated into machine designs. The use of this technology will result in machines that are easier to operate and therefore don't require highly skilled operators, a cost savings for contractors. Communication devices will also deliver substantial jobsite savings. So although no one has found a new way to move dirt, the ability to communicate with machines in real time will result in substantial changes for contractors both small and large.