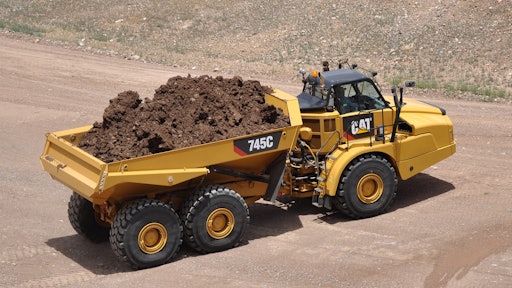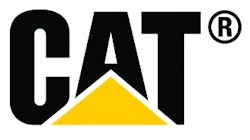 The new Cat C18 engine powering the 740C EJ ejector truck and all-new 745C is 4.2% more powerful than the C15 it replaced, and Caterpillar says it will produce as much as 10% better fuel efficiency.
Caterpillar trimmed a ton from the 740B in making the new flagship 745C. Much of the weight came out of the new high-density powershift CX38 transmission (also in the 740C EJ ejector truck). The CX38 has 18% fewer parts and weighs 50% less than the CX31, cutting 1,800 lbs. of vehicle weight. Cat designers were able to add two gears while reducing clutches and gear trains, and Cat says the 9-speed can deliver up to 10% better fuel efficiency.
Caterpillar says the 740C EJ and 745C, with the C18 mated to the CX38 transmission can accelerate to 80% of maximum speed 21% faster than their B-Series counterparts, their speed on grade is 8% to 15% better, and forward rim pull is 9% greater. Reverse speeds are improved, and reverse torque was increased 35%.
Capacity of the 745C has increased 1.5 tons to 45.2 tons. Combined with the truck's increased power and speed, Cat says it is up to 12% more productive than the 740B. The 745C is the same width as the 740B, although with a 16-in.-longer body. The dump bed's rails are 2.5 in. lower, with a minimum height of 10 ft. 4 in., than those on the 740B.
Trucks designed for sale in North America and other highly regulated territories are equipped to satisfy emissions regulations with the Cat Clean Emissions Module (CEM). The exhaust aftertreatment system includes a diesel particulate filter that can automatically regenerate (remove accumulated soot) without operator intervention or disrupting the work cycle. The system also includes a selective catalytic reduction system and diesel exhaust fluid tank.
New wet disk brakes on all axles
More-powerful retarder with Automatic Retarder Control engages the retarder and selects retarding level
Harder body steel reduces wear rate by up to 12% (735C and 745C)
New 'wait brake' activated from the shift stalk sets service brakes at load and dump areas
New hill assist controls machine roll stopping and starting on slopes
Automatic Traction Control manages both cross-axle and inter-axle differential locks
Traction control integrated with steering to maximize traction in turns
New Payload option on the 735C, 740C EJ, and 745C measures production, helps get accurate truck loads
New robotically welded, box-section rear frame
New 740C EJ ejector model combines the 745C's tractor with a horizontal-discharge body
Rated power and payloads:
735C: 452 hp, 36 tons
740C EJ: 511 hp, 42 tons
745C: 511 hp 45.2 tons
Brochure: Cat 745C Articulated Dump Truck
Video: New Engine and Transmission Boost Cat ADT Fuel Efficiency 10%
Video: Traction and Retarder Control Set Apart New Cat Articulated Trucks
Request More Information
Fill out the form below to request more information about
Flagship Cat 745C ADT Drops Weight, Adds Capacity and Speed