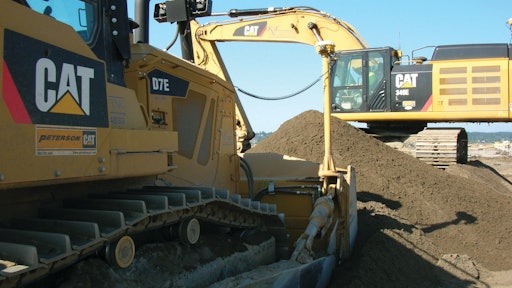 "We view technology as a way to improve our efficiencies and gain a competitive edge," says Kerry Kuenzi, president of K&E Excavating in Salem, Ore. "The Cat D7E (diesel-electric dozer) fits right in with our strides to stay abreast of emerging technology."
As an excavation contractor that specializes in infrastructure work, K&E Excavating builds, widens and repairs roads, highways and bridges. The 140-employee company also digs and lays pipeline and breaks ground and prepares sites for commercial construction, including new sports stadiums, hospital and university expansions.
As one of its co-founders, Kerry Kuenzi explains that technology is a backbone of the company. (Kerry is the K in K&E. His cousin Eric Kuenzi is the E. Brother John Kuenzi is also a partner.)
The K&E Excavating fleet includes more than 115 pieces of Cat equipment -- graders, dozers, scrapers and skid steers. The company owns numerous Cat tractors including D3s, D4s, D5s and D6s. A D7R Series 2 tractor was replaced by the D7E.
"At first our operators were skeptical that an electric-drive tractor could outperform what we already had," recalls Kuenzi. "But after just a few weeks on the job, they were convinced the D7E was the way to go. The more they used it, the more they liked it."
Performance was tested for the D7E on its first two jobs: One was at a substation moving 250,000 cubic yards of dirt and boulders; the next job was at an airport hauling out material and debris (more project detail below).
"Both were excellent applications to put the D7E to the test and evaluate just how well it would perform," he notes.
Kuenzi reports that the D7E used half the fuel of its predecessor, with better performance. He has the numbers to back it up, too.
"We ran a side-by-side comparison of our D7E and D7R Series 2. We ran both machines side by side for three hours at a time. We refueled each and checked fuel consumption. We repeated the process four times and came up with the same results.
"The results? The D7E used exactly half the fuel of the D7R Series 2 with better performance.
"We burned 8 gallons of fuel less with our D7E. In the summer, when we run 10 hours a day, that's 80 gallons less of fuel we are burning every day. At $3.50 a gallon for diesel fuel, that amounts to $280 a day. Multiply that by six days a week for four to six months in the summer; it comes to 1,920 gallons or $6,720 a month — that's a HUGE savings in fuel."
Sustainability is a big part of what K&E does on a daily basis and has been since the company began in 1998. Two years ago the company replaced all the hydraulic oil in its equipment with biodegradable hydraulic oil (BHO).
"Running BHO is not a big deal for our machines," notes Kuenzi, "but it IS a big deal for the clients we work for." As he explains, many of the company's jobs occur on or near bridges where machines are required to be in, or over, water. "We've gotten a few jobs because we use BHO — including a few for the Oregon Department of Transportation (ODOT)."
The company also makes it a habit to recycle all asphalt used in its jobs. The asphalt is pulverized and reused or sold to a local asphalt plant. Concrete, metal and wood are also routinely recycled on jobsites.
Automatic shut-off is utilized on dump trucks and rigs to engage after five minutes of idle. This has also been a significant cost savings, according to Kuenzi.
K&E Excavating Projects
Bonneville Power Substation Construction
At the Knight Road Power Substation construction, K&E was responsible for the earthwork, erosion control and drainage system installation. The mass excavation effort involved blasting and processing material generated on-site for the structural fill and the aggregate surfaces. Difficult winter weather conditions — rain, snow and freezing temperatures — were a challenge, but K&E was able to maintain haul routes and remove snow by grading, as well as utilizing two excavators with hammers to break down material before processing.
Portland Airport Runway Expansion
K&E and the Port of Portland have collaborated on multiple transportation projects, including the recent taxiway completion for the Hillsboro Airport. The new $21 million runway expansion for the Portland International Airport (PDX) consists of the rehabilitation and reconstruction of three taxiways near the South Central Apron.The effort is part of an ongoing infrastructure upgrade to provide greater overall air traffic mobility and efficiency. The project, which is currently underway, is expected to employ 120 workers, and upon its completion accommodate larger and heavier traffic — plus a larger volume of cargo traffic.