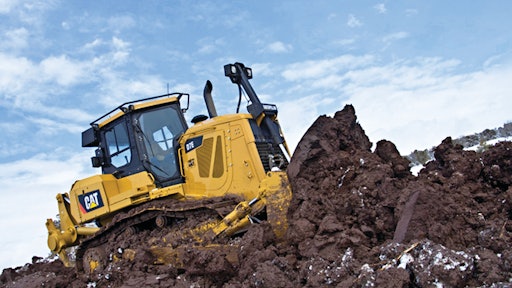 The 500th D7E Track-Type Tractor rolled off Caterpillar's East Peoria, Ill., assembly line under  diesel-electric power in August 2012. The first D7E arrived in Australia this month as well. The first D7E shipped in December 2009. 
What is electric drive?
Caterpillar replaced mechanical power-train components (torque converter and transmission) with electrical components (generator, power inverter and electric motors to power each track) in designing the D7E drive train.
The sealed electrical components are built to handle the demands of dozer operation and connected by heavy-duty electrical cabling. The D7E's electric drive system converts engine power into electricity and then uses that electricity to power the drive motors and various machine systems.
Caterpillar brochure: D7E Track Type Tractor
How does electric drive work?
A Cat C9.3 engine drives a powerful electric generator. Alternating current is converted into DC in the inverter. Direct current is used for machine control and powers accessory systems such as heating, air conditioning, ventilation and water pumps. The power inverter converts the DC back to variable-frequency AC and routes it to the propulsion module, which delivers power to the final drives.
Why electric drive?
More and more, dozers in the D7 class are used in site development. The job demands both straight-ahead dozing power and tight-quarters maneuverability. Caterpillar says it has been difficult to balance these two capabilities in a single machine with mechanical or hydrostatic drive. 
Caterpillar says it's electric power train offers the best possible balance of heavy-dozing and fine-grading performance. And the maker claims the D7E moves more material per gallon of fuel while costing less to maintain and service.
K&E Excavating says its D7E cuts fuel costs in half
Is the D7E a hybrid?
Cat says the D7E can be considered a hybrid in that it combines a diesel engine with an electric generator to provide propulsion. But there are electric-drive mining trucks that do the same thing, and we don't call them "hybrids."
Unlike automotive hybrids, the D7E doesn't use a battery or capacitor to collect, store or release energy during operation. But the D7E does capture mechanical energy in the flywheel  during braking, providing more efficient directional shifts and contributing to the overall machine efficiency. This technology is often referred to as a diesel-electric hybrid power train.
How does electric drive affect the engine?
The D7E electric drive system achieves most of its efficiency gains by allowing the engine to work consistently within a narrow speed range. The continuously variable electric drivetrain can vary torque delivery to the final drives with minimal change to the engine speed. The engine can then work within its most efficient speed range, which reduces fuel consumption and, Cat says  stretch engine life.