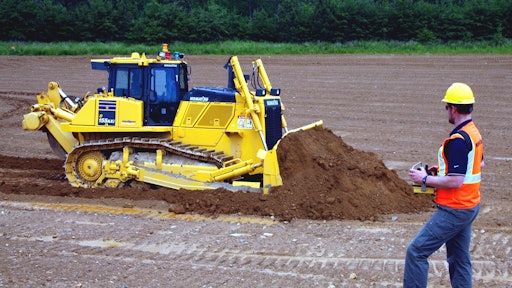 At a press event at its North American headquarters in Cartersville, GA, Komatsu America announced that it's 90,610-lb. D155AXi-8 crawler dozer is available with a remote control option paired with intelligent Machine Control.
Komatsu is no stranger to remote control technology in heavy equipment, but there were obstacles to its introduction. "It's no easy task for the operator to get the production out of the machine – to be efficient," says Jason Anetsburger, product manager for intelligent Machine Control, Komatsu America Corp. "When you're removed from the machine, you don't have the sensation and feedback."
Komatsu addressed this by marrying remote control with its proprietary 3D integrated machine control system. The dozer's enhanced "intelligence" automates operation from heavy dozing to fine grading. The RC model includes the ability to sense and control blade load, optimize the start of the cut and minimize track slip.
As a result, operators can now remain out of harm's way while achieving the same level of performance. "The D155AXi-8 Radio Control dozer is ideal for applications where customers may want to remove the operator from the machine and still maintain high levels of efficiency and productivity," says Sebastian Witkowski, product marketing manager for intelligent Machine Control.
Such applications might include working on high walls, in quarries or in extremely rough underfoot conditions. "This dozer meets customer demands in those applications, while utilizing Komatsu's proven, automated, rough-cut-to-finish-grade technology," says Witkowski.
The line-of-sight (up to 100 m) remote control incorporates easy to understand joystick operation for travel and blade functions. The dozer can be run in RC mode or in manual mode with an operator in the cab. "Both modes still utilize our intelligent Machine Control to allow rough cut to finish grade," says Witkoski. "There is no over digging and [you get] full loads all the time."
Request More Information
Fill out the form below to request more information about
Komatsu D155AXi-8 Dozer Available with "intelligent" Remote Control Option