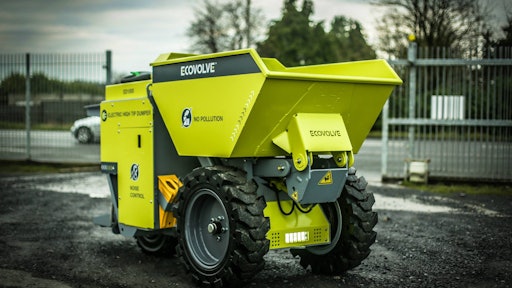 The 1-ton ED1000 fully electric, high tip (103 in.) dumper generates no fumes, requires no fuel or fuel storage and produces very little noise, making it suited for use both indoors and out.
Transports easily, and was made for city or residential settings, as well as night work
Integrated charging system automatically picks the correct voltage from a power source, and charging overnight allows the ED1000 to go a full workday without stopping
Less than 3.3-ft. width (1 meter), 90° steering angle and a turning radius of just 63 in. enable use in tight spaces
Unique steering system coupled with McLaren NuAir tires significantly reduce tire marks on surfaces
Unladen weight of 2,866 lbs. and a laden weight of 5,070 lbs.
Request More Information
Fill out the form below to request more information about
EcoVolve ED1000 Fully Electric High Tip Dumper