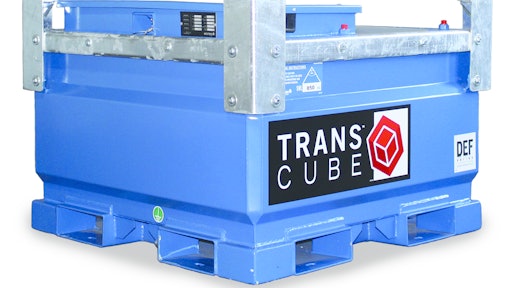 Western Global introduces the ABBI Blue and TransCube DEF - innovative products designed for dispensing diesel exhaust fluid, or DEF.
These specially designed tanks provide rental stores and their customers with a simple and secure solution for maintaining Tier 4-compliant equipment. The ABBI Blue (model #H15ART-BLU-EB) is a mobile refueling unit with DEF-dispensing capabilities. It provides ultimate convenience for customers who need to refuel various pieces of equipment on their worksites. The primary tank holds 395 gallons of fuel while a separate 42-gallon compartment holds diesel exhaust fluid. Designed with a low center of gravity and mounted to a DOT-approved highway trailer with electric brakes, the ABBI Blue is easy to transport. Like all Western Global tanks, it is double-walled and has a lockable equipment cabinet for security.
"The ABBI Blue is the easiest way for customers to dispense fuel and diesel exhaust fluid on the go," said Barry Truan, general manager for Western Global's North American facilities. "By combining dispensing capabilities into one machine, you can increase efficiency and reduce downtime. These are big issues that construction companies are facing in today's competitive climate."
Another new DEF solution is the TransCube DEF tank (model #04TCG-DEF), with a 105-gallon capacity. Like other products in the TransCube family, the TransCube DEF is double-walled and transportable when full,so it can be deployed and begin dispensing quickly. Designed with load-lifting eyes and forklift pockets for easy handling, it is ideal for construction sites. The lockable equipment cabinet secures hoses and pumps when not in use.
"As requirements for Tier 4 machinery continue to evolve, so do the solutions that Western Global offers," Truan said. "Our engineering team strives for innovation, and all of our DEF tank models have been designed with the necessary features and specifications to ensure the purity of your diesel exhaust fluid.
"Western Global also offers optional accessories, including blanket heaters and DEF transfer pump kits, to simplify diesel exhaust fluid storage and dispensing. All tanks can be delivered "rental ready," meaning experienced technicians install necessary accessories prior to shipping so customers can rent the equipment immediately after receiving it.
Request More Information
Fill out the form below to request more information about
Western Global Introduces New Solutions for DEF Storage and Dispensing