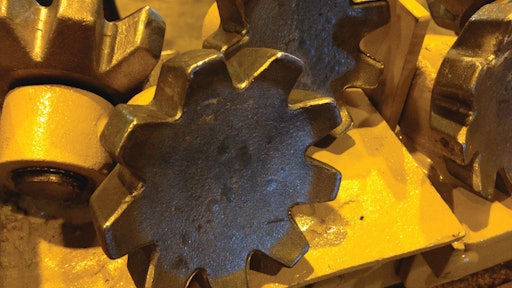 Heavy truck body supplier Philippi-Hagenbuch presented a rather radical departure from its traditional product line at CONEXPO 2014: a cutting tool for trenchers that reduces energy demand by up to 70%. The Rolling Wedge Cutter mounts on a trencher's frost bar and uses a cupping action to pull material out and expand the size of the trench. The patent-pending technology is said to significantly improve material trenching and mining processes, particularly in cold weather, while improving cut size and reducing cutting (coal) dust by as much as 50%.
Inventor LeRoy Hagenbuch says the Rolling Wedge cuts by placing material in tension rather than compression, as occurs with a typical trenching system. Material in tension has just one-fifth the tensile strength of its compressive strength. Consequently, it requires 60% to 70% less energy to roll material out in tension than the force required to take materials past their compressive strength. As a result, the Rolling Wedge Cutter can cut through much harder surfaces, such as concrete, concrete with rebar, frozen ground and pavement.
Hagenbuch says the tool eliminates the need to wait for the ground to thaw or use jackhammers, saws or other cutting devices. Users who want to break up a chunk of concrete can simply drill a small hole and drive in a Rolling Wedge Cutter.
"They will have more of a universal tool as opposed to having various tools," he asserts. Variations are in the works. "We are developing various cutting configurations and teeth." A hardened steel version will be commercially available within the next two to three months, and a carbide-tipped version is expected to be available by the end of 2014.
The Rolling Wedge Cutter adapts to many makes and models of trenchers and mining equipment. It is constructed out of hardened steel and is available in sizes from 0.75- to 9-in. diameters. It can also be outfitted with a number of optional tips to meet the specific needs of a project. The width of the trench dictates the total number of cutters required.
Request More Information
Fill out the form below to request more information about
Attachment Allows Trenchers to Cut Concrete