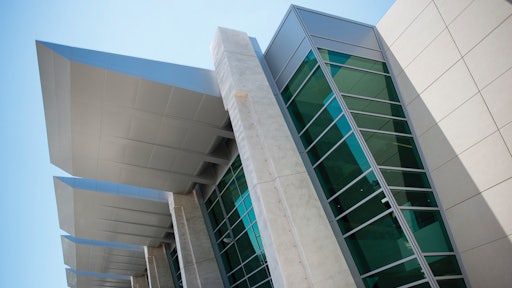 Nearly a decade before sustainability became the new "it" factor in the construction and building operations world, San Diego International Airport (SAN) President/CEO Thella Bowens remarked that sustainability needed to become part of the organization's DNA.
Today, as this oceanside airport puts the finishing touches on the largest improvement project in its 85-year history, it's safe to say sustainable DNA flows readily through the facility as it works with nature rather than against it.
The $907 million sustainable build, which opened in August, features 10 new gates, a tighter and more efficient security system, a state-of-the-art baggage system, easier airport access and a revamped shopping hub at Terminal 2 West. Largely billed as a means of expanding airport operations, creating jobs and improving the passenger experience, the new construction has at its core an impressive environmentally friendly design that will boost sustainability and cut operations costs throughout its life.
In fact, going green might very well nab this project, four years in the making, the gold — LEED Gold. Bowens points out the airport's sustainability policy mandates that every facility the airport builds or renovates attain at least a Silver LEED rating from the U.S. Green Building Council (USGBC); she then adds the sustainable build project likely exceeded this goal.
"It now looks like we will get at least a Gold rating," she explains. "But we won't hear from the USGBC until mid-2014."
When this recognition comes their way, San Diego will join the elite company of the few airports in the nation holding Gold certification. But as notable as this achievement is, it's important to note this is not the first time the airport has attained this recognition. Its long-standing sustainability commitment has nabbed LEED Gold for the airport authority's facilities management building and the airport's receiving and distribution facility. What's more, in the near future, the airport will bring on a fixed-based operation facility that is expected to achieve Platinum certification.
All of this is possible because of a sustainability commitment that runs from the top down, says Bryan Enarson, San Diego International Airport Vice President of Development. "As a public agency we have a responsibility to be good stewards of the environment," he says. "Doing things where you use recycled materials, lower water usage, and conserve energy all play into improving and helping the environment."
Easy Being Green
The push to green this airport, situated on 661 acres just two miles northwest of San Diego's downtown, actually began long before the airport embarked on its latest construction journey, reports Paul Manasjan, Environmental Affairs Director at San Diego County Regional Airport Authority.
"We realized years ago that airports are very much in the public eye and we needed to take a leadership role in reducing our carbon footprint," he says.
However, simply deciding to become more sustainable wasn't enough. As Manasjan explains the airport authority needed to first define what it meant for an airport to be sustainable. The resulting definition took the three-legged stool concept of traditional sustainability, where one leg represents environmental responsibility; another, social factors; and the third, economic considerations; and added a fourth leg defined as operational. The resulting acronym, EONS, which stands for Economic Viability, Operational Excellence, Natural Resource Conservation and Social Responsibility, is designed to guide the airport along its sustainable path.
Airport officials then developed strategies to incorporate the EONS concept into their facilities. They joined the San Diego Regional Sustainability Partnership, educated management and senior staff on the need for greater sustainability, then developed a sustainability policy.
This netted a number of firsts for the airport. "In 2008, we became one of the first airports in the nation to have a board-adopted sustainability policy," Manasjan says. And in 2011, San Diego International Airport became the first major U.S. airport to publish an annual sustainability report as part of the Global Reporting Initiative.
"You can't manage what you don't measure," explains Manasjan. "In order to honor our commitment to continuous improvement in our environmental performance, we had to start measuring and tracking our performance so that internally we could see where we were going, set goals and make adjustments to our methods based on this information."
These measurements highlight how going green can save some green, he adds. In its 2012 sustainability report, the airport found in areas where energy-efficient lighting had been installed, they were able to save 2.3 million kilowatts, enough to power 300 homes for a year; that the installation of low-flow fixtures in restrooms saved approximately 15 gallons of water annually; and that single-stream recycling efforts diverted 677 tons of waste from area landfills.
"We've been able to hedge our energy costs, even as we have grown the airport, by putting sustainable efforts in place," says Enarson. "Sustainability will keep our costs down over the longterm. Remember, 75% of a project's costs are really the long-term costs over the next 30 to 40 years."
Super Sustainability
Transportation officials state the upgrade to Terminal 2 will buy time and ease congestion on the airport's runway, roadways and security lines. And the project is more than a decade in the making, says Bowens.
"We actually started planning and design before the recession because at that point we were out of gates. We had more airlines coming in than we could accommodate," Bowens says.
When the Great Recession hit, the playing field changed dramatically, she adds, noting the airport saw dramatic reductions in passenger traffic. Today's passenger counts have risen to more than 17 million per year, but traffic remains slightly lower than pre-recession levels. The slowdown bought the airport some time to develop a workable design that met future needs and addressed its sustainability goals.
The resulting project features many sustainable highlights, adds Bowens. "Everything from solar panels installed on both the roof and in the parking lot to low-flow fixtures in the building, to the landscaping itself is sustainable," she says.
Even recycling ramped up during the construction process where 19,000 tons of concrete and asphalt from the old runway apron and former Navy landfill was reused in the new building's foundation and 75% of the construction waste was recycled on-site or sent to an off-site recycling center. Some of this material was even used in the terminal's new terrazzo flooring.
"It looks like a brand-new building, but half of this building actually uses materials we already had," Bowens says. "We had a plant right at the airport recycling old concrete for the new apron and the building itself."
The new terminal allows natural light to flow in through floor-to-ceiling windows that utilize reflective glass designed to keep heat or air-conditioning inside the building. It also relies on high-efficiency heating and air -conditioning systems and daylight harvesting lights that automatically turn down when natural light is brighter. These changes are expected to reduce energy use by 30%, saving nearly 600,000 kilowatt hours of electricity, and putting an estimated $250,000 to the airport's bottom line.
Solar panels on the building roof, which is coated with white PVC material to reflect the sun's rays, as well as R-32 insulation in exterior walls, will reduce heat and air-conditioning demand. In fact, the photo-voltaic cells on the roof are expected to generate up to 1 megawatt of electricity at peak use, enough to power 600 homes.
The airport will rack up additional electricity savings with its new baggage system, operated by more than 550 motors, by utilizing motors that are 30% more efficient than past systems. Low-emission infrastructure provides power and preconditioned air units for aircraft at the terminal's gates, which will improve air quality and reduce the airport's carbon footprint, by eliminating the need for planes to use engines while at the gates.
"Everything we did in this building is designed to enhance or reduce the amount of electricity or water being used," Bowens says. "We even put in native landscaping to reduce the amount of water use on the outside." ?
Green Build by the Numbers
$415 million in contracts went to local businesses with $118 million going to small businesses.
$45 million under budget. Building during the Great Recession allowed the airport to take advantage of lower building materials costs, labor costs and financing costs.
54,000 tons of construction materials recycled from existing structures.
40 parking spaces devoted to charging electric vehicles.
$6.2 million allocated for public art.
ROI Tips For Going Green
Do your homework. Not every sustainable option makes sense. "We didn't just throw money into the building to get LEED certification," says Thella Bowens, president/CEO, San Diego International Airport. "We went through a cost benefit analysis to make sure every sustainable effort we undertook had a real return on investment."
Undertake an educational effort. It's necessary to convince people that sustainable efforts are necessary and good for individuals, the environment and the airport's bottom line. San Diego International Airport opened a center that shared the sustainable products and efforts going into the Green Build project. "We wanted to educate those who visited the building as well as those who worked here," says Bowens.
Get buy-in from the top. Raise awareness and get sustainability support from the top dogs in the organization, says Paul Manasjan, environmental affairs director, San Diego County Regional Airport Authority. San Diego, he says, held workshops for all of the organization's managers.
Consider total cost of ownership. By looking at a building's costs over time, sustainable efforts will make more sense. "There may be higher costs upfront but in the long run there are big savings," says Manasjan. He explains the local utility predicts San Diego's energy costs will rise by 18 percent in 2014, so anything that reduces energy use directly impacts the airport's bottom line.
Start with waste reduction. Figure out how to divert waste from landfills and track the results, says Manasjan. This helps get an organization used to measuring and tracking program results. When that program is successful, Manasjan recommends tacking energy efficiency both through improvements within the building and by reducing greenhouse emissions.
To read the full story, click here to download the Winter 2013 issue of Sustainable Construction.