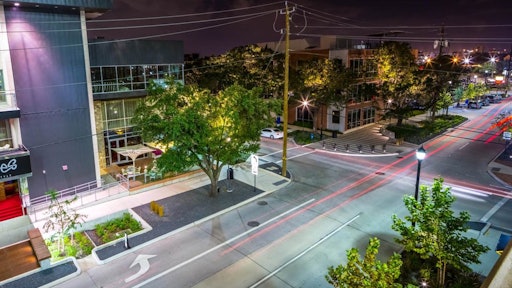 Over the past 20 years, the Downtown and Midtown areas of Houston have undergone aggressive infrastructure improvements and are now witnessing growth in residential and mixed-use development.
Bagby Street is a one-way major collector located in the heart of Houston, and is one of the main corridors in the Midtown neighborhood. A key project goal of the Bagby Street Reconstruction Project was to effectively balance the need to move traffic while improving the business environment and pedestrian experience.
"The Bagby Reconstruction project was designed to convert a fast-moving street, originally designed for automobiles, to a people-focused community and destination that improves the quality of life for residents, businesses and visitors," says Lee Anne Dixon, P.E. PTOE Senior Associate with? Walter P Moore, a design firm on the project team. (See Project Team sidebar.)
To meet the goals of the owner [Midtown Redevelopment Authority (MRA)], Dixon stressed that the basic scope of the project was more of a starting point … it wasn't just providing the necessary infrastructure improvements to make the area functional and more attractive; it was doing it in a way that created:
A walkable, bikeable, mixed-use community with safe and convenient access to amenities
A sustainable development (environmentally, economically and aesthetically)
An identifiable sense of place an community
"We also needed to be able to measure these improvements to gauge effectiveness and to meet the requirements of a project certified by the Greenroads Rating System.
A Texas Greenroad
The Greenroads Foundation officially certified the Bagby Street Reconstruction Project as the first project to achieve Greenroads Certification in the State of Texas, receiving a Silver Rating for its design and construction sustainability efforts. The project is currently the highest scoring project that has been certified by the Greenroads Rating System and is the eigth project in the world to earn a Greenroads certification. The Bagby Street project completed all 11 Greenroads Project Requirements and 17 credits, worth 45 points. (See Project Scorecard sidebar.)
The project team included the Project Owner, Midtown Redevelopment Authority and their design and construction team: Walter P Moore, Design Workshop, SER Construction and ESPA Corp. The team experienced its share of challenges from the start including the existing asphalt surface that was is in poor condition with severe cracking, potholes and patching evident throughout.
The Bagby Street Reconstruction Project encompassed 10 city blocks and approximately 3,800 linear feet of roadway. The project was completed in about 18 months and the entire time the traffic continued to flow through the area.
The basic scope of the project consisted of:
3,000 feet of 60-inch storm sewer replacement
1,000+ feet of waterline replacement
Major wastewater line and sanitary sewer upgrades
Streetscape pavement reconstruction
Landscape and hardscape upgrades
Relocation of overhead utlities
Raul Ramirez, construction manager with SER Construction said that some of the most complex and difficult construction work involved what cannot even be seen after the project was complete: a 60-inch stormwater conveyance line that was installed 28 feet below the road surface. The pipeline serves the drainage needs of the local watershed.
The street was kept open to traffic during construction. "This was one of the most challenging aspects of the project," says Ramirez. "We had to cross 10 intersections of busy traffic and maintain that traffic throughout the process. Bagby Street is a main corridor that connects downtown to southbound US 59. There are also residential and businesses located on the street. We had to make sure everyone had access to everything during construction."
Keeping traffic flowing
After conducting a thorough traffic study (block by block) Walter P Moore developed very detailed traffic control plans and construction phasing plans that were reviewed with stakeholders and modified as construction progressed to minimize impacts to businesses. As a result, the street remained open to traffic throughout construction, even during the installation of the 60-inch stormwater conveyance line.
Using an open cutting method, the SER Construction team was able to complete the job of burying the conveyance line on time. "We were able to accomplish this in part because of the intentional collaboration between all parties involved," stresses Ramirez. "From keeping traffic flowing to burying pipe to landscaping the rain gardens, all parties involved were communicating with each other," he notes.
That collaboration is just part of the Design-Bid-Build process that is encouraged by Greenroads, explains Jeralee Anderson, Executive Director, Greenroads Foundation. "The Greenroads program has unique opportunities for contractors such as the opportunity to become a Sustainable Transportation Professional (STP). The Construction Activities is an entire category on its own in the program as well," she notes.
Environmentally-friendly features of the Bagby Street Reconstruction Project include:
The installation of rain gardens that treat and capture 33% of the stormwater that falls within the right-of-way (see sidebar on the Rain Gardens)
LED street lighting
Cool pavement materials with recycled content made from 25% fly ash
Native and adapted vegetation that provides additional shading for sidewalks
Locally sourced construction materials
"We believe what gets measured, gets done," says Steven Spears of Design Workshop. "Having a program like Greenroads reconfirms the importance of measurement from baseline conditions to design conditions to implemented conditions.  This process has reminded us that streets and roadways are compiled of a series of systems (pedestrian circulation, auto circulation, bicycles, lighting, drainage, utilities, etc.) and getting these individual systems to be orchestrated to benefit one another is essential in creating a truly sustainable project."
 "Greenroads has provided many new ideas which will allow our team to make more informed design and construction decisions regarding sustainability. In addition to the many environmental benefits, Midtown's investment in sustainable roadway projects contributes to long term cost savings for operations and maintenance," said Marlon Marshall, Manager of Capital Projects for Midtown Redevelopment Authority.
For the Bagby Street project team, Greenroads Certification was a beneficial earning experience. "We've learned a lot and we plan to integrate Greenroads thinking and process throughout design and construction meetings going forward," says Dixon of Walter P Moore.
Rain Gardens: Sustainable Storm Water Management
Houston receives an average of 50 inches of rainfall per year. Much of this water ends up in local bayous and waterways after picking up a wide range of heavy metals, soil particles, bacteria and other pollutants from various surfaces.
Bagby Street features a network of rain gardens that are designed to collect rain water as it flows down the street gutters and sidewalks.
Native plants and trees help to filter pollutants from storm water while their roots help keep soils in place as water flows through the rain garden.
The layer of mulch at the bottom of the rain gardens provides both nourishment for plants and a very effective filtering system for storm water as it begins to absorb into the soil.
A specially designed mixture of soil allows water to rapidly drain through while removing remaining pollutants from the storm water. Root systems from plants and trees also collect and process water well after the storms have passed.
Once clean, the storm water is collected by an underground system of pipes that sends excess water out to local bayous and waterways. With the vast majority of pollutants, bacteria and synthetic fertilizers removed, the water becomes an asset to the ecology of local waterways
For a complete, interactive version of this article, including additional facts and myths, click here to download the Winter 2013 issue of Sustainable Construction.