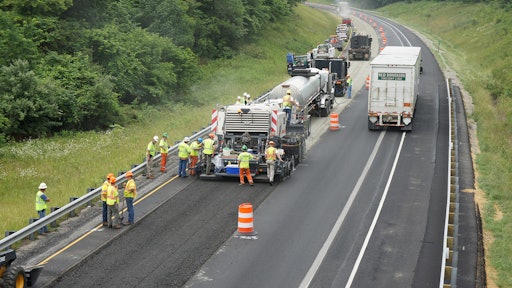 Here you will find a variety of sustainability messages, from manufacturers and contractors of all different sizes. We invite you to share with us YOUR company's sustainability message.
Wirtgen America Inc.
The future belongs to technologies and processes that help to protect our environment. Even today, machines built by Wirtgen Group stand for environmentally compatible, economical and efficient solutions in road construction and preservation, mining and processing aggregates, and recycling demolition construction materials.
Wirtgen Group products stand for maximum sustainability when building new roads and when rehabilitating existing roads. Total reuse of high-quality construction materials is at the forefront of Wirtgen road rehabilitation technologies.
Click here for more information on Wirtgen America Inc.?
In-Place and Plant Cold Recycling
Cold recycling transforms damaged roads into strong and durable base courses when Wirtgen portable cold recycling mixing plants process the reclaimed material in-plant near the jobsite, or when in-place recycling by mobile machines recycle and replace the reclaimed materials in a single pass.
The recycled mixture of materials is placed with the aid of a paving unit. The pavement is immediately compacted by the screed to form a compact layer. This provides total reuse of the reclaimed material, up to 90% fewer truck trips, significant fuel consumption per ton of recycled material, and between 50% and 70% lower CO2 emissions as compared to conventional rehab methods.?
Cold Milling Machines
Reclaimed asphalt pavement is obtained when asphalt courses are removed by Wirtgen cold milling machines. This material can be reused with few restrictions in the construction of roads. The process is so precise that different layers in the pavement structure can be removed without material from other layers.
Road materials are recycled economically and efficiently, the reclaimed asphalt pavement is a valuable raw material, as it reduces costs in lieu of virgin material, and provides an ideal surface preparation for paving thin wearing courses, and overall reduces truck traffic. Fine milling is a special form of cold milling which gives the damaged road pavement a defined, new surface texture, or prepares it for further rehab measures.
Paving Thin Wearing Courses
The paving of thin asphalt wearing courses hot-on-hot via a spray seal with the Vogele SprayJet module is an environmentally friendly process for the rehabilitation of wearing courses.
The asphalt emulsion is applied in the asphalt course, paved in a single pass. The spray technology increases the service life of the new wearing course, creates a perfect bond between layers, and saves up to 50 percent in material in comparison to conventional paving methods.
Less means more: an excellent bond is achieved between layers, which ensures long service life; thinner layers save up to 50 percent on paving material; and fewer emissions are achieved due to spraying and paving in a single pass, as well as rapid work progress.
Oscillation Compaction
For thin wearing courses, exclusive Hamm Oscillation compaction ensures extremely homogenous compaction and good surface texture, thus preventing the thin wearing courses from becoming deformed. At the same time, rapid increases in compaction in fewer passes that Oscillation provides reduce stresses on the road base, with lower fuel consumption and emissions.
With Oscillation, up to 10% fewer vibrations are required in relation to conventional vibrating systems; no damage is effected to the road base; there's a rapid increase in compactive effort; fewer passes are required; and short construction times are achieved.
Recycling Demolition Waste
Mobile crushing and screening plants by Kleemann recycle demolition waste and surplus materials, producing high quality aggregates for the construction industry in predefined gradations.
Rebar is separated during the crushing process and can also be recycled. Recycling of construction demolition materials allows up to 100 percent reuse in other projects. Other benefits include lower noise and exhaust emissions, a diesel/electric drive which  reduces fuel consumption, surplus electric power can be used by auxiliary equipment, and a high-grade recycled material is produced.
Surface Mining
Wirtgen surface mining is an innovative technology that makes drilling and blasting unnecessary. Surface miners cut, crush and load the extracted mineral in a single pass. Deposits are exploited without wasting resources, a better quality of the ore may be obtained with virtually no ground vibrations, noise or dust, fewer equipment personnel and time are required, and lower investment costs than with conventional mining methods are maintained.
Wacker Neuson
As a company, we are responsible for protecting our environment and resources. At the same time you, our customers, are paying more and more attention to the economic efficiency and environmental friendliness of the products you use.
You can rely on products from the Wacker Neuson Group if environmental friendliness and economic efficiency are important to you.
With the introduction of the ECO seal, we mark particularly economic and environmentally friendly products with our ECO seal [which stands for ECOlogy (environmental friendliness) and ECOnomy (economic efficiency)].?
Highlighted on our ECO pages are just a few products and solutions that show both economic efficiency and environmental protection.
As a company we place great value on resource conservation. All Wacker Neuson Group products are manufactured in state-of-the-art production plants that set standards for raw materials and components. The result is quality products manufactured in a source-conserving and environmentally-friendly manner.
Environmental friendliness and economic efficiency are a standard at Wacker Neuson. For you. For us. And for the environment.
Click here for more information on Wacker Neuson Group.
To read the full story, click here to download the Winter 2013 issue of Sustainable Construction.