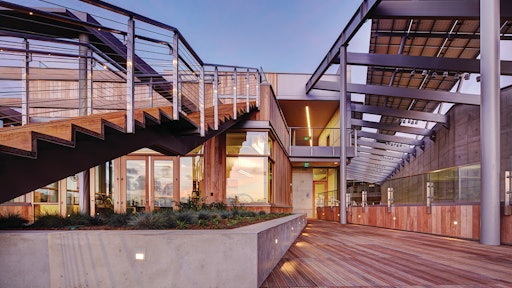 Breakthroughs in science are happening as you read this at one of San Diego's most iconic buildings, the new J. Craig Venter Institute (JCVI), La Jolla. Located on a 1.75-acre scenic site on the University of California, San Diego, (UCSD) campus, in La Jolla, California, the net-zero-energy facility represents the most ambitious sustainably designed biological research laboratory project ever to be built.
Designed by Zimmer Gunsul Frasca Architects (ZGF) and constructed by McCarthy Building Companies, Inc., the three-story, 45,000-square-foot building is integral to JCVI, La Jolla's quest to perform the science needed to solve critical environmental and human health challenges.
The new JVCI, La Jolla currently has about 90 employees but is designed to house approximately 125 scientists and staff. The JCVI, La Jolla teams are focused on a variety of genomic research areas including continued work in synthetic biology; sampling and analysis of the world's oceans, fresh water and soils to better understand the microbes living in these environments; and new analysis on the human genome in the hopes of discovering new insights into disease prevention and treatment. The location of the facility, on land leased from UCSD, was chosen for its proximity to and potential for collaboration with the many renowned academic research centers in the La Jolla area.
Sustainable Throughout
The net-zero-energy research facility is on track to earn LEED Platinum Certification.
"Our new facility was built to advance genomic research and to showcase how science can be compatible with the best of environmentally sustainable practices," says JCVI Founder and CEO J. Craig Venter, Ph.D. "Construction completion of this remarkable building signifies the fulfillment of a longtime dream to return to the UCSD campus where I began my research career, and collaborate with other scientists in the region to find solutions to our most pressing social issues."
Solid-core cedar wood frames the windows — some 40 feet high — and bamboo flooring adorns the lobbies and interactive areas. Large conference rooms are equipped with high-tech systems to facilitate video conferencing and collaboration with numerous global collaborators. The west end of the third floor provides a myriad of social spaces, complete with a cafeteria and small kitchen for staff and a private conference room.
The light-filled laboratories have 14-foot-high ceilings, with floor-to-ceiling windows on two sides. A catwalk above the labs enables easy servicing of mechanical systems without disturbing the scientists working below. Energy and water usage is carefully monitored.
The concrete walls, columns, footings, slab on grade, slabs on metal deck, and podium deck utilize 30% fly ash, which contributes to the LEED credits in the category of Recycled Content. For optimum aesthetic appeal, the exposed architectural walls and columns use Type III cement and feature outward ribs separating each panel. Concrete cast-in-place stairways further add to the clean, modern look of the building. McCarthy self-performed all the concrete work, drawing on the expertise of the same concrete specialist who oversaw work on the Salk Institute for Biological Studies East Building Addition, which McCarthy completed in 1995.
To meet the client's goal of creating the most sustainable laboratory in the world, the facility incorporates high-performance architecture, low-energy-use systems, water conservation strategies and on-site renewable power generation. The building massing and envelope are designed to maximize the use of daylight while reducing overall building energy use.
Net-zero nuts and bolts
As a net-zero facility for electrical energy, the building will generate as much electricity on-site as it uses every year. This is made possible by integrating numerous energy efficiency measures throughout the building systems and using advanced building technologies such as a Lutron lighting control system that senses when and how much light is needed by occupants at any given time of day. The building also incorporates operable windows.
"A smart building automation system controls almost every system within the facility," explains McCarthy Project Director Craig Swenson. "The owner has dashboard features within this system that allows them to monitor and control how much power they are using in each lab and administrative office." This is significant, he notes, as laboratories are typically energy-intense use facilities.
On-site renewable energy is generated through the sizable photovoltaic roof. The project team also pursued aggressive water conservation. Rainwater and condensation is collected and stored in giant underground cisterns with a total capacity of 90,000 gallons. The water is then filtered and used for operation of cooling towers, toilet flushing and site irrigation. About two-thirds of the building's water use will be supplied by rainwater.
Other sustainable strategies include recycled content, natural ventilation and passive cooling, low-water landscaping, high-efficiency plumbing, sustainably harvested wood, and use of regional materials.
"Target value design played the most critical role in the overall planning and coordination of this project," says Swenson. "McCarthy was brought in early to perform preconstruction with the goal of significantly lowering the initial estimated construction costs while still allowing the client to achieve LEED Platinum status. This target value design approach enabled us to maintain the integrity of the highly sustainable design while also making the budget work for the client."
Swenson explains that target value design also allowed the project team to give adequate time and thought to such items as wood procurement, which was done a year in advance.
Advanced technology additionally played a key role. The project team utilized BIM (which allowed for enhanced efficiency by prefabricating much of the piping systems, according to Swenson), Navis Works, and Blue Beam for the electronic plan room, which McCarthy personnel were tasked to manage as one of many ways of keeping project costs in check.
"We pushed the threshold on the sustainable elements of this project to achieve LEED platinum," notes Swenson. "The net-zero element of this project is all about the return over time. There will be enhanced payback achieved due to the efficiencies within the facility." 
For a complete, interactive version of this article, click here to download the Summer 2014 issue of Sustainable Construction.