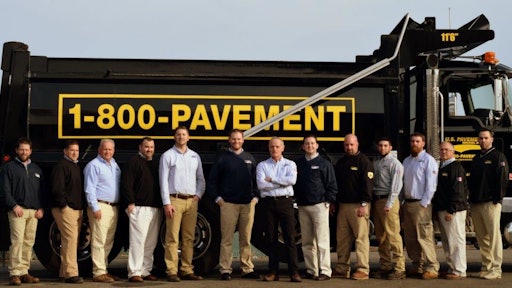 In business since 1985, U.S. Pavement Services, Woburn, MA, will approach $50 million in sales this year; up from $36 million in 2014. They must be doing something right but revenue alone doesn't earn the pavement industry's highest award.
The full-service paving and pavement maintenance contractor completed 3,000 parking lot jobs and 2,000 residential jobs in 2015. Much of the national parking lot work is dispatched through 1-800-PAVEMENT. The network, which also includes the vanity numbers 1-800-SEALCOAT, 1-800-ASPHALT, 1-800-BLACKTOP, 1-888-PAVEMENT, 1-800-STRIPING and 1-800-DRIVEWAY, is a big part the company's success story. The 800 Pavement Network has over 220 network members nationwide and is growing; combined, the group does nearly $1 billion in annual revenue, according to Mike Musto, chief executive officer and president.
U.S. Pavement Services' emphasis on customer satisfaction, its focus on internal and external communication that lays the ground work for the long-term relationships it develops with customers and its community involvement and extensive support of the Wounded Warrior Project warrant the selection of U.S. Pavement Services as the 2016 Pavement Contractor of the Year.
Communication is Job One
Because of the company's size and because of its focus on customer satisfaction, U.S. Pavement Services emphasizes broad communication efforts that Musto says is the basis for the company's success. "The most important part of operating a business is communication. Everything flows from that," Musto says. "Everyone says 'quality is number one' but I think quality is number two. Communication encompasses quality, so communication is number one as far as the importance of getting the job right and keeping the customer happy."
U.S. Pavement Services conducts a kick-off meeting each April where Musto explains to employees that the key to their job security is making sure the customer is happy. "We print out the paychecks from U.S Pavement, but it's the customer who pays their salary and we need to keep the customers happy. That's made clear at our April meeting and the employees understand that," he says.
U.S. Pavement Services' sales and operations staffs meet weekly and discuss what needs to happen on each job, what the challenges are, what parts of a property need to stay open, where crews can access the property, and other details for successful delivery.
U.S. Pavement Services also holds daily 30-minute phone meetings among supervisors, foremen and project managers, all of whom call-in regardless of where they are to receive updates on the company's work. Musto says these daily briefings are essential to organize, manage and keep track of job status, scheduling, and scheduling trucks and equipment.
Communication with Customers
Musto says the company's internal communication is essential to customer satisfaction, but he says U.S. Pavement Services really shines when it comes to communicating with customers. "You can do a fantastic job but if the communication and scheduling wasn't fantastic then the job didn't go well," he says. "Our customers know what's happening and when. We have a fulltime team that just calls people for scheduling and reminds them what they need to do before our crew gets there – things like emptying cars from an area of the lot or shutting off sprinklers. To me, communication with the customers is the most important thing."
"We spend a lot of time talking with customers beforehand because we want to make sure our work doesn't interfere with their business. So it's important to discuss well in advance which portion of a lot can be closed on which days – especially if it's a retail location. If they need to remain open while we do our work we make sure to work with them and schedule our work so they can do that.
"We do a lot of gas station work, for example, and when we do the work the pumps and store are never shut down."
He says sometimes keeping the customer satisfied means working nights and weekends, which is just part of U.S. Pavement's effort to satisfy the customer.
"We do what it takes to make a customer happy. We're not trying to make as much profit as possible on a job," Musto says. "We want to make sure we get in with the customer so we can do work in the future for them. To do that we need to do quality work but we also need to communicate with them and operate our business while taking their needs into account."
He says keeping customers satisfied is so important because satisfied customers will recommend the company to others. "That's kind of the ultimate goal for me and all employees is to be focused on word of mouth – communication again," Musto says.
Musto says U.S. Pavement Services has even increased its emphasis on communication over the last few years as they realized how important it is to their long-term success.
"We realized that many jobs failed because of communication issues," he says. "But if you get the communication part down you are on a good path to get a quality job done."
Growth Through 800 Pavement Network
The national footprint U. S. Pavement Services enjoys today is a far cry from the company's roots. In 1985 when Mike Musto started the company, it was a sealcoating only operation with one truck and one sealcoat machine and no accounts. It wasn't until 1994 that Musto expanded to paving and continued to gain momentum and a solid reputation in the industry. The values of quality work and customer service were never compromised despite the steady growth of the company as well as the size and scale of the jobs. Fast forward to 2005 when the vision of Musto conceived the 1-800-PAVEMENT concept as a way to enlist a team of other pavement professionals across the country. The company licenses the number for a monthly fee to contractors. In return they can use the number within specified area codes and the 800-Pavement network provides work to them from national accounts accounts – such as "big box" stores and department store chains –that are pursued by U.S. Pavement Services.
"The 800-Pavement phone number is a branding tool for the contractors nationwide," Musto says. "Acquiring that number was my best move because it set us apart, people remembered us, and it's helped us grow and get where we are today."
The company acquired the 800-Pavement number in 2006 and since then has licensed the number for a monthly fee to 220 contractors.
Musto says participation in the 1-800-PAVEMENT network can to transform a company for the better. He says it was a game changer for his company, network members and the industry, adding that national chain work, largely the result of its 1-800-PAVEMENT vanity number, accounts for half of in-house sales today.
"Our national accounts really like that we can show them our members and those members will be doing the work," Musto says. "It's not a broker or a subcontractor situation -- network members are more like team of partners rather than subcontractors. U.S. Pavement Services works directly and personally with network members and we help them grow.
"We're able to serve other areas and use contractors in our network and have relationships with people we can rely on," Musto says. "That enables us to do work for more national companies and that helps us grow too."
Musto says the work U.S. Pavement Services generates for its 1-800-Pavement network is typically in high-traffic areas. "If they do the 800 promotion like they should and like most do that helps them generate their own sales directly through the 800 number," he says.
"The 800-Pavement phone number is a branding tool for the contractors. Everything else stays the same in their business, it's just an extra marketing tool. Acquiring that number was my best move because it set us apart, people remembered us, and it's helped us grow and get where we are today."
The Next U.S. Pavement Generation
The family owned-and-operated business is experiencing unprecedented growth in both revenue and capacity, led by son David Musto, vice president of sales, and nephew Andrew Musto, chief operating officer.
Saying that now he works "on" the business rather than "in" the business – just like they teach at NPE" Mike shares, " you need to surround yourself with good people and learn to delegate." In addition to his son and nephew, those people include Jamie Hunt, Director of Administration; Bob Pappalardo, Vice President of Business Development; Blake Kelly, Director of National Accounts; Marie Lesperance, Controller; and Seth McNary, Director of Productions.
Although U.S. Pavement Services is a large operation with many moving parts locally and across the country, it has a uniquely American approach to business. Musto says U.S. Pavement Services' commitment to the Made in America movement means that every possible transaction the company does is with American vendors, often when less-expensive foreign options are available.
"We genuinely care about our customers, our employees, and our network members and I feel that people recognize that genuine care," Musto says. "We want our people to succeed and we push each other every day to be better. If you're not willing to put the work in to improve every day, someone else will. The key to growth and better profits is the never ending pursuit of improved results."