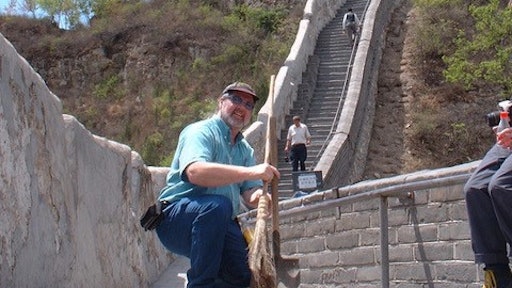 When Ranger Kidwell-Ross first encountered the sweeping industry he had no idea what it was – and no idea he was beginning a relationship that would become a career, making him one of the industry's most knowledgeable advocates for power sweeping.
Since his first encounter with sweeping at Schwarze Industries in 1987, Kidwell-Ross has been the driving force and editor/writer behind the Schwarze SuperVac newsletter (1988-1991) and American Sweeper magazine (1992-2004), author of the "Fundamentals of Power Sweeping" book, founder of WorldSweeper.com (2005-present), and founder and executive director of World Sweeping Association (2013-present). He and his publications and website have received 26 APEX Awards for Publication Excellence over 25 years.
The aggregate of his efforts on behalf of the sweeping industry make it easy to see why Kidwell-Ross is the 2018 recipient of the Alan Curtis Industry Service Award.
"People in the sweeping industry feel like nobody notices them. They're the invisible industry," Kidwell-Ross says. "People go to a shopping center and empty their ashtray in the parking lot at 5 p.m. and then next morning when they go to buy groceries that ashtray debris has been cleaned up. But they don't think about it.
"It's an unsung industry and I've tried to raise the profile of that."
In addition to advocating for sweeping contractors, Kidwell-Ross has been an advocate for sweeping itself as a "best practice" for controlling water pollution.
"Sweeping is the first line of defense of water pollution because it's more cost-effective to sweep frequently and get that material off the pavement before it gets washed into the drain," he says. "People don't realize that about half of the pollutants targeted by the EPA are water soluble so if they get into the water at all they're not going to be collectible later."
Schwarze SuperVac & American Sweeper
In 1987 Kidwell-Ross answered an ad by Schwarze Industries, which needed someone to produce a video for it. Not knowing what Schwarze Industries even did, he arrived early at the interview. "I sat in the lobby and perused an annual report that was sitting there, pulled out a red pen and started marking it up as I read.  I think I edited the first five pages," he says. And he showed it to Mark Schwarze, vice-president, during his interview.
Kidwell-Ross didn't get the video job but Schwarze was thinking about producing a newsletter for the sweeping community and about a month later – as a result of his red-letter editing -- Schwarze called him. Schwarze Industries had just bought AAPLEX Sweepers and wanted him to write an article for the first issue of the newsletter and take some pictures, which he did, becoming the editor and writer in the process. The first issue of the Schwarze SuperVac mailed in 1988 and ran for about three years.
Kidwell-Ross moved to Bellingham, WA, in 1991 and, because by that point he knew a little about sweeping, he decided to visit the local public works department to see what kind of sweepers they had and find out about their sweeping program.
"I learned they were dumping sweepings into a low spot on someone's property and that they hadn't cleaned their catch basins, which drained directly into Bellingham Bay, in years," he says. "I had this realization that public works departments might not realize they weren't cleaning up horse poop anymore, but rather more complex pollutants."
So he decided to start American Sweeper magazine. "I just thought it might help to make the world a better place while also providing a steady source of income," he says.
Initially American Sweeper was going to be supported by advertising, so Kidwell-Ross contacted Mark Schwarze for an ad.
"At that point the Schwarze family's company had about 70% of the parking lot sweeper market but they were having trouble getting into the municipal arena. Mark Schwarze thought that putting the Schwarze name on American Sweeper would help do that, so offered to be the sole sponsor of the magazine."
American Sweeper's circulation to both municipalities and contractors ran as high as 30,000 per issue. "We tried to get it to all the sweeping contractors as well as into every public works department in every town in the country," he says.
Kidwell-Ross says Schwarze's goal for American Sweeper was to help it break into the municipal sweeper market, which he says it did successfully; however, his personal goal was to educate about the environmental benefits and 'best practices' of sweeping while raising the professionalism and visibility of the sweeping industry.
"American Sweeper was aimed at public works departments as well as at contractors. We provided information for both," he says. "We tried to show best practices to cities and to help them realize they could be more successful environmentally with air sweepers. At the same time, I tried to show contractors that if they adopted the information we were providing they could then go to cities and say 'we should be sweeping for you to help you reduce pollution'."
WorldSweeper.com
In 2004 Schwarze Industries was sold to the Alamo Group, which decided to discontinue American Sweeper. Six months later in mid 2005 Kidwell-Ross started WorldSweeper.com, a free website that is billed as 'Earth's Largest Power Sweeping Resource.' SM
"Analysis shows that power sweeping is the best and most cost-effective management practice to keep nonpoint pollution out of waterways, but many public works departments still haven't learned that," he says. "Sweeping often doesn't get the budgeting it needs because people don't know enough about it. Worldsweeper.com was formed to make that information more readily available."
He says that if communities are going to attain their EPA benchmarks an oft-neglected best practice is to sweep more. "Municipal stormwater department budgets need to be combined with sweeping. Then, everyone needs to get educated about the relative cost-effectiveness of sweeping for pollution removal. When they do, they learn it makes sense to sweep much more frequently and with air machines," he says. "A large share of municipal budgets are still earmarked for end-of-pipe solutions only because so many public works professionals still don't realize sweeping is the most cost-effective way to approach the stormwater runoff problem.
Like American Sweeper, WorldSweeper.com provides content for both contractors and municipalities including more than 5,000 articles, podcasts and photos. There is also a History of Sweeping archive and the site produces a monthly e-newsletter.
Kidwell-Ross says WorldSweeper.com has 3,500 subscribers
WSA
In 2013 Kidwell-Ross started World Sweeping Association (WSA), making it the second sweeping association serving the industry.
"I felt there was room for another sweeping association that would be more responsive to its members and that would provide more a educational format for its member contractors," he says.
So, he carved out many of the contractor-focused articles and podcasts then at WorldSweeper.com and made that content available only to WSA members. Today, that includes more than 250 articles and over 100 audio podcasts with successful sweeping contractors and other industry pros. WorldSweeper.com's highly utilized Contractor Locator, which helps sweeping customers find a contractor anywhere in the U.S., is also now only available to WSA members.
He had previously pioneered the "Ethics in Power Sweeping Initiative," which he says helped to distinguish between the contractors listed at WorldSweeper.com and run-of-the mill sweeping contractors. Contractors were required to complete a brief questionnaire before they received a listing. Now that requirement extends to WSA membership.
"I came up with the idea as a way to increase professionalism in the contractor portion of the sweeping industry. Property managers often need a sweeping contractor in a remote city and how do they know which ones to call out of all that come up? By emphasizing that all companies listed in WorldSweeper.com's Contractor Locator have signed an ethics statement and are part of an education-based association, it makes sense that those companies would be more likely to get calls than the sweeping contractors without that going for them."
Kidwell-Ross says WSA has more than 160 subscribers who, along with a host of other benefits, receive a "WSA Member Update" via email every two weeks. He says WSA has a 90% renewal rate, which he ties directly to the newsletter as well as to the large amount of educational material on WSA's password-protected website, www.WorldSweepingPros.org.